Men, we haven't forgotten you! Here is your guide to athleisure and how you can rock it in complete style.
If you want to take your fitness to the next level, there is only one thing you need to do: go on a hunt for the best active and leisure wear out there. We're kidding, you don't need to actually go on a hunt, because we are here to make things easy for you! We can hear some of you say "but we don't even go to the gym!" Well, we have some good news for you then! Activewear is not just limited to gyms or exercising. It is now an extremely accepted fact that wearing activewear even when out running errands is the norm. And if you're a little confused as to what exactly constitutes activewear, it typically includes tracksuits, shorts, polo shirts, t-shirts, and sometimes even skinsuits. So, if you wish to prioritise your comfort, even outside the gym, we have just the solution for you!
Health and fitness are interrelated, but so is comfort. Your regular clothes might not provide you with the comfort you need when out running in the sweltering heat to complete errands to make your partner's life easier, or to help out your parents with their errands. We hear you and we understand the tough spot you're in. We understand what factors need to be kept in mind while choosing activewear: breathability of the fabric, comfort, the give the clothes provide and so on. And we kept all these in mind while choosing our apparel so that we could give you the best of the best! Since athleisure is not just limited to women, we have curated outfits for our dear men as well. Here is your guide to living the ultimate comfortable life. So, get ready, because L'Officiel is here to put in the pleasure in athleisure!
1. CLEAN AND SIMPLE
1. SAINT LAURENT, Slim-Fit Tapered Suede Track Pants, approx. Rs. 3,11,350
2. BRUNELLO CUCINELLI, Cashmere Zip-Up Hoodie, approx. Rs. 2,92,290
3. CELINE HOMME, Z Stud Chain-Embellished Printed Leather High-Top Sneakers, approx. Rs. 1,19,100
4. MÉTIER, Closer Weekend Full-Grain Leather Holdall, approx. Rs. 3,35,510
THE ROW, Caspian Silk-Piqué Baseball Cap, approx. Rs. 43,220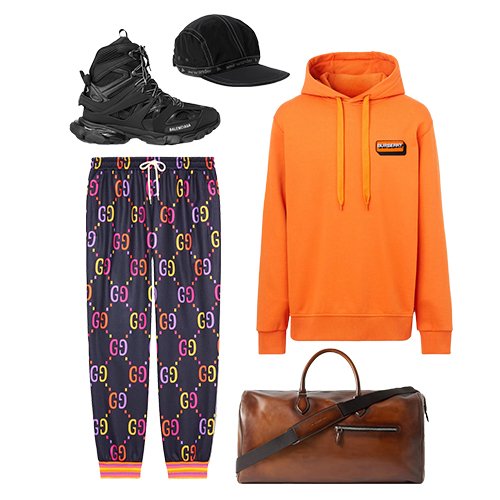 1. BURBERRY, Logo appliqué cotton hoodie, approx. Rs. 82,250
2. GUCCI, Jumbo GG technical jersey jogging pants, approx.
Rs. 1,29,250
3. BALENCIAGA, Track High Nylon, Mesh and Rubber High-Top Sneakers, approx. Rs. 1,09,210
4. BERLUTI, Venezia Leather Duffle Bag, approx. Rs. 3,74,190
5.AND WANDER, JQ Tape Nylon-Ripstop Baseball Cap, approx. Rs. 16,490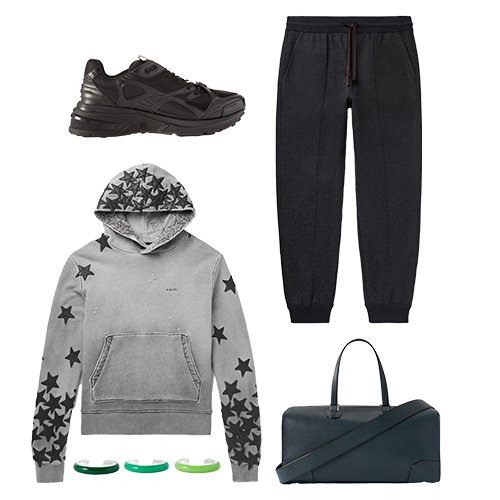 1. AMIRI, + Chemist Leather-Appliquéd Distressed Supima Cotton-Jersey Hoodie, approx. Rs. 2,52,940
2. LORO PIANA, Tapered Cashmere-Blend Sweatpants, approx. Rs. 2,43,380
3. GIVENCHY, Giv 1 TR Logo-Embossed Mesh, Leather and Suede Sneakers, approx. Rs. 90,420
4. VALEXTRA, Boston Pebble-Grain Leather Duffle Bag, approx. Rs. 5,28,850
5. FRY POWERS, Ombré Set of Three Silver and Enamel Ear Cuffs, approx.
Rs. 29,570
4. SETTING A BOLD STATEMENT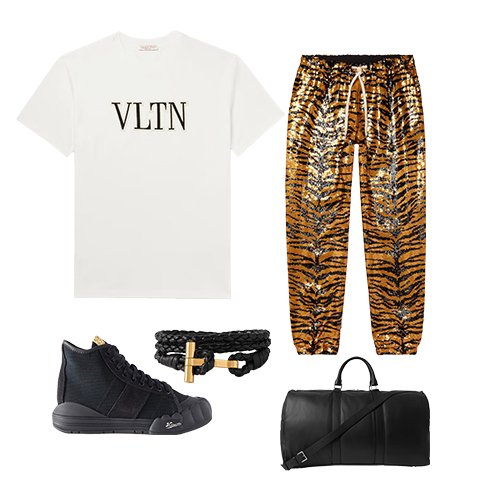 1. VALENTINO, Logo-Appliquéd Cotton-Jersey T-Shirt, approx. Rs. 59,710
2. CELINE HOMME, Tapered Sequinned Jersey Sweatpants, approx. Rs. 10,09,480
3. VISVIM, Lanier Suede and Leather-Trimmed Canvas High-Top Sneakers, approx. Rs. 1,20,560
4. BOTTEGA VENETA, Full-Grain Leather Weekend Bag, approx. Rs. 3,93,510
5. TOM FORD, Woven Leather and Gold-Plated Wrap Bracelet, approx. Rs. 36,400