Bored of simple and minimalist styles? Here are some elaborate and whimsically designed watches you are sure to love. Read on!
There is something extremely poetic about the passage of time, and this poetry can only be read when you put on a gorgeous watch that makes your wrist gleam and sparkle from afar. If your watch game is not on point, your whole outfit can be ruined, so don't say we didn't warn you!
Some like their watches to be minimal and simple, whilst some prefer elaborate, over-the-top designs that exude luxury from each pore. Whichever category you belong to, we are here to help you choose the best watches for your collection. From Chanel to Cartier, watchmakers seem to be dedicated to proving that they're on top of their game this year! So, we hunted down the most whimsical, extravagant watches we could find and compiled them here for you so you can decide for yourself which one suits your wrist the most.
1. MADEMOISELLE PRIVÉ SAUTOIRS BY CHANEL
Mademoiselle Privé Sautoirs by Chanel
Chanel seems to be feeling particularly whimsical given their watch designs for this year. Amongst their other creations, their Mademoiselle Privé Cage bird necklace watch stands out quite clearly. The watch is a part of the Mademoiselle Privé Sautoirs – a collection that reinterprets objects that Mademoiselle herself held dear, and regularly surrounded herself with. Chanel really seems to have outdone themselves this time! We don't think it can get any more whimsical than this! The watch comes on a chain set with 132 diamonds and 46 Akoya pearls. 2 Oval pearls are used to create the birds and the whole piece comes set with over 20 carats of diamonds. If you're wondering where the dial is, it is on the bottom of the little cage. Overall, this is a unique, one-of-a-kind watch that really deserves a place in your collection.
2. THE NEW KELLY BY HERMÈS

Hermès Kelly padlock watch seems to have become a better version of itself given its new more precious and versatile version that combines jewellery with watchmaking. The watch was created in 1975 originally and this new version reveals newer facets of this watch's free spirit. Presenting a powerful style statement, it expresses a distinctive take on femininity. The padlock shape has been derived from its iconic handbag that was designed by Robert Dumas in the 1930s. The new Kelly comes in five different versions: in steel, in rose gold, with or without a diamond setting, and featuring a mother-of-pearl or spangled white-lacquered dial. Wear it any way you like, the padlock watch even unscrews and can dangle from a handbag or necklace or anywhere you choose. The watch has turned mobile and fanciful and sparkles with a mischievous, clean-cut design that reflects the watch's artistic freedom and feisty temperament.
3. LADY ARPELS HEURES FLORALES BY VAN CLEEF & ARPELS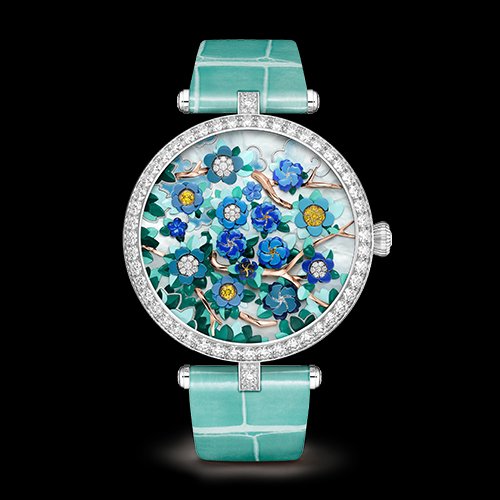 Lady Arpels Heures Florales by Van Cleef & Arpels
Van Cleef & Arpels' creations usually draw their inspiration from flora and fauna and the Lady Arpels Heures Florales watch seems to have done the same. There is nothing about this watch that states minimalism, and that is the way we like it! A poetic way of telling time, the watch comes in two gorgeous colours and is inspired by the cycle of flowers opening and closing. Giving a new dimension to the theme of Enchanting Nature, the watches have managed to reinterpret the Flower Clock. The design was inspired by a floral clock design concept imagined by Carl Von Linné in 1751, and the watch displays time by the opening of 12 of the enamel flowers situated on the dial. The flowers blossom every 60 minutes in random patterns, which sets off an ethereal display consisting of over 166 moving elements. Watch as telling time becomes a poetic spectacle and enjoy this touch of whimsy on your wrist.
4. TANK CHINOISE WATCH BY CARTIER
Cartier treats time as a mystery, as evidenced clearly in the brand's creations. A Cartier watch is a precious object that will constantly renew and re-examine your way of understanding time. The same goes for their latest offering: The Cartier Privé Tank Chinoise. The Tank Chinoise watch marks the sixth chapter of Cartier Privé. Each year, the Cartier Privé collection celebrates some of its most iconic models by releasing limited edition rare, numbered watches. The Chinoise is the same – it is available only in a limited edition of 20 pieces and features a Chinese-inspired grill in a gold case, presenting the timepiece with its whimsical element. The watch's aesthetics were designed to pay tribute to the architecture of Chinese temples and the geometry of the porticos. Cartier also developed the 9627 MC skeleton movement of the watch exclusively for the Tank Chinoise. Cartier did not disappoint with the watch's elaborate decoration and rich colours and we have to say, we are loving this new addition to the Cartier Privé collection.