Summer Is Supposed To Be Tequila Season. Drop Whatever You're Doing, As It's Time To Make A Fancy Tequila Based Drink And Self-Love! Don't Worry, We Have A Recipe!
Too much of anything is nasty, but too many cocktails are just right. You know why this month is extra special as its International Tequila Day on the 24th of July and you got to celebrate that. Basically, Tequila is a distilled beverage made from the blue agave plant. Speaking of tequila cocktails, they are diverse and delicious as well. These cocktails are super refreshing and you can enjoy them in the scorching summer. As you know, it's made with agave and that brings an earthy, semi-sweet element to drinks.
When wondering which tequila-based cocktail to pick in bars, your first choice might be Margarita, and if not that then maybe Paloma. One that doesn't make it to your list but should is 'El Diablo'. This mid-century classic has a sweet-tart and spicy flavor that you will become a fan of. To spill some history, the drink was invented by Trader Vic, a restaurant owner in the 1940s. The recipe he gave in his book back then was a highball built right in the glass, but the modern version is a little different. Some say El Diablo is a lot like Mexican Mule, but we completely disagree with it because the addition of creme de cassis (black currant liqueur) makes it special and exquisite. Without further ado, dive into this easy-peezy cocktail recipe to enjoy on a Friday night, and prevent your life from getting dull!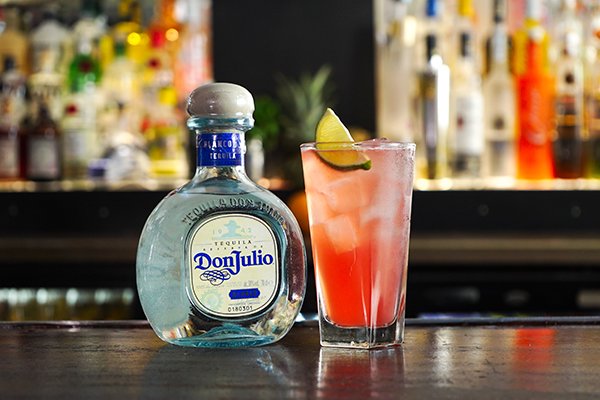 Too much of anything is nasty, but too many cocktails are just right.
INGREDIENTS:
1 1/2 ounces reposado tequila
1/2-ounce creme de cassis
1/2-ounce lime juice, freshly squeezed
3 ounces ginger beer
Lime wedge
RECIPE:
Take a shaker and add the tequila, creme de cassis and lime juice with lots of ice.
Shake until well-chilled.
Strain the drink into a Collins glass.
Top off with ice and the star ingredient ginger beer.
Garnish with a lime wedge.
PRO TIP:
As your well-wishers, we want to spill a secret to make this cocktail the best you've ever had. Use tequila reposado. You ask why? Because the vanilla and oak notes from aged tequila reposado add just the right amount of sophistication to the flavor.