For the bride that dreams of a luxurious, fairytale wedding, we have a list of the dreamiest ball gowns. We guarantee you will feel like the belle of the ball when wearing one of these.
Everyone's May calendar is marked with weddings since it is the wedding season. Now if you're the bride, we understand you must be stressed with the thought of finding the perfect outfit. Some brides wish to wear short dresses or some other modern styled outfits for their wedding, while others prefer to go the traditional way and opt for ball gowns. If you've been wanting to make a dramatic entrance at your wedding, we have good news for you. We picked out the best combinations to give you that dramatic entrance of your dreams. Putting on any of these ball gowns will instantly transport you to a magical world. And that's a promise!
LET YOUR BACK DO THE TALKING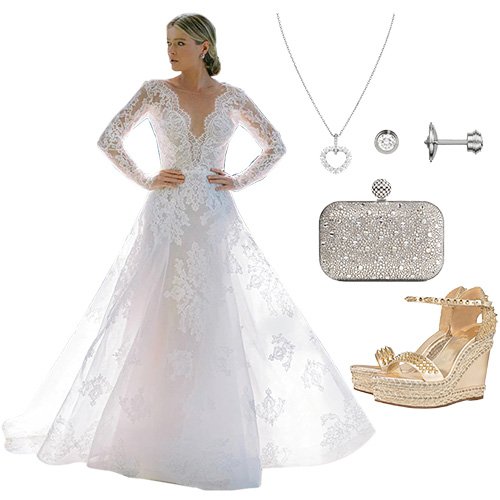 Chopard, Happy Spirit, approx. Rs. 6,49,470
Mateo, 14kt Gold Pearl Crescent Moon Statement Earring, approx. Rs. 3,24,360
Prada, Borsa Prada Triangle In Pelle, approx. Rs. 1,23,790
Yves Saint Laurent, Opyum Sandals in Suede With Pale Gold-Tone Heel, approx. Rs. 87,770
This is a great option for those who wish to show off a bit of skin or go backless. Modern style combined with traditional style and created this lacey masterpiece. The scalloped lace V neckline is especially eye-catching. Those who love to go for options with lace, this is the perfect choice. 
OBJECT OF DESIRE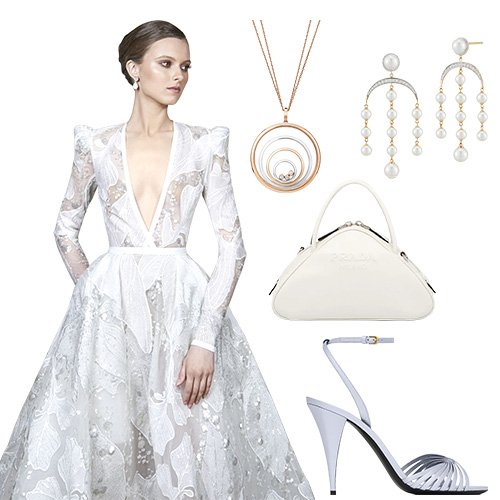 Alighieri, The Spark of Clarity Necklace, approx. Rs. 4,48,880
Givenchy, Small 4G Bag in Lizard With Chain, approx.
Rs. 3,18,130
Manolo Blahnik, White Satin Slingback Buckle Pumps, approx. Rs. 1,27,830
Piaget, Limelight Gala Watch, Price: on request
This gown is perfect if you wish to become the object of desire for everyone, but especially the man who is going to be seeing you walk down the aisle. Opt for this gorgeous gown and watch his jaw drop open as he sees you walking toward him.
 PRINCESS VIBES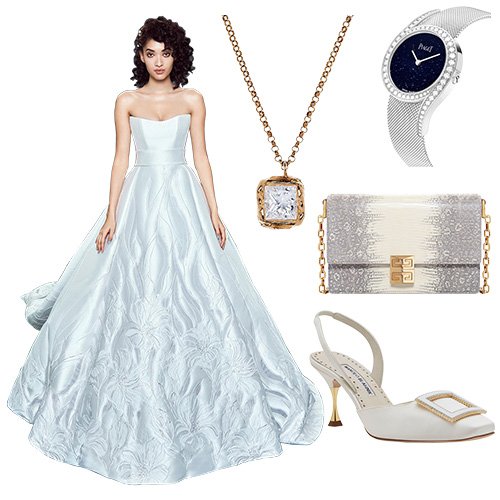 Jimmy Choo, Ari, Approx. Rs. 3,05,360
Tiffany & Co., Tiffany Metro Hoop Earrings, approx.
Rs. 281,500
Cartier, High Jewellery Necklace, Price: on request
Harry Winston, Sunflower Small Diamond Bracelet, Price: on request
Who doesn't want to look and feel like a princess? If you too wish to give off some serious princessy vibes on your special day, this is the choice for you. The accessories match perfectly, creating a sweet, princessy, yet elegant look.
TULLED ALL THE WAY DOWN
Chopard, L'heure Du Diamant, approx. Rs. 6,73,710
Cartier, Cartier D'amour Earrings, Medium Model, approx.
Rs. 2,32,710
Jimmy Choo, Cloud, Nude Shimmer Suede Clutch Bag with Hotfix and Crystal Encrusted Sphere Clasp, approx. Rs. 2,10,430
Christian Loubotin, Madmonica 120mm, approx. Rs. 65,260
A dress that is the very definition of 'royal chic,' lace ball gown will make you look drop-dead gorgeous. This regal gown will ensure your wedding guests remember you long after the wedding is over. That's a promise!