"There is beauty in simplicity" best expresses Natalia Reshetova. This charmer is all about being cheerful, read on to know more about her!
Don't you think the view is a 10/10? Well, that's because Natalia Reshetova is gracing our anniversary edition with her modesty! Even though her experience in the industry is fresh, this beauty has made her mark as a model. To surprise you further, she is a graceful dancer, who believes it is a skill that "conveys through the language of the body what you can't express with words." She spilled her fashion & health secrets, upcoming projects, and the wine brands she swears by in an amusing conversation with us. Read on to know all about her!
Team credits:
Photographer and producer: Natalia Gribova @nataliagribova
Model: Natalia Reshetova @reshetova__nataly
Makeup and hair stylist: @travkina.makeup @lenayasenkova_team
Makeup and hair assistant: @grezina_july @lenayasenkova_team
Stylist: Nadina Smirnova @nadinasmirnova & Natalia Shelest @darthvaderislove
Lighting assistant: Anna Kaganovich @anna_artlight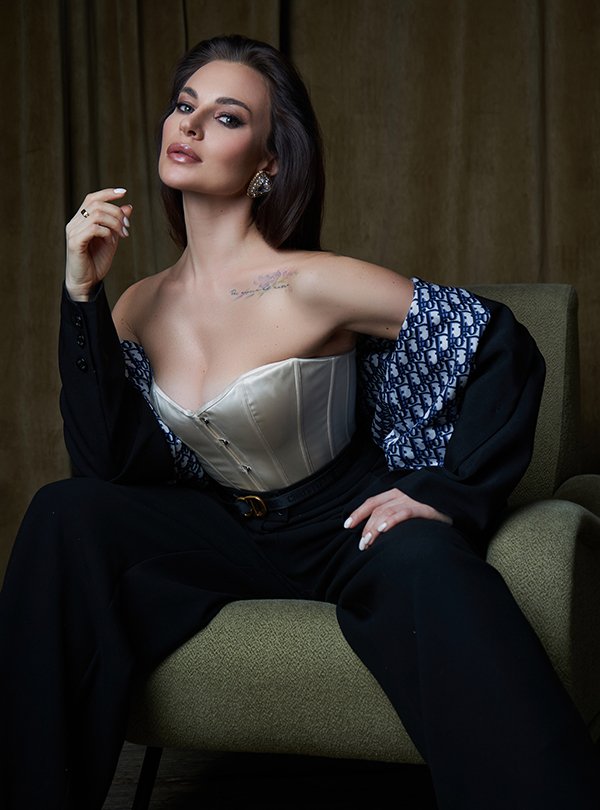 Corset: Terekhov
Pants: Saint Laurent
Jacket: Dior
Earrings Alessandra Rich
Hello, welcome to L'Officiel India! How would you describe yourself in three words?
Hello, and thank you! In 3 words I would describe myself as sincere, cheerful, purposeful.
Fashionista is what your Instagram feed screams, spill some fashion tips/secrets you swear by?
Fashion is interesting and cheerful. I've been doing modeling for already more than 3 years. Thanks to this work, the world opened for me in a new way. But despite the way how fashion changes and what the fashion trend is like nowadays, it is important to stay true to yourself in any circumstances. That is my secret. I don't try to copy anybody. It's important to choose what suits you. It's important to be natural. I believe that the fashion world appreciates exactly this.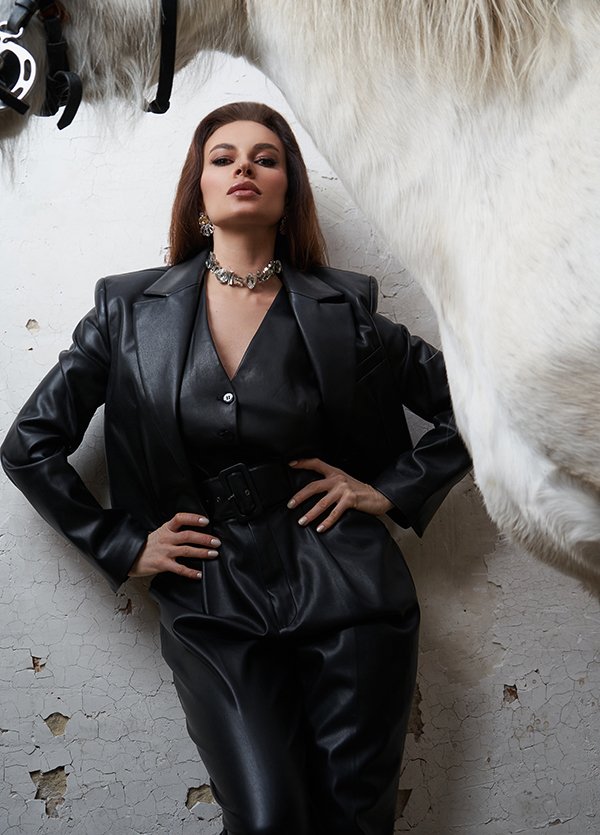 Suit: Saint Laurent
Necklace: Alessandra Rich
Earrings: Graff
Staying healthy and fit becomes part of the deal when entering this industry? What do you do to maintain your health and stay fit?
Yes, I agree. Health is the most important thing we have. Health is beauty. That's why I give it thorough attention. The first thing is a sport. I do a lot of it. Pilates, swimming, fitness, jogging, dancing. I've been doing sport since childhood and can't imagine myself without it. The main rule is to listen to yourself and have fun. The second one is healthy eating. I eat healthy food and don't have bad habits. In my humble opinion, the first goes hand in hand with the second. I mean that by only following both principles you can achieve a goal. The third thing is stress resistance. I'm an emotional person, so I don't always manage to cope with it. But there is no limit to perfection.
Who according to you is the best-dressed man in Hollywood?
As for me, my favorite style is classic. A man in a suit is always elegant, courageous. It gives you a class. George Clooney, I reckon, represents this style perfectly well. Also, I think Ryan Reynolds is a stylish actor. In daily life, he prefers smart casual, but for official parties he chooses classic. I like such combination of styles.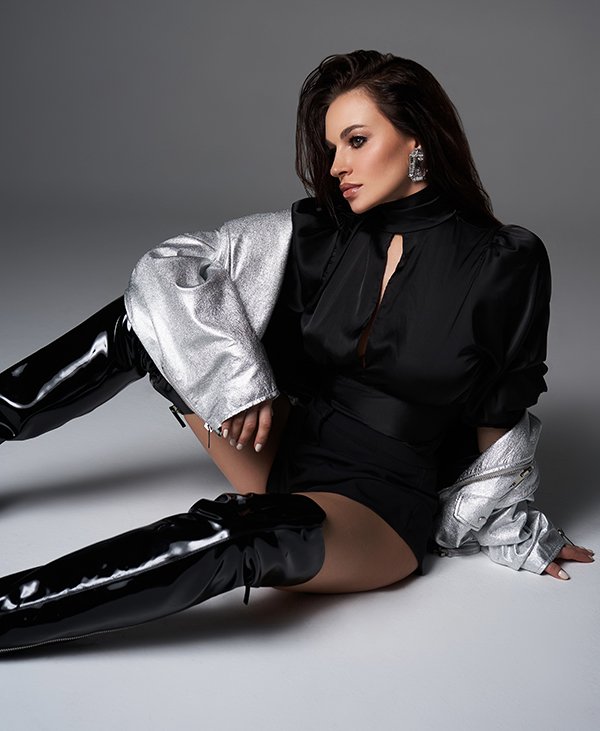 Jacket: Terekhov
Blouse: Saint Laurent
Clips: Alessandra Rich
Over-the-knee Boots: Giuseppe Zanotti
If you were to travel anywhere in the world, where would you go to & why?
To the ocean. The ocean is a place of power. I can't explain it with words, but when I inhale the air and feel its water, it seems like I take an invisible power. Ocean fills me with energy, inspires me for new projects, charges with vigor.
You have posted some videos of yourself dancing your heart out, when did you start, and how does it make you feel?
Dance is my life. I gave all my heart and love to ball dancing a long time ago. I remember all my steps, all winnings, and all losses. They made me enduring and hard-working. However, since then I realized that for me this kind of sport is not just a competition where you can win a medal. For me, dance is a reflection of my inner world, self-expression. This is a skill to convey through the language of the body what you can't express with words. While I'm dancing, I immerse myself in another dimension. All problems vanish, all everyday chores become less important. Only me, music, and my feelings with emotions. Dance is always an interesting story. And if it makes just one man feel some emotions, so it is not in vain.
Turtleneck: Fantom
Pants: Saint Laurent
Bracelets: H&M conscious
Earrings: Chanel
Heels: Versace
We've seen that you're very particular about your wine? Tell us two brands that you admire and deliver the best quality?
I prefer only a dry white wine. Some brands which I can recommend are Torresella and Pino Grigio. I like the light, delicate taste of them. And one more is Chilean. Casillero del Diablo. This brand is famous for the amazing quality of wines with great complexity. For example, a glass of clear pale yellow Sauvignon Blanc Reserva has an intense taste with notes of lemon, grapefruit, melon, and green apple. This wine is very light and aromatic.
How was shooting for L'Officiel Cover, did you have fun during the shoot?
The shooting was amazing! I was lucky to work with an incredible team of professionals who live their business and love what they do. During the shooting, everything was perfectly well. The images which were chosen for me. Each of them highlighted my individuality and reflected my character. A photographer who learned my inner world and was able to reveal it in photos. Makeup artists who made me even more beautiful. The team was one as a whole. This was one of my best photoshoots. And, believe me, I have something to compare.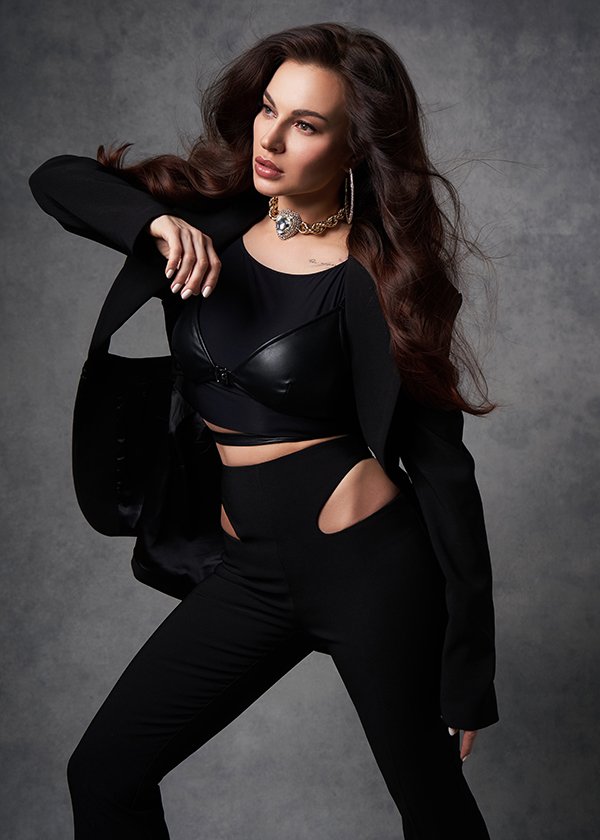 Suit: Love Republic
Boots: Saint Laurent
Necklace: Alessandra Rich
Earrings: Area
You're high on secrecy but tell us about your upcoming plans?
Yes, it's true. I don't like to talk about my plans. I can only talk about things that have already happened but exclusively for your magazine. As for my main job, I have already completed layouts of several landscape design projects which turned out very interesting, in my opinion. Soon, when the weather will be a little bit warmer, together with my team we will start their realization. I have one very important modeling event ahead. And, of course, together with my dance partner we are preparing to shoot a new dance video.
If you could pass on one message for your fans, what message would that be?
"In this world, I value only loyalty. Without it you are nothing and have nobody. In life this is the only currency that will never depreciate". It's a quote by Vladimir Visotsky. One can't say better. So be true to yourself, to everything, and in everything!