The Iconic And Our Favourite Paris Fashion Week Wrapped Up This Month And We Just Can't Get Over The Collections That Were Brought To The Ramp This Season. Take A Look At The Contrasting Yet Dapper Ensembles By Two Of The Best Designers And See For Yourself.
The show carried out this year at the Paris Fashion Week by Rabanne screamed eccentricity on another level. When the models stepped on the ramp wearing ensembles fabricated by Julien Dossena, gilded castings won at the show while bringing a spark in the eyes of everyone who looked at them. The Summer/Spring 24 collection named "Origins of the Future" was overflowing with embellishments and chainmail. With embroidered gowns and black saris dancing alongside golden chainmail and liquid metal, this collection by Rabanne is heavenly while offering goddess-worthy attire.
Looking at the collection on the ramp, it felt like the designer had a goddess-like figure in mind while fabricating the outfits because these are definitely not for the faint-hearted. Golden mesh dresses featured ineffable hoods resembling the royal highnesses. Metallics were the superstar as flowing fabrics were covered in molten silver, and shirts with exposed midriffs and fringes sparkled on the fashion runway. By combining it with feathers, sequins, and knit fabric, Doseena gives Rabanne's iconic chainmail a fresh look. Each outfit the designer created exuded the brand's anticipated refinement, grace, and total chicness. It would be accurate to state that the brand exceeded the expectations of the fashion elite while hypnotizing everyone with the exquisite details on the outfits.
2. SAINT LAURENT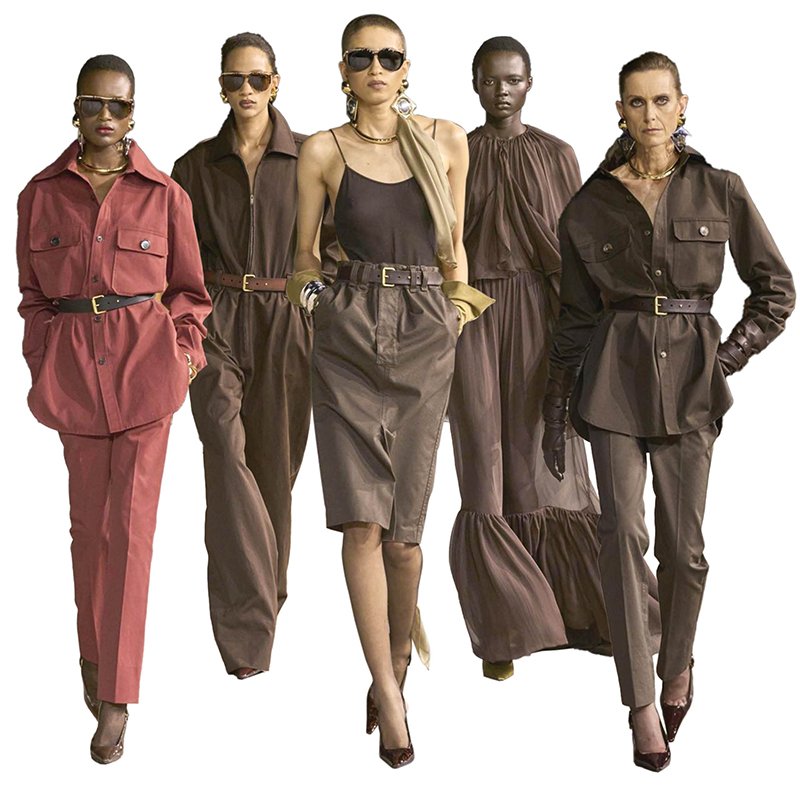 Paying tribute to the heritage of 70 glorious years, the luxury fashion house expanded its legacy with a grand star-studded show at the Paris Fashion Week. Belgian-Italian designer Anthony Vaccarello greeted the audience at the Saint Laurent fashion show and invited them to experience the sophistication the brand is known for on the catwalk. The collection assembled by Vaccarello was motivated by era-defining female pilots and aviators, representing their brutal talents across an innovative line centred on practicality. Jumpsuits with pockets and ties at the waist, followed by khaki-coloured bottoms and buttoned tank tops, chanted femininity. On the other hand, leather gloves are made for the wheel, while oversized sunglasses and head helmets protect their wearers from exceptionally strong gusts. As one could anticipate from the high-end apparel brand the entire idea was inspirational.
The well-groomed Saint Laurent models strutted down the ramp in safari coats and pleated bottoms covered in warm and delicate tones of burgundy, brown, and cream, with sheer tops that accentuated the human bodyline. Untucked shirts and dresses in the cargo style were stylishly sculpted, as glistening satin gowns displayed low-cut necklines. The SS24 collection by Saint Laurent proved to be a boost and daring, paying homage to the House's rebellious beginnings through a current vision.