Summers Were Hot And Nostalgic, While The Fall Will Feel Good And Comforting. Thus, We Got You Covered With All The Inspo
You Need With Jacket Styling. Gear Up And Look No Further!
Trim and minimalist, the fall season calls for an outerwear that acts like a closet chameleon. Something which can make men's casual looks less slovenly and office outfits a lot cooler as they have been lately been reborn as a sophisticate.
If jackets are what you're thinking? L'Officiel is screaming with a touch of suave. Thinking about a quintessential refined jacket? It's a minimalist, tidy silhouette, with the flash of the zipper, which is the closest thing to a "flourish." Just as handily, as the neo-bomber can toggle between formal and casual outfits with flexibility, which most other jackets would kill for.
However, for most men, the jacket should hit rightly at their natural waist. And this goes for sleeve volume too, giant sleeves feel casual, while jackets with trimmer ones feel "more elevated." So, look ahead and find the statement pieces that complement your style. Spoiler Alert: Every piece steals the show!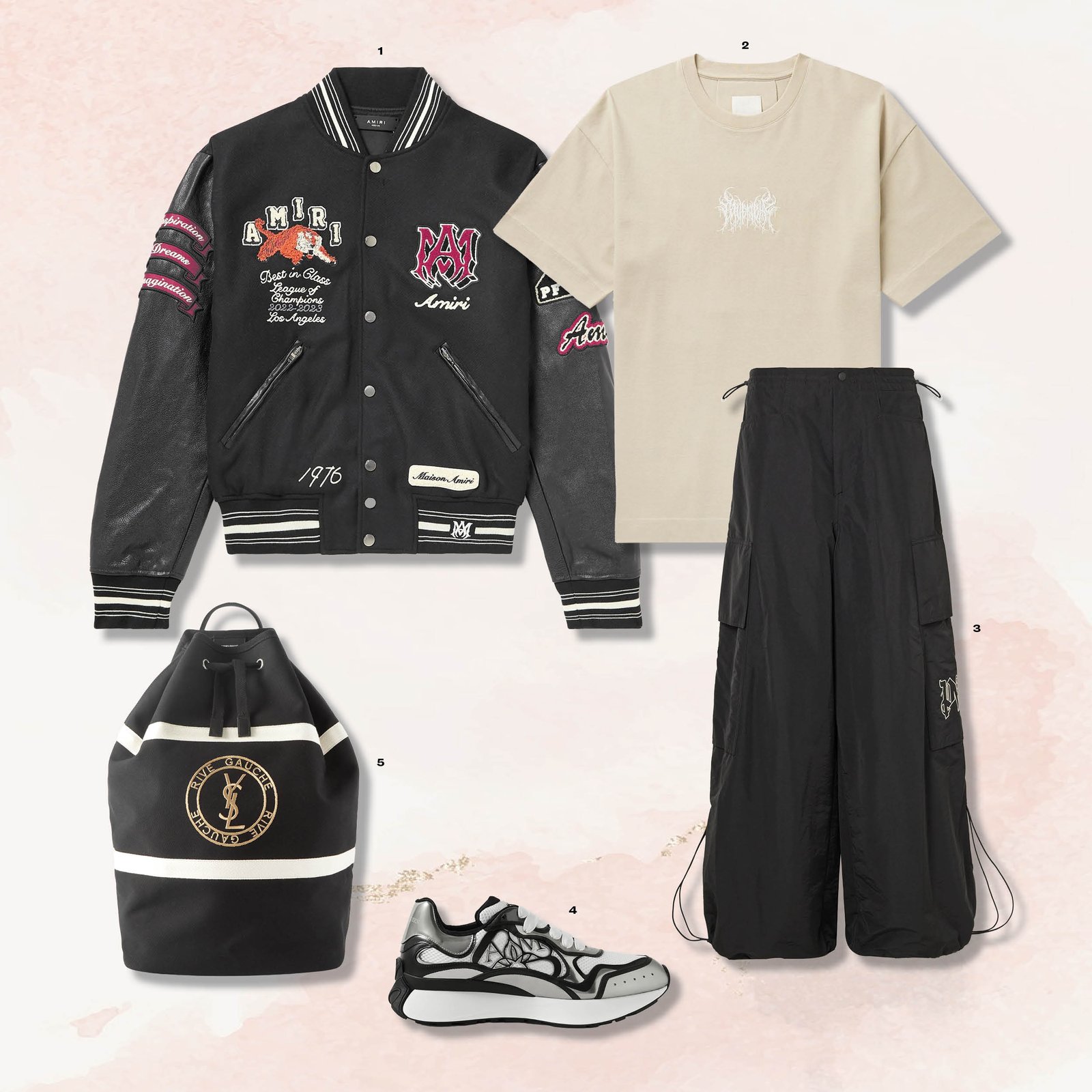 1. AMIRI, Appliquéd Embroidered Wool Blend Twill and Leather Varsity Jacket, approx. Rs. 2,83,160
2. GIVENCHY, Slim-Fit Logo- Embroidered Cotton-Jersey T-Shirt, approx. Rs. 71,090
3. PALM ANGELS, Wide-Leg Logo- Embroidered Shell Cargo Trousers, approx. Rs. 82,540
4. ALEXANDER MCQUEEN, Sprint Runner Exaggerated-Sole Mesh and Leather Sneakers, approx. Rs. 85,020
5. SAINT LAURENT, Herringbone- Trimmed Logo-Embroidered Twill Bucket Bag, approx. Rs. 1,23,820
1. GUCCI, Grosgrain and Leather- Trimmed Logo Jacquard Cotton-Blend Canvas Blouson Jacket, approx. Rs. 2,06,440
2. SIMONE ROCHA, Straight-Leg Panelled Cotton-Blend Trousers, approx. RS. 83,740
3 ALEXANDER MCQUEEN, Full-Grain Leather and Gold-Tone Wrap Bracelet, approx. Rs. 23,253
4. BRUNELLO CUCINELLI, Borsa Leather Duffle Bag, approx. Rs. 3,97,630
5. VISVIM, Abarth Moc-Folk Horsebit- Embellished Leather Penny Loafers, approx. RS. 1,73,510
1. BOTTEGA VENETA, Donegal Wool Blend Jacket, approx. RS. 2,37,370
2. RICK OWENS, Mastodon Skinny-Fit Leather Drawstring Cargo Trousers, approx. RS. 2,98,620
3. GIVENCHY, Silver-Tone Chain Necklace, approx. Rs. 86,750
4. VETEMENTS, + New Rock Embellished Camouflage-Print Leather Platform Sneakers, approx. Rs. 1,27,720
5. MULBERRY, Large Clipper Scotch grain Holdall, approx. Rs. 168,090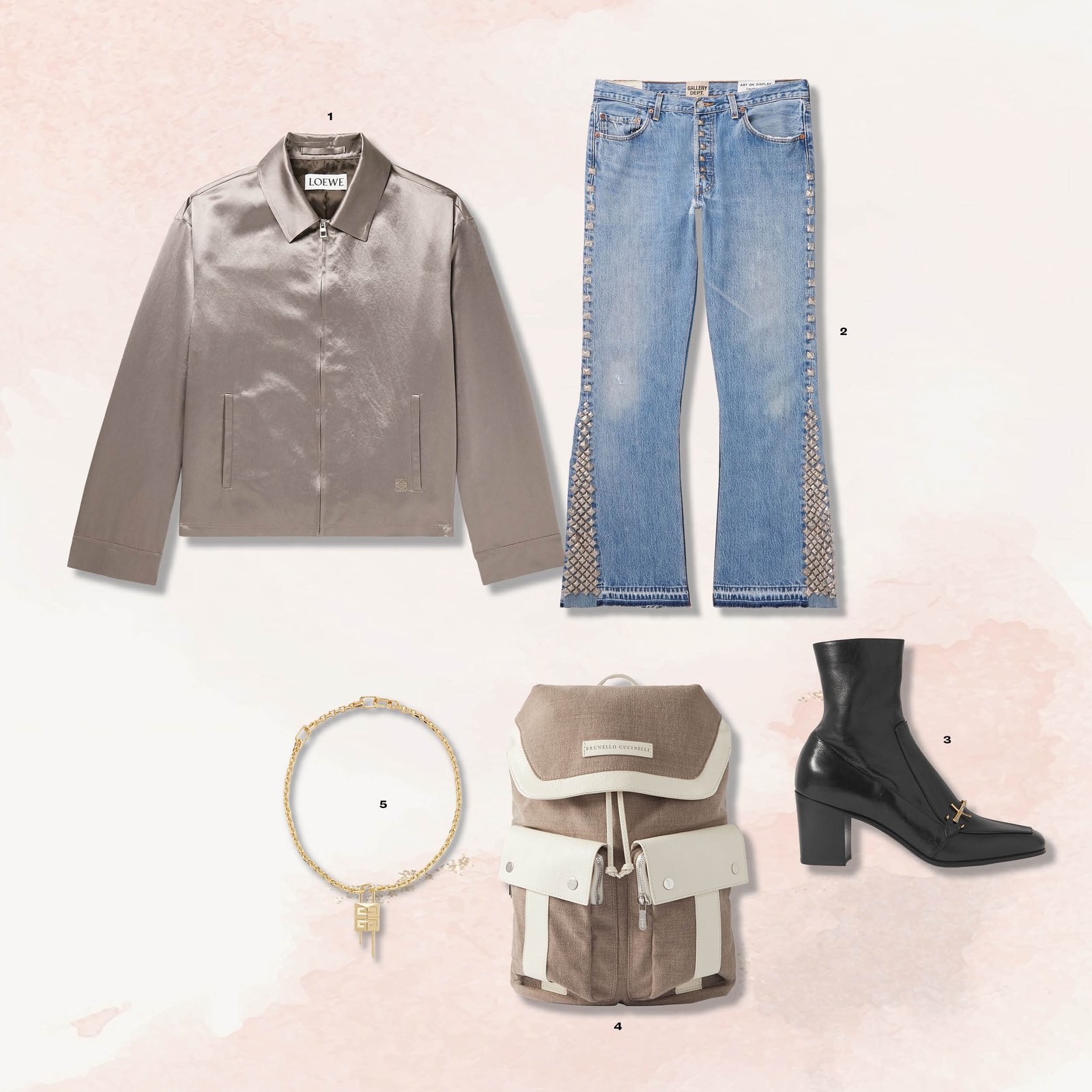 1. LOEWE, Logo-Embroidered Satin Twill Jacket, approx. Rs. 180,250
2. GALLERY DEPT., Flared Studded Jeans, approx. Rs. 159,650
3. SAINT LAURENT, Horsebit Leather Ankle Boots, approx. Rs. 1,33,140
4. BRUNELLO CUCINELLI, Full-Grain Leather-Trimmed Cotton and Linen-Blend Canvas Backpack, approx. Rs. 3,37,380
5. GIVENCHY, Silver-Tone Necklace, approx. Rs. 61,450