As We Await The Halloween Parties This Month, Let's Get The Best Garden Gracing Tips For Your Upcoming Party In Your Backyard.
We're all ready to enjoy the fall breeze and the hues of orange, red, yellow and brown as we're setting our foot into the autumnal equinox. Not to forget, with the spirit of October optimism, it's also the Halloween fever that gets us all excited. And most of you would agree that when it comes to Halloween décor, your home's outside is equally as significant as its interior. The best Halloween parties are always held outside, preferably in gardens for a more aesthetically pleasing atmosphere. It is a celebration of all things spooky, so pick a stylish yet eerie approach for this year's Halloween party in your backyard garden. Here we have some of the best garden décor tips for you to help you adorn your garden for the much-awaited Halloween party this month.
1. GET CREATIVE WITH FLOWER WREATH
This might seem to have a fantastic fall vibe, which it does, but with just a little work involved. Decorate your front entrance
with a rustic floral wreath. By weaving together bigger and smaller pieces, you can attach dried branches, flowers, and grass to a pampas grass wreath form. Put a pumpkin next to a wreath, with some fake spider webs. Use floral wire or hot glue to add finishing touches like dried fruit and miniature pumpkins after you're satisfied with your design.
2. 'KEEP OUT' TO CREEP OUT
You've already succeeded if you have a fence outside your home. A creepy entrance is what Halloween is all about. Stretch cobwebs to partially cover the door and fix them with masking tape to achieve the desired effect. Cut the cardboard into various-sized wood slats to imitate. On two of the slats, paint a "Keep Out" sign, then fasten bolts to each piece. All that's left to do is tape the slats to the door. You can also purchase "keep out" signs and little plastic skulls to give an eerie effect.
3. PUMPKIN PARTY
Do not discriminate, first of all. Instead of buying solely the traditional round pumpkins, choose a few different varieties and plant a small community of these in the front yard. There are many pumpkins available in a variety of sizes and forms. There are a lot of possibilities available. Plaid is a different choice; it's the emblematic pattern of the fall, therefore you shouldn't hesitate to use it in your outdoor Halloween display.
4. EVERYTHING EXTRAVAGANT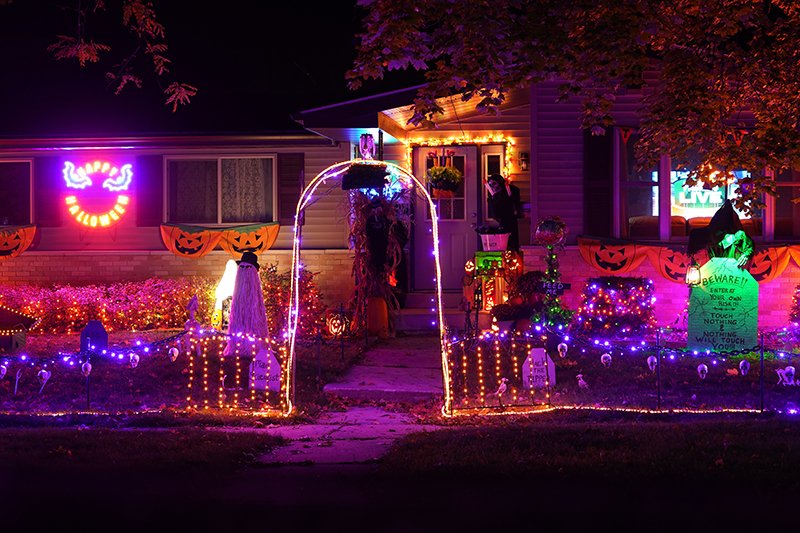 It is Halloween after all. Only a few like that Halloween be the holiday to go all out on decor, whilst some prefer decorating for Christmas and others for Thanksgiving. Don't be shy if you love the eerie season. Anywhere you can decorate with lights, carved pumpkins, and fake cobwebs.