What Better Combination Can There Be Other Than Food + Travel? None. Wait No More And Follow Us Along For A Delicious And Adventurous Trip To The Food Lanes Of The World.
If you love travelling as much as you love eating, allow us to take you on a venture where food and travel are the essence of your experience. Travel is a world where every journey is a coherence of flavours and each bite carries the spirit of a culture, and where the pursuit of epicurean pleasure leads you to the far corners of the globe.
This month, the journey isn't just about the destinations; it's about the stories behind culinary traditions passed down through generations, and the artisans who pour their hearts into every meal. It's about the magic of discovering a hidden gem and the thrill of a street food adventure. And thus, we are all set to take you to the world's most extraordinary destinations for culinary
indulgence as World Food Day is the spirit of this month.
So, dear readers and fellow food enthusiasts, fasten your seatbelts and prepare your taste buds for an unforgettable gastronomic odyssey. Join us for an exploration of the best countries to visit for food, where every meal is a celebration, and every bite is a revelation. Let's embark on this delicious adventure together, where the world is our oyster, and every destination offers a delectable surprise waiting to be savoured.
1. JAPAN
Japan shows off its culinary expertise with straightforward yet incredibly sophisticated cuisine, with one of its own discovering the fifth flavour, umami, which joins sweet, salty, sour, and bitter, long before it gained popularity in the West. In Japan, cooking is a highly regarded profession, and top chefs spend years studying under their mentors.
Sushi is essentially a meal in and of itself, even though Japanese cuisine is much more than just sushi. While travelling in Japan, you might consume rolls, nigiri, and sashimi for months and still have plenty to learn. In addition, Japanese food offers
hearty ramen soups, flavorful meat dishes, and an abundance of seafood dishes.
2. SPAIN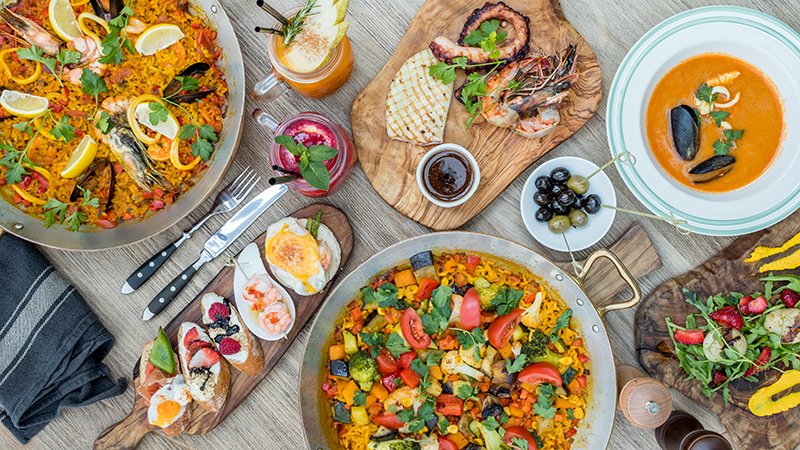 Spain is well ahead on the scoreboard of culinary attractions with its impact being seen throughout all of Europe. They use colour and passion in their cooking. Unquestionably some of the greatest food in the world includes tapas, pinchos, paellas, sliced meats, mouthwatering cheeses, and some of the best wine.
Although firmly Mediterranean, the food has evolved through time to become more and more Arabic-inspired. Starting with tasty pintxo pieces before making way for show-stopping paella skillets that take up the entire table, Spanish cuisine is heavy on fresh seafood and cured meats.
3. THAILAND
Thailand, undoubtedly the gourmet capital of south-east Asia, is a great addition to the vacation options for foodies. If you like seafood, you should consider going to Thailand for your next vacation. In Thailand, rice is a main dish that is made with a lot of lime, coconut milk, cilantro, and chilli. Thailand offers a wide range of cuisines with international influences.
The majority of these dishes are really affordable and delivered fast and immediately to the street! Take a cooking class or culinary tour while visiting the capitals of Bangkok or Chiang Mai, and taste everything from street food to Michelin-starred cuisine. Don't forget to look for uncommon fruits like mangosteens and dragon fruits in the daily fresh markets.
4. GREECE
Other than the oh-so-perfect romantic escape, do you know what else Greece has to offer? A huge variety of appetizers worth gobbling while you enjoy a serene sunset along with your better half. The country is another possible contender to have innumerable dining options leaving you full in the tummy and in the heart too. Greece has a 4,000-year culinary tradition that includes the use of citrus, olives, and Mediterranean herbs in dishes that fuse Middle Eastern and European cooking methods.
Thessaly, one of the main wine-producing regions in Greece is also home to some of the best food, which is made simply utilizing fava beans, white eggplant, and tomatoes in Mediterranean methods. Greek cuisine may also be opulent, particularly the saganaki, bougatsa, and baklava desserts. You should also try pita gyros and spanakopita, a spinach pie that is ideally eaten while seated.