Got Evening Drinks? Into Hardcore Glam? Glamming Up To Stay In? Go All Out With An OTT Dress! And, We Got You Covered With Everything You Need!
Sparkles, feathers, satin, and new tailoring! The time has come to dress for the party you want. Prepping your look is where every celebration begins—and it can be as thrilling as the night itself—so let's get ready. Pro tip: Have your pre-going-out playlist on hand and signature homemade cocktail on standby while we plan your outfit.
The dress codes? Think extravagant sparkle or bedazzled with a twist—and all is open to interpretation. Whether you're going to a date with your significant other, cocktail party with friends, a dinner with loved ones, or a gala with colleagues, 'tis the season to make memories in an equally memorable look. As you mark your calendars and invitations start to roll in, we have covered your holiday dressing guide with pieces that will look elegant at any event.
Afterall, be honest—one of your favourite parts about going out (besides the drinks) is putting together the perfect outfit. Every year, clubs, bars, house parties, and restaurants everywhere are packed with the latest style trends. And over the time, things have changed quite a bit. And by "a bit," we mean a ton. So, find ahead the ultimate party outfits for all the chills you're thriving.
1.DAVID KOMA, Asymmetric tulle trimmed wool-crepe midi dress, approx. Rs. 2,66,230
2.CHRISTIAN LOUBOUTIN, Loubi Queen 120 metallic patent-leather sandals, approx. Rs. 1,22,900
3.JACQUEMUS, Le Bambino Long patent-leather shoulder bag, approx. Rs. 1,20,470
4.VALENTINO GARAVANI, Brightrain metal and crystal earrings, approx. Rs. 1,04,450
5.DAVID YURMAN, Châtelaine Ring with Semiprecious Stone and Diamonds in 18K Gold, approx. Rs. 1,98,390
1.ALAÏA, Off-the-shoulder stretch-velvet midi dress, approx. Rs. 2,94,520
2.DOLCE & GABBANA, DG crystal embellished bracelet, approx. Rs. 1,86,540
3.JUDITH LEIBER, Two Tone Cubic Zirconia Drop Earrings, approx. Rs. 35,280
4.MANOLO BLAHNIK, Hangisi 105 embellished velvet pumps, approx. Rs. 162,960
5.LANVIN, Pencil Cat leather tote bag, approx. Rs. 6,16,770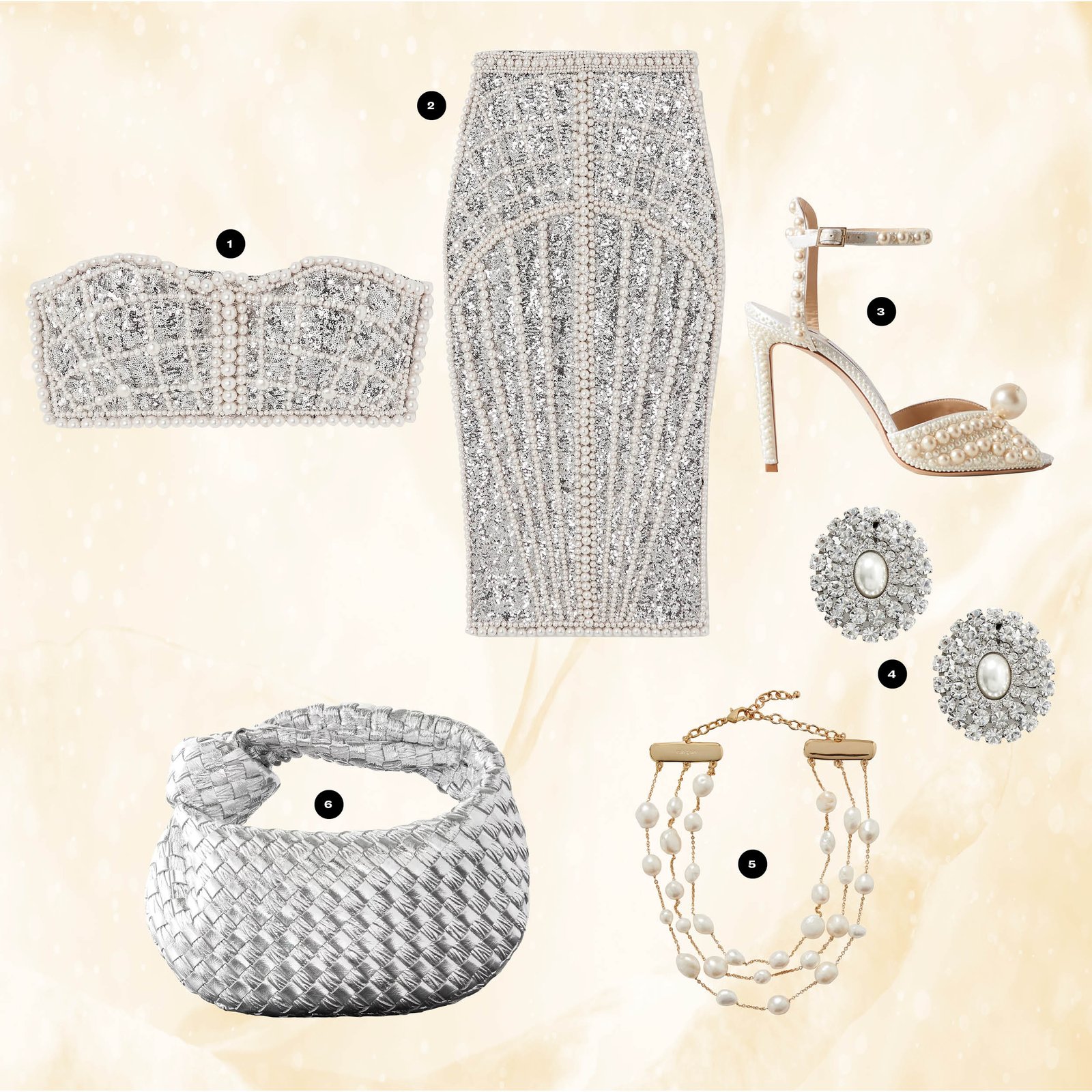 1.BALMAIN, Cropped faux pearl- embellished sequinned chiffon bustier top, approx. Rs. 2,73,610
2.BALMAIN, Faux pearl-embellished sequined chiffon midi skirt, approx. Rs. 4,23,200
3.JIMMY CHOO, Sacora 100 faux pearl- embellished satin sandals, approx. RS. 2,31,750
4.ALESSANDRA RICH, Silver-tone, faux pearl and crystal clip earrings, approx. Rs. 32,920
5.CULT GAIA, Nyala gold-tone pearl choker, approx. Rs. 23,450
6.BOTTEGA VENETA, Jodie mini knotted intrecciato metallic leather tote, approx. Rs. 2,68,010
1.DAVID KOMA, Cowl-neck crystal embellished minidress, approx. Rs. 3,14,820
2.SWAROVSKI, Millenia mini hoop earrings, approx. Rs. 8,730
5.BALMAIN, Crystal-embroidered leather clutch bag, approx. Rs. 6,79,990
4.SAINT LAURENT, Suede-trimmed crystal-embellished fishnet knee boots, approx. Rs. 3,79,150
5.JENNIFER BEHR, + NET SUSTAIN Lina silver-tone Swarovski crystal and faux pearl headband, approx. Rs. 47,700
6.ALEXANDRE VAUTHIER, crystal- embellished cuff bracelet, approx. Rs. 75,360