With well-proportioned features, a captivating presence, and the ability to continuously prove she's here for the long haul. Here's everything you need to know about our Cover Star.
With a figure that defies the laws and a face that is almost supernaturally photogenic, it's no surprise why our cover star, Julienne Frederico, is such an influential model. Being a true modern icon, she's a model with an ability to maintain a sense of mystique that has been crucial in the fashion industry. Her enthusiasm, determination to succeed and dedication to pave the way towards greater diversity and inclusion within the fashion industry explains how her persona hints at knowability balances glamour. Get to know more about this charismatic girl through the exclusive conversation we had with her.
Hello Gorgeous! First things first, what was it about modelling that initially sparked your interest?
As a little girl, my first dream job was to become a fashion designer. My mother recognized my passion and enrolled me in modelling classes to boost my confidence, igniting my fascination with fashion magazines. I'd spend hours collecting them and admiring the fashion within their pages.
According to you, what are the most important attributes that a professional model needs to be noticed?
Confidence is undoubtedly a crucial attribute for a professional model to stand out. It's an area I'm also continually working on.
Do you think having a strong following on social media plays a major role in your career? If yes, how?
Absolutely, having a strong social media following can be a significant asset. It's wonderful to have a supportive community behind your ambitions. Building the right connections and treating others with kindness also plays a pivotal role.
How do you stay up-to-date with the latest trends?
I stay updated with the latest trends primarily through social media and by closely following runway shows. This helps me gauge what will be popular for the upcoming season.
In regards to the modelling industry and your career, what has been your biggest achievement so far?
One of my most significant achievements has been gracing the cover of L'Officiel. This has been an incredible experience, and I aspire to have more opportunities like this in the future.
The fashion industry can often be demanding. How do you balance comfort and style?
Balancing comfort and style in the fashion world can be challenging. But it's all about understanding what makes you feel your best. Invest in well-made, comfortable pieces, consider the occasion, and experiment with mixing and matching to discover your unique style. Always prioritize comfortable shoes and pay attention to fabric choices. Ultimately, confidence is the key to make any style shine.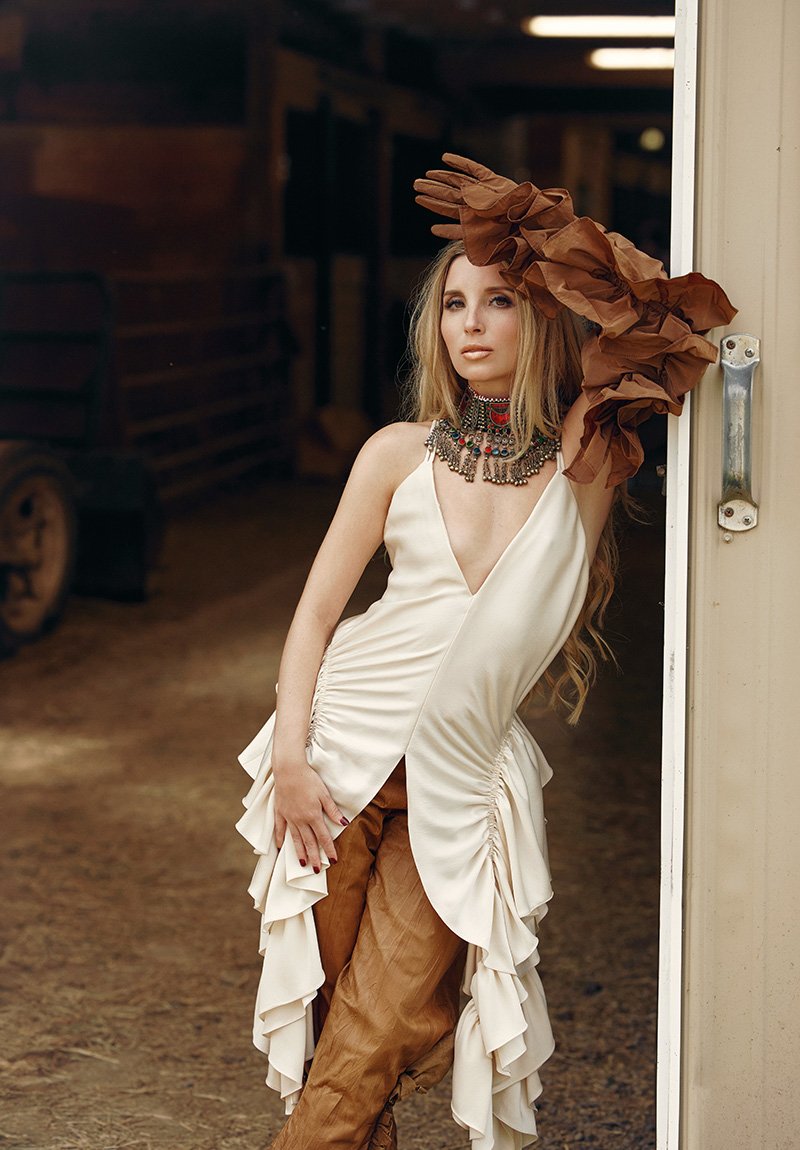 What are your must-have accessories, and how do you use them to elevate your look?
My must-have accessories include jewellery and a stylish bag. Recently, I've been fascinated by vintage jewellery, particularly Edwardian pieces. As, I love having unique pieces that set me apart.
What's your secret to staying in shape?
My secret to staying in shape involves working closely with a personal trainer, maintaining a healthy diet, staying hydrated, and prioritizing a good night's sleep. Quality rest is essential for keeping both the mind and body sharp.
Time to spill some tea! Shed some light on the upcoming projects you're looking forward to.
I'm excited to share some exciting updates! One of my long-term goals is to write a memoir, where I'll open up about my personal journey and connect with readers on a deeper level. Additionally, I'm proud to serve as an ambassador for First Ape Wives Club (FAWC), an exceptional lifestyle and travel brand. FAWC offers an exclusive membership experience akin to a 21st-century Black Amex, with remarkable perks like VIP hotel bookings, upgrades, hotel credits, and even champagne. It's all about enhancing the travel experience, and I'm thrilled to be a part of it!
As a model, what advice would you give to aspiring models looking to break into the industry?
My advice to aspiring models is simple: never give up on your dreams. The sky is the limit, and you can achieve anything your heart desires. Stay true to yourself throughout your journey, and maintain a solid support system to guide you along the way.