When You Design A Bespoke Wellness Zone, You're Giving Yourself Permission To Embrace A Lifestyle That Will Elevate Your Well-Being And Give You The Grounding You Need To Achieve A Greater Sense Of Happiness. So, Without Any Further Ado, Dive Right Into It.
Nowadays, more than ever, it's crucial to have a space in your home where you can feel safe, at peace and forget about any stresses of your day-to-day life. There's something about the simplicity and serenity of a home designed around Japanese principles that makes us breathe deeper and lets our shoulders sink that bit lower. The goal is to create a sort of bubble- environment within your home that you can step into and unwind. To elevate simplicity to an art form, designing the home as much meditation space as living hub, we have got you covered with all the perfect tools you need to built your Zen room. And it doesn't just look good; it can boost your health and vitality, will let you attain visual continuity, simplicity and balance.
1. USE EARTHY COLOURS
A Zen interior is all about soft natural colors, so we definitely recommend using tones such as white, grey, beige or pastel peach. These types of colors evoke relaxation and serenity. It's also important to use chromatic harmony (matching or complimentary colors) throughout the different elements in the room. What separates Zen-style interiors from a lot of other styles is that for Zen, you are trying to create a space where no one single element stands out more than the other.
2. PLAY WITH FLOOR LEVEL FURNITURE
Low-lying furniture is one of the most essential elements of any Zen inspired interior idea. You can place a low-level coffee table and pair it up with stylish floor mats, floor cushions and futons. Opt for oak finish furniture and accents across your living room. Add vases and natural showpieces like dried branches and twigs to elevate the aesthetics of your room and blend with the Zen theme. Furniture pieces for a Zen interior should be high quality and preferably made of natural materials. The more natural elements in the room, the more relaxing and peaceful it will feel overall.
3. USE SOFT LIGHTING FROM SEVERAL SOURCES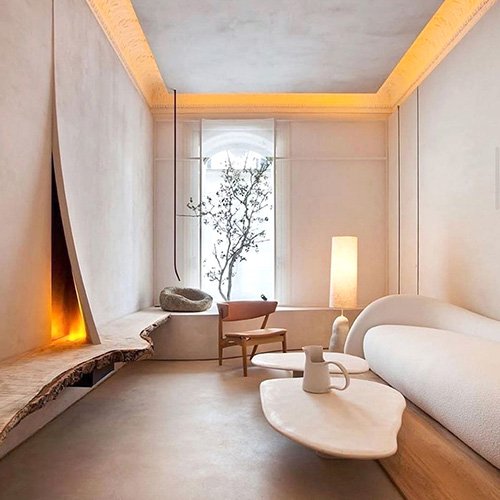 Lighting is such a crucial part for setting every sort of mood and ultimately deciding how you actually feel in a room. In addition to the natural light coming in from the window, you can use small lamps and other indirect lighting such as fairy lights
to tie the entire space together. Again, it's important to pay attention to the colours you choose when getting any lights, candles or bulbs. Remember that warmer tones such as yellows, oranges and even small accents of red are far better to use rather than tones of blues, greens and purples when creating a zen interior. The aim is to try not to have only one element in the room, as it can be too distracting or imposing.
4. SPRUCE UP YOUR SPACE WITH PLANTS AND FLOWERS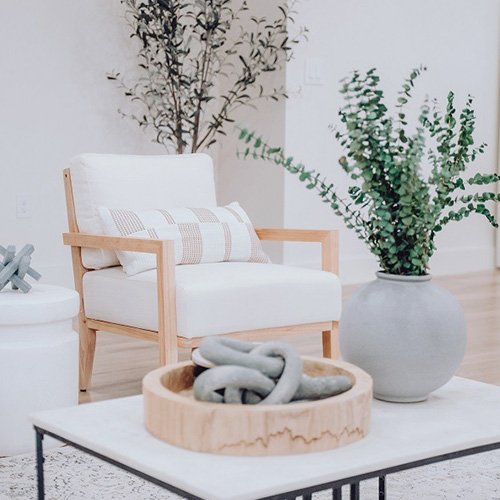 If you want to remove negative energy, decorating the interior with colourful houseplants and fresh flower arrangements is a fun and exciting way to do it. Bringing a slice of nature into your space attracts positive energy with incredible healing benefits for the mind, body, and soul. They can also improve the indoor air quality of your home by filtering pollutants, such as harmful volatile organic compounds, also known as VOCs. Try brighthing up corners with a beautiful plant, or rubber tree.
5. USE MEANINGFUL ZEN WALL ART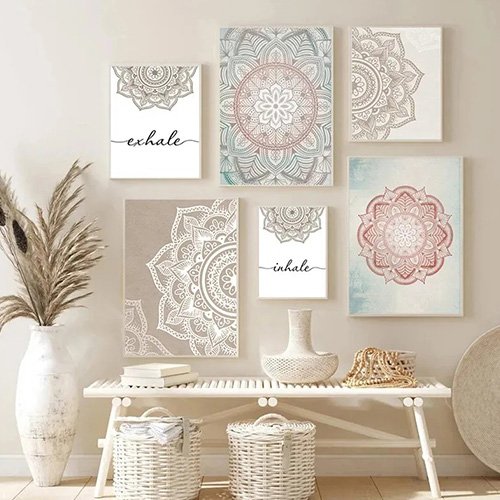 Do you have a specific art that you love and never get enough of looking at it? If that's the case, this type of art should be placed on your walls when designing a zen space in your home. Nowadays, printable quotes or positive messages are trendy and blend well with the calming décor. Nothing can lift your spirit like a visual image and motivational quotes. They can change people's lives, there is no doubt: Therefore, these can be another element for charging the place with a positive, uplifting vibe, and the art will always be special.
6. FILL THE ROOM WITH NATURAL SCENTS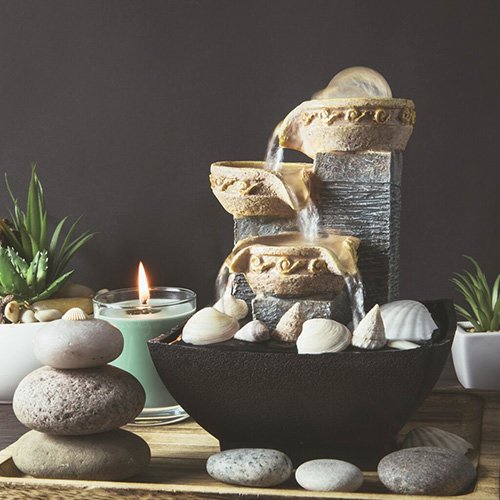 For the final piece of the Zen interior puzzle, it's time to tap in to the olfactory system. Smell is by far one of the more powerful factors in evoking feelings or senses, our sense of smell is very good at bridging the gap between a sensory experience and our overall bodily experience. In short, our sense of smell truly immerses us in an overall experience. Scented candles can accentuate interiors with their soft and warm glow. Aside from that, they can also make your space smell amazingly good while creating a soothing ambiance that lifts the day's worries away. Pick out aromatherapy candles depending on the benefit you're looking for. To create a sense of harmony and Zen, you can use lavender, incense, fragrant flowers (such as lilies), beeswax candles, rose-water diffusers, or any other scent that brings you peace and serenity!