The Season Of Layering Is Here And We Can't Wait To Deliver The Best Of The Best Autumn Outfit Inspiration For You. So, Without Wasting Any More Time, Let's Get Straight Into It.
Welcome to the breezy weather pattern. As we say adios to the bright summer days and are about to welcome the chilly winter nights, the wardrobe combinations allow for greater creative expression. The retaliation of autumn clothes is what has us so delighted. Breezy layers and textures are all the things that come with this pleasant weather.
With layers of shirts, overshirts, shackets, and jackets adding plenty of texture and depth, your outerwear may now finally be worn again, allowing you to experiment with styles. Putting together components that match is only one aspect of good appearance. Having an overall impression of elegance, style, and intuitiveness, let's take a look at how you can up your style game.
1. RHUDE, Derby Logo-Print Cotton Jersey T-Shirt, approx. Rs. 35,620
2. AMIRI, Tapered Printed Cotton Jersey Sweatpants, approx. Rs. 94,840
3. LORO PIANA, Logo-Embroidered Storm System® Shell Baseball Cap, approx. Rs. 43,600
4. MARNI, Silver-Tone and Enamel Pendant Necklace, approx. Rs. 24,630
5. COMMON PROJECTS, Original Achilles Leather Sneakers, approx. Rs. 44,770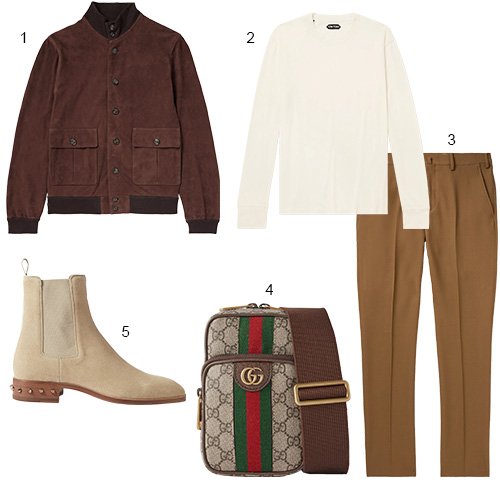 1. VALSTAR, Valstarino Suede Bomber Jacket, approx.   Rs. 1,30,240`
2. TOM FORD, Lyocell and Cotton-Blend Jersey T-Shirt, approx. Rs. 23,280
3. LORO PIANA, Straight-Leg Pleated Wool-Gabardine Chinos, approx. Rs. 1,00,140
4. GUCCI, Ophidia Leather-Trimmed Monogrammed Coated-Canvas Messenger Bag, approx. Rs. 93,660
5. CHRISTIAN LOUBOUTIN, So Samson Studded Suede Chelsea Boots, approx. Rs. 1,21,920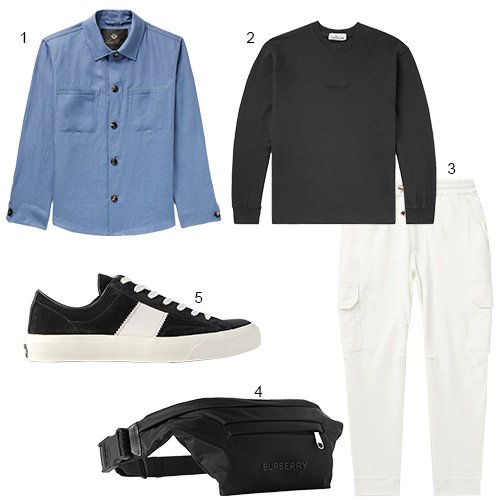 1. LORO PIANA, Kalama Webbing Trimmed Linen Overshirt, approx. Rs. 2,05,190
2. STONE ISLAND, Logo-Embroidered Cotton-Jersey Sweatshirt, approx.Rs. 38,090
3. BRUNELLO CUCINELLI, Tapered Cotton-Jersey Cargo Sweatpants, approx.Rs. 1,11,810
4. BURBERRY, Logo-Appliquéd Nylon Belt Bag, approx. Rs. 79,860
5. TOM FORD, Cambridge Leather Trimmed Suede Sneakers, approx. Rs. 88,230
1. CELINE HOMME, Plaid Cotton Flannel Shirt, approx. Rs. 90,920
2. ORSLOW, Cotton-Jersey T-Shirt, approx.Rs. 12,290
3. TOM FORD, Military Straight-Leg Cotton-Twill Chinos, approx. Rs. 1,01,700
4. SAINT LAURENT, Tandem Silver- and Gold-Tone Ring, approx. Rs. 47,300
5. AXEL ARIGATO, Clean 90 Leather Sneakers, approx. Rs. 23,930