Balenciaga Aficionados, Your Adorned Brand Takes Distressing To New Dimensions, And We Have A Question For You – Is This Brand Punking Us? We Have Got You Covered With All The Deets; And The End Call Is All Yours.
Transcending seasons and generations, no wardrobe is complete without denim. Dependable, versatile and wearable, denim is a fail-safe clothing with wear-everywhere ability. But like most clothing items, denim goes through phases of transition and
trends. And this year, it has loosened up and got a makeover by Balenciaga.
There is no doubt that the luxury fashion brand Balenciaga has found itself embroiled in a bizarre series of controversies several times. The brand's subversive and daring fashion is once again making buzz with one of its creations.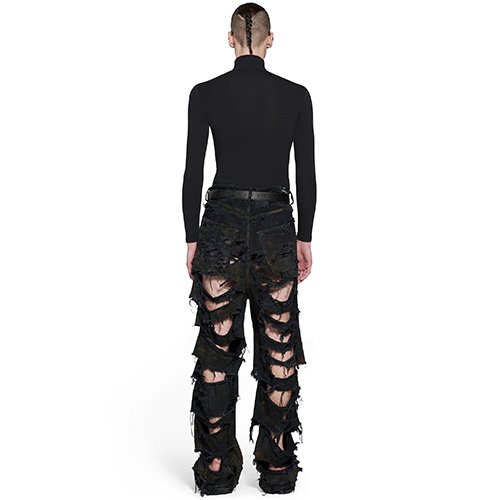 And that's why we are here to spill all the deets about Balenciaga super destroyed baggy pants. Balenciaga's penchant for the
extremes comes through with wide rips, grungy smudges and a faded wash on deeply distressed jeans.
They are a bit cleaner but still completely destroyed. Holes on the front and deep rips on the back are just the begining, as even Balenciaga's inlaid branding on the rear is given the messy treatment. The pockets have also been cut and damaged, making it look very tacky.With evidencing the heavily destroyed and dirty effect, it's safe to say, we acknowledge the criticism these deliberately destroyed pair of jeans is getting, that too for no good reason. As your fashion bible, we agree on the fact that fashion is art, but what is the statement that Balenciaga is trying to make here?
This clearly can't be worn at a workplace, and looking at this pair of jeans, do you think it's durable? Don't know about you, but we doubt it's sustainability and completely question its definition of luxury. Not to forget, looking at the back, its pockets are clearly revealing, and we would alert you to wear it at your own risk.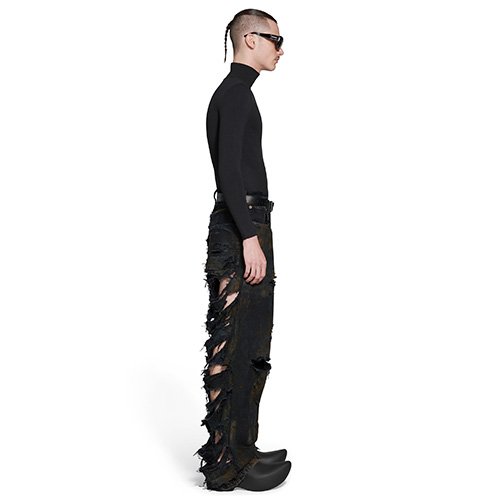 We've often heard that one may find anything and everything to feel inspired but surprisingly, heavily ripped, slashed and torn all through the legs is something we never thought could drive as an inspiration.
Studying the brand's patterns of releasing the most outrageous products, it seems that the label has cultivated this strategy to just grab as much attention from consumers as possible. Rest we leave it on you, if you desire to style this super distressed baggy pants, it's all yours!