This Month, We're Here With A Fashion- Forward Alternative For Typical Evening Wear Pieces. With The Look Also Considered Somewhat Of A Body Confidence-Boosting Wardrobe Addition. Dive In!
Gathered overlay of fabric strips that are pleated, fluted, or gathered together to create a ripple-like effect and, in our eyes, an Insta-worthy effect! It's one of the prettiest styles out there this season. We've spotted them all over the season. As, there's something alluringly romantic about the fabric detailing, it is the perfect choice when you want to wear a dress that feels a little more "special."
Ruching, a simple but impactful design, is a clothing detail that has become a favourite for those desiring something form fitting and chic. Some are more subtle and sleek, while others are over-the-top and statement-making. Since it's a universally flattering detail, it is no wonder why all A-lister celebrities are rediscovering its beauty and incorporating it into their wardrobes. With some ruching, you can turn any outfit into a chic street-style ensemble that can be your go-to this season.
So, if you love the trend as much as we do, take a peek below at some of our personal favourite ruched dresses. From side seam ruching to gathered necklines and pleated busts, these will unquestionably add a dreamy and captivating touch to your party look this season. So, brace yourselves with some eyeball grabbing looks!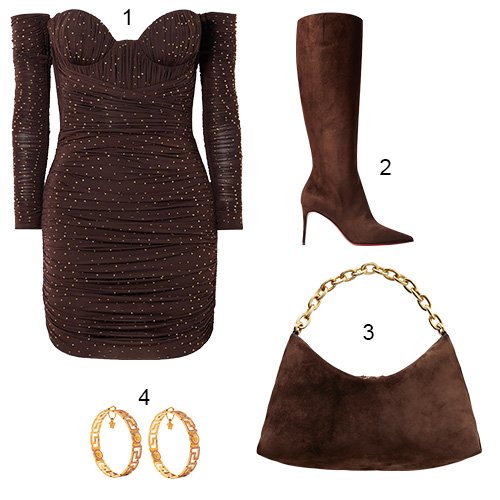 1.ALEX PERRY, Koda ruched crystal – embellished stretch – jersey mini dress and gloves set, approx. Rs. 1,89,790
2.CHRISTIAN LOUBOUTIN, Kate Botta 85 suede knee boots, approx. Rs. 2,19,250
3.KHAITE, Clara chain – embellished suede shoulder bag, approx. Rs. 3,81,840
4.VERSACE, Greca Tribute Medusa coin large hoop earrings, approx. Rs. 1,26,780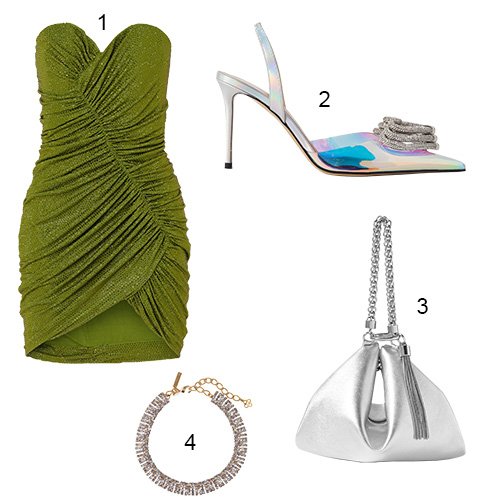 1.ALEXANDRE VAUTHIER, Strapless ruched embellished stretch – jersey mini dress, approx. Rs. 6,47,560
2.MACH & MACH, Triple Heart crystal – embellished iridescent PVC and leather slingback pumps, approx.Rs. 1,05,060
3.JIMMY CHOO, Callie tasseled metallic leather clutch, approx. Rs. 1,15,000
4.OSCAR DE LA RENTA, Disco Crystal Choker Necklace, approx. Rs. 1,05,80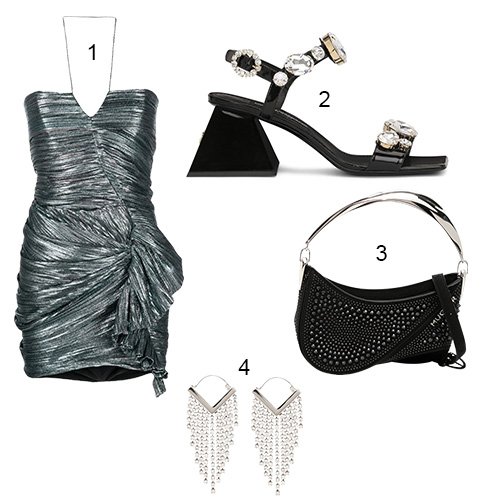 1.IRO, Ruched – bodice ruffle – detail dress, approx.
Rs. 2,78,230
2.DOLCE & GABBANA, Crystal – embellished open –
toe sandals, approx. Rs. 1,34,470
3.MUGLER, Spiral Curve 01 top – handle bag, approx. Rs. 
4,52,340
4.ISABEL MARANT, Rhinestone – embellishment drop
earrings, approx. Rs. 39,140
1.REBECCA VALLANCE, Leonie ruched – detail mini dress, approx. Rs. 63,790
2.ALEXANDER WANG, Heiress leather – trimmed crystal – embellished mesh shoulder bag, approx. Rs. 99,490
3.VALENTINO GARAVANI, Valentino Garavani VLOGO Signature Earrings, approx. Rs. 174,80
4.JIMMY CHOO, Saeda 100 Leather Pumps, approx. Rs. 109,650