The Shaggy Skin Men Have Needs Protection And Pampering Too. Dear Men, It's High Time To Get Your Hands On The Right Sunscreen To Combat The Damaging Glare of The Sun.
Gentlemen, it's time to pamper yourself and your skin. Get ready to unveil the well-guarded secret to refined allure and impeccable skincare finesse! After all, skincare and self-confidence go clasping hands. We emphasise the beauty that men
already have and raise the importance of skincare in their regular grooming rituals.
Well, for those who are unaware, let us tell you that no amount of skincare will make your skin actually care until you protect it from harmful sun rays. In contrast to sunshine, UVB and UVA rays have a propensity to reflect off surfaces, so no matter how many clothes or umbrellas you carry, it will never be enough protection. So, to help you choose the right sun shield, this month, we're here with nothing but the best when it comes to beating the heat and protecting your skin.
Choosing the right sunscreen or sunblock for your skin type is extremely crucial. Whether you're going for a beach day or a day at work, don't forget to apply a layer of protection for your skin. So, here you
1. SHISEIDO, FUTURE SOLUTION LX SUNSCREEN
Here we have one of the best on the list. The future solution LX by Shiseido is a moisturising sunscreen that helps to rejuvenate your skin. Shiseido is a Tokyo-based company that specialises in beauty and grooming goods. With cutting-edge skin care, cosmetics, and perfumes backing its fundamental premise, the international brand keeps innovating.
Coming to the good parts about this velvety sunscreen, it improves the appearance of wrinkles and visible pores and smooths
out the texture of the skin. This also makes it easier to apply makeup. The Future Solution LX includes anti-ageing ingredients that delay the onset of ageing and help in preserving and restoring a young appearance.
Other ingredients present in the formula protect the natural capacity of the skin with the help of premium extracts. Featuring
enmie herb extract, this sunscreen will not only provide great sun protection but will also hydrate your skin. The smooth and lightweight formula of the cream penetrates into the skin profoundly without any white cast or greasy texture.
2. LA MER, THE BROAD SPECTRUM FACE SUNSCREEN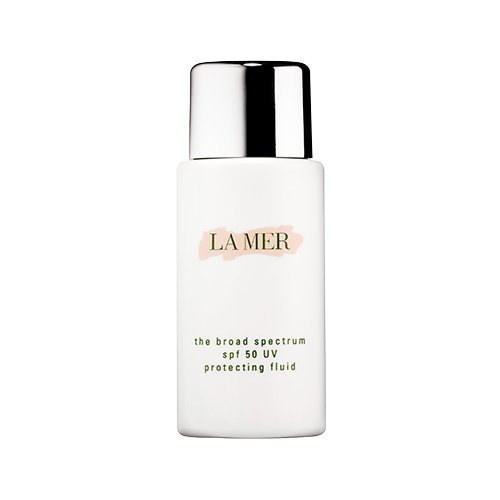 While being outside in the sun may be both healthy and safe, you must shield your skin from its damaging rays. Acting as the ideal sunscreen that you can add to your morning skincare regimen, La Mer's Broad Spectrum Face Sunscreen with SPF 50 claims to have everything one might look for. It instantly absorbs into your skin and filters the sun's rays, providing you with total protection from UV exposure.
You can apply it before makeup and after a moisturiser for optimum effects. Due to the fact that it is a chemical sunscreen, it shields the skin by collecting damaging UV rays, converting them to heat, and then releasing the heat from the body. On top of that, the lightweight formula of the sunscreen keeps away the chances of breakouts. The charming part of this sun shield is that it is a great pick for every skin type since there are no harsh chemicals such as sulphates, SLS, and SLES.
So, if you have dry, combination or normal skin, you can go for the La Mer sunscreen without any second thoughts.
3. KIEHL'S SINCE 1851, SUPER FLUID DAILY UV DEFENSE SUNSCREEN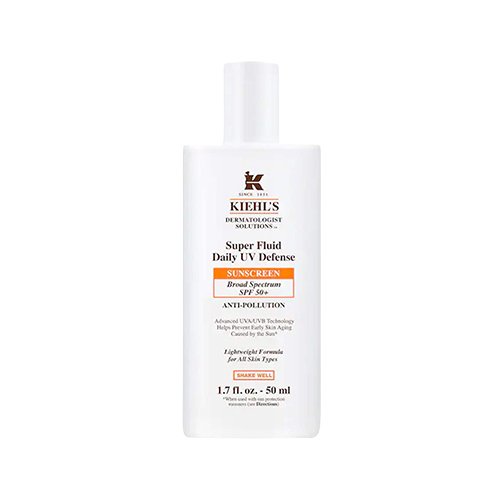 Kiehl's Since 1851 Super Fluid Daily UV Defense Sunscreen is a top-tier skincare essential that offers exceptional sun protection while maintaining a lightweight and non-greasy formula. As a longstanding brand with a reputation for quality, Kiehl's delivers a product that is both effective and gentle on the skin.
The Super Fluid Daily UV Defense Sunscreen boasts a high SPF rating, guarding your skin from harmful UVA and UVB rays, thus preventing sunburn and premature ageing. Its non-comedogenic properties make it suitable for all skin types, even those prone to breakouts, without clogging pores. The fluid consistency spreads effortlessly, making the application a breeze and leaving no white residue behind.
This sunscreen also contains antioxidants that help combat environmental aggressors, supporting the skin's overall health. Its long-lasting formula ensures reliable protection throughout the day, whether you're indoors or outdoors. With Kiehl's Super Fluid Daily UV Defense Sunscreen, you can confidently embrace the sun while maintaining a radiant and well-protected complexion.
4. DR BARBARA STURM, SUN DROPS FACE SUNSCREEN SPF 50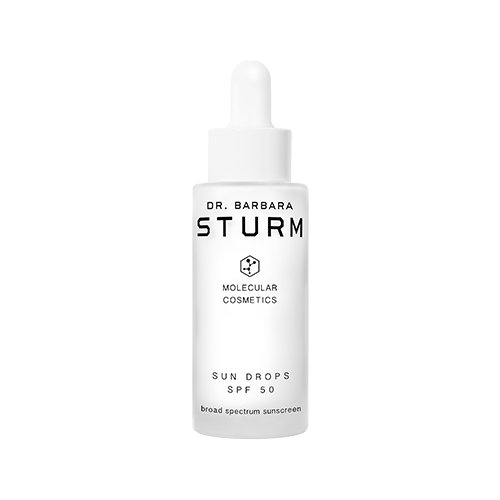 Dr Barbara Sturm Sun Drops Face Sunscreen is a remarkable sun protection product that lives up to the brand's reputation. This luxurious sunscreen shields the skin from harmful UV rays while also offering additional skincare benefits. With its lightweight and non-greasy formula, applying and wearing it becomes a delightful experience.
Featuring a high SPF rating, the Sun Drops Face Sunscreen ensures strong protection against UVA and UVB rays, effectively preventing sunburn and premature ageing. Suitable for all skin types, it includes active ingredients that promote skin health and hydration. The product can be seamlessly integrated into any skincare or makeup routine, as it blends effortlessly with other products.
Men, in particular, will appreciate this sunscreen's versatility. Its quick absorption and residue-free texture make it ideal for male skin, providing convenient and effective daily sun protection without any heaviness or greasiness. Embrace the benefits of Dr Barbara Sturm's Sun Drops and enjoy daily healthy, protected, and radiant skin.