Recreating Eye Makeup Looks Is Like Watching A Thriller Movie-Every Time You Think About What To Expect, The End Result Will Totally Be New, Fresh, And Super Intriguing. So, Dive Right In As We Got You Everything You Need.
Celebs are always ahead of the fashion curve and we love drawing inspiration from these gorgeous ladies and forging a path of our own. With the makeup industry and makeup trends booming more than ever, we got you some popped trends to catch up on complementing street fashion better than ever. From the return of drawn-on eyelashes to turning your eyes into a hue stick, celebs are on board this flashback train.
Stretch your cat eye and explore the sparkly crystal cat eye this season. Creating the perfect visual of dressing out of a whimsical fantasy world, this colour-pop celebrity makeup trend is everything you'll want to try. So, let the quirky embellished eyes catch the limelight and just keep slaying.
1. KYLIE JENNER
INNER CORNER COLOR POP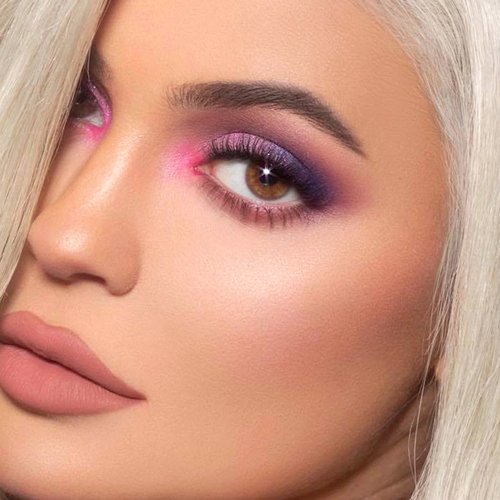 Making a brand-new statement in the makeup empire has to be Kylie Jenner with pops of colour on the inner corner. Let's Welcome spring/summertime in a glamorous way with a side of good girl vibes by adding this makeup trend to your next edgy go-to look. This is one of the latest celebrity makeup trends that's just a little extra. The neon pop of colour she came up with seems like a creative way to express charm. We'd say this would be a great look to master!
2. DUA LIPA
AQUA EYES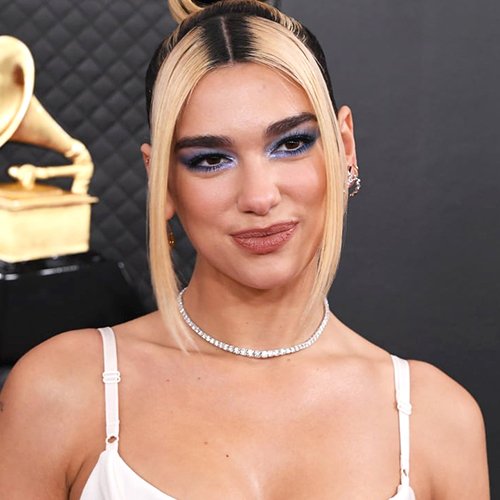 Blue eyeshadow is nothing new in the world of beauty. But this eclectic juxtaposition of alien and enchanting look is surely one for the young and wild hearted. Lipa's Grammy's beauty look did not disappoint. In fact, acing the look, Dua Lipa looks all edgy in this intense eye makeup. With owning her presence by styling a look as bold as this, all we would love to pick is the pantone colour of the season: Classic Aqua.
Every element, from hair to makeup and even the nails, were so on point. Dubbing Dua Lipa's vibe for the Grammys "'90s dream girl," using a frosty shade of periwinkle shadow buffed all around the singer's eyes, with a touch of pearl essence at the inner corners. In true '90s style, Lipa wore a warm beige-coloured lipstick to complete the look.
3. CARA DELEVINGNE
SUNSET EYESHADOW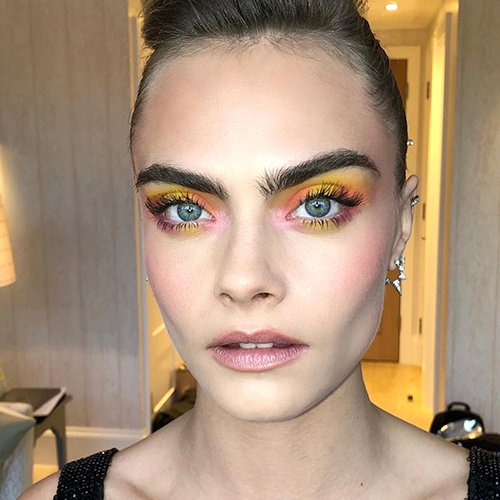 Don't put your summer hues away because this is one colourful creation you'd be itching to try. This colourful eye palette on the hunt is enough to make the next statement. As Cara Delevingne meets with her pomp display of sunset explosion eyes, this is one of the popular celebrity makeup trends that will definitely take some time to master. Pick a scenery and put your artistic desires into play leaving it in excess. Forget clean lines and precision and just try out the most unusual colour combos while you can! Cara Delevingne's makeup magic transforms eyes into a fine work of art. To get the look yourself, place your hot hues of choice along your lower lash line and on your eyelids before lightly blending. Rainbow vibes, here we come!
4. GIGI HADID
OG DRAMATIC BLUE
Blue is the hue of every season and what better than gracing the colour on eyelids? When you want something more dramatic than a plain black liner and subtler than the smokey eyes route, a blue eyeliner will fit in just right. Let the eyes warned every glance so! Draw up the OTT wings like Gigi, and be ready for the compliments coming in.
5. CAMILA MENDES
TOUCH OF TEAL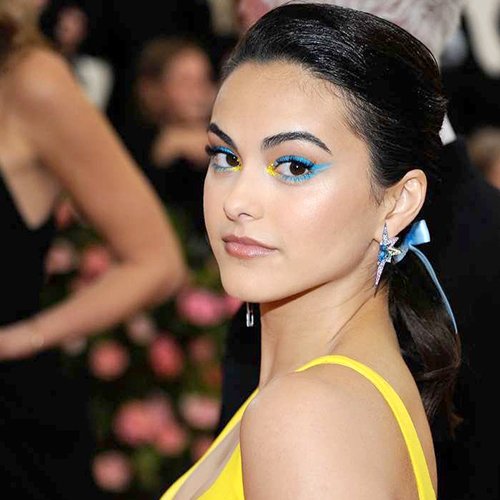 The Riverdale star, Camila Mendes stunned with a pigmented eye. The standout makeup was created by the inner gold and eyeliner in Teal Crystal for the extra intense pop of blue. With the yellow and blue colour scheme, we couldn't help but wonder if Camila was channelling her inner Belle from Beauty and the Beast. Matching your teal-and-yellow eye makeup to your dress is the ultimate in campy beauty, as you may evidence on Camila Mendes.