Are You Ready To Pack A Punch With Floor-To-Ceiling Terrazzo. Enduringly Popular In Europe, Terrazzo Bathrooms Are Having A Moment Worldwide – And No Wonder They Can Just Be What's Your Bathroom Interior Is Awaiting Right?
Terrazzo bathrooms: you either love them or hate them. With speckled good-looks and endless array of colour options, there's a reason terrazzo has fallen back into fashion as the statement surface of choice when it comes to creating a spa-like retreat at home.
But what is terrazzo? You might think of it as marble's grittier and trendier cousin. But, the entire Hollywood Walk of fame is clad in terrazzo, after all. No words are enough to complement this fascinating material bringing texture, color and individuality to a bathroom – while being incredibly practical and hardwearing, too.
SMALL AND SINGLE FOCAL POINT
Smitten by terrazzo bathrooms but concerned yours might look too chaotic? Keep it contained by investing in one focal point, like this funky freestanding unit. This is a wonderful addition to your list of master bathroom ideas, since it will create a focal point, without making the room feel busy. Flecked with multiple colors, a terrazzo basin is a fun way to tie paint colors and brassware finishes together. Here, darker flecks on the basin complement the black brassware, but brushed brass would work equally well for a softer look.
MATCH THE WALL AND FLOOR TO DOUBLE THE IMPACT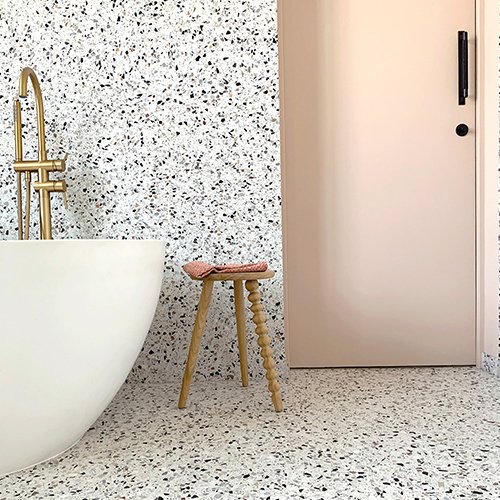 Taking the terrazzo down the wall and across the floor, makes it a striking focal point – an ideal look if you are looking for modern bathroom ideas.
One of the main benefits while working with terrazzo is just how flexible it can be. It works on so many levels in terms of providing pattern, color and a sense of dynamism and movement.
From a distance, the speckles almost blur to give a surprisingly crisp and seamless look that's perfect for a modern bathroom. Taking it in a more feminine direction by picking up the subtle powder pink aggregates in the tile while matching to the paint color on the door. Warm gold brassware further dilutes terrazzo's industrial heritage.
USE PRACTICAL TERRAZZO LOOKALIKE PORCELAIN TILES
If you're looking for a new take on bathroom tile ideas, get your terrazzo bathroom hit for less with lookalike porcelain tiles, which are around half the price of traditional terrazzo per square meter and low key on the maintenance front, too.
Terrazzo inspired porcelain tiles are the perfect way to enjoy the visual impact of traditional terrazzo but with all the practicalities of a porcelain tile. Cleverly printed graphics on porcelain creates a very durable material, available in minimal thicknesses and with no maintenance.