Brace Yourself Analogue Lovers! We Have A Watch For You. Go Ahead And Read On To Know Everything About It.
Experiences and skills can be developed over time. Time is the continuous series of things that happen from the past, through the present, and into the future, seemingly in an irrevocable order. Everything that happens around us is related to the dimensions of time. Be it the milestone you achieve or the seasons that transpire, it is always advisable to appreciate time above all else because everything in our world that moves takes place over time.
To keep track of time, everyone in our fast-paced society has access to smartphones. But nothing can ever compare to the essence of checking your wrist to see the time. Thanks to the enthralling wristwatches available in the market that redefine the quintessence of elegance. While scrolling through the catalogue of luxury brands offering such chronologies, we came across a watch that we thought you should know about.
The Cartier Rotonde de Cartier Astrotourbillon Skeleton Watch by French luxury goods conglomerate, Cartier is the one we will be discussing this month. A mesmerizing masterpiece that combines great craftsmanship with cutting-edge horological innovation, this timepiece boasts a striking skeletonized design that reveals the intricate inner workings of its movement.
At the heart of the watch lies Cartier's revolutionary Astrotourbillon movement, a groundbreaking advancement in tourbillon technology. Unlike conventional tourbillons that rotate on a single axis, the Astrotourbillon takes centre stage and performs a ballet as it orbits the dial. This display defies the boundaries of traditional watchmaking and adds an element to the timekeeping experience.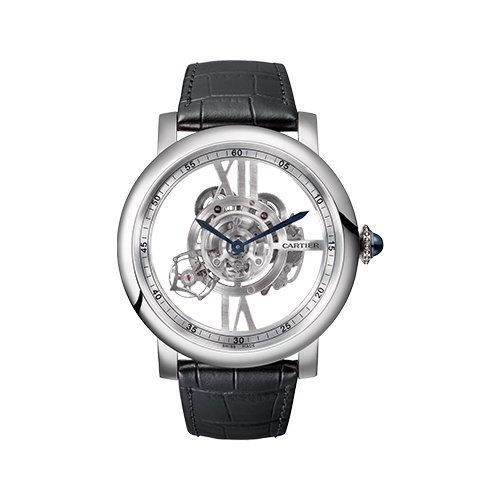 Alas, these are not the only features that this watch comprises. Apart from the design and craftsmanship, what if we tell you that you might have to struggle to know what time is it on this watch? Well, here's the thing. While the dial of this wristwatch screams sophistication in its looks, there are no numerical figures present on it.
The minute hand on the watch has labels, but they are so tiny that it might be impossible to see them at a glance. Also, the watch may be more fragile and prone to damage than conventional, fully encased timepieces because of its elaborate skeleton design and exposed components.
All in all, we've mentioned everything about this chronology and now, it's up to you if you want to pick it for your collection o watches.