Infants With Whom One Needs To Keep A Check Every Second Can Be Frustrating, Right? Well, So Is The Case For The Bag Which Recently Launched. Sounds Intriguing? Let's Get Right Into It.
Micro bag, tiny bag, tiny purse – whatever you call it, you know it's trend. Like the stylish clutches, teensy handhelds, tiny crossbodies, and so-small shoulder bags may be little and capable of containing not much more than a lipstick and credit card.
And, plenty of great things come in small packages—like dazzling diamond earrings or a gorgeous ring, for instance—and baby
bags are no different.
Besides, paring the streetwear down to the strict essentials makes life that breezier whether you're dressing for errands, a party, or a weekend adventure around town. And let us not dismiss the dopamine-dressing urge to wear things that boost moods—joy is unquestionably the best reason to invest in any trend, with teeny handbags being one of them.
A uniquely shaped mini bag is the ultimate eye-catcher. Earthy tones are undeniably playful with streetwear outfits, while oozing incredible chicness any time of year. Thus, we have got a bag for you this month, which you may love as it never fails making good impressions, and the rest is covered by us, as always for awaking you with what are you going for.
Being a high-end retailer with Italian roots selling designer apparel, accessories & leather goods, it's tough to doubt the brand with its adorable creations, but here we are! So, let's get right into this Mini Sunshine Shopper, Brown FF jacquard fabric mini
bag with sequins.
Styling it as an adorable small crossbody bag is the easiest way to master the mini-handbag trend while throwing sass. You may toss this one on with athleisure or denim for errands—you'll love the near-weightless and hands-free ease while on the go. Actually, the ease here is a bit questionable here.
With the mini bag being open the entire time, one may need to check excessively if the stuff isn't fallen down or lost. Not having a proper enclosure for your bag hits your obsessive nature and an urge to keep a check on your stuff. So, if you're planning on purchasing it, you really need to cope up with your obsessive nature.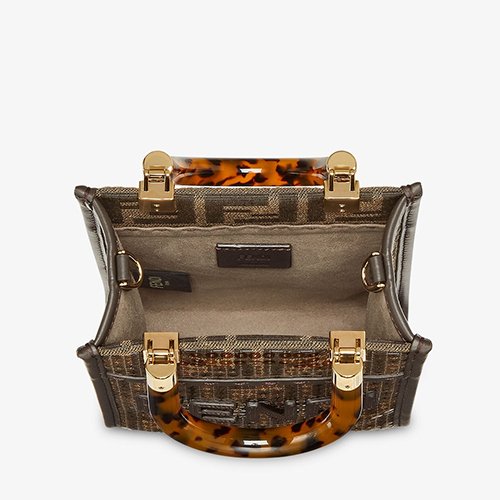 Well, that's not all. This Sunshine Stopper flips over a lot while cross-bodying it along, and all your stuff tends to fall out the entire time. If you're ready to bear this, then you may buy it. But, with facing the discrepancy for your stuff, we hope it's worth your interest.
Last but not at all the least, it being embellished with sequin throws a dash of glam, but we don't think it's needed to mention how much sequin is terrible for the environment. All in all, it's your call to add it in your collection, we would be back next month with set of facts for a probably new bag. Until then, toodles!