In Cannes, Things Got A Little Experimental, A Little Breathless; A Little Kiss To Each Cheek As Audiences Openly Wept And Cried 'Bravo!' At The Cannes. As You'll Need To Pick Your Jaws Up Off The Floor While Glancing At Each Look! So, Pop Back To See The Best-Dressed Men Who Made Their Mark Well.
The 2023 Cannes Film Festival has officially rolled out the red carpet! Every Year in the month of May, the elite film festival kicks off in the South of France and draws a star-studded crowd. It took a relaxed approach to the fanfare—how can you not feel at ease overlooking the looks? Though the films are the main event, luxurious fashion is the real star of the show.
Year after year, celebrities serve iconic looks that live in our heads rent-free all year round. And this year is no different, as stars are undoubtingly lighting up the red carpet. As nothing says "glamour", theatricality and even some fashion history, quite like Cannes. The entertainment industry's most opulent and lavish film festival is underway in the iconic French city.
Red carpet enthusiasts are bound to be in high spirits this season. Following the undeniable high of the Met Gala earlier this month, comes the buzzy arrival of the 76th Cannes Film Festival. The Cannes Film Festival is always one of the most show-
stopping red carpets, where celebrities unveil some of their most glamourous looks to date. While the event happening in the
South of France is in celebration of the year's most highly-awaited films, A-listers beyond actors show up for the high-glam
affair.
With this only being the beginning of the days-long festival, we are sure many more jaw-dropping looks. With the opening night of the film festival done and dusted, a trove of celebrities have graced the red carpet. With a week's worth of films premiering, from arthouse flicks to long-awaited blockbusters, and we've got days of menswear to feast our eyes on. Below,
L'OFFICIEL rounds up the best fashionable looks from the 2023 Cannes Film Festival, so here is a rundown of the gents.
1. TIM SCHAECKER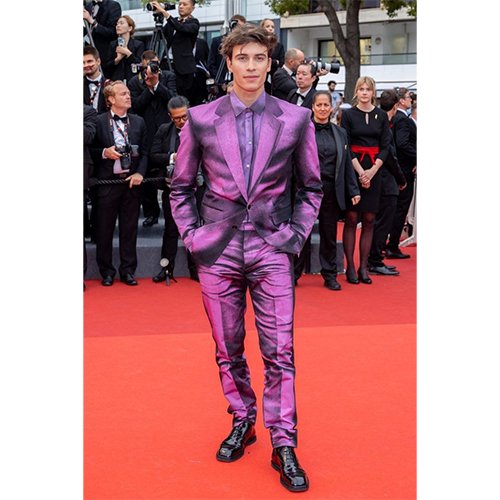 Content creator and internet sensation Tim Schaecker had the honor to walk the red carpet, and he went pretty bold with a sculpted haircut and a purple mauve look with a pixellated effect. His Moschino tux in purple accented with black that carried
the appearance. In case of Tim Schaecker, Purple is the new black. Ditching the regular black tuxedo, he brought his fashion
A-game!
2. LUCIEN LAVISCOUNT
Lucien Laviscount (Alfie in "Emily in Paris") who surprisingly followed the black-tie dress code for the 'Killers of the Flower Moon' premiere. Of course, it wasn't your typical suit, as this Dolce & Gabbana Martini suit was decked out with crystal rhinestones and pearls which married formality with flair. He surely knows how to steal the spotlight as soon as you enter the red carpet.
3. JASON FERNÁNDEZ
Spanish actor who ignited the fire on the red carpet with his hot look in Saint Laurent outfit is Jason Fernandez. He wore a silky sleeveless top with a pussybow neckline. But you cannot ignore the pumped biceps which made the look 10/10 for fashion enthusiasts. Looking at this handsome hunk, we think that his popularized and very striking look for Jason Fernández drew
tough comparisons to Harry Styles. Qué chulo, said the internet. Thus, big flares and big arms is the Jason Fernández way of doing Cannes.
4. MANU RÍOS
If being a thirst trap is magic, then Spanish actor Manu Rios is for sure a magician. As he did just magic sexy thing in Saint Laurent drip and Cartier. He teamed high-waist black pants with a stylish white full-sleeve front-open satin cummerbund blouse while revealing his chest, which was draped elegantly around the waist. A diamond choker from Cartier brought shine to his black-and-white fit. Messy wet tresses styled perfectly rounded off his red-carpet look. He clearly stole the show while
attending the photocall of Strange Way Of Life. His presence was enough to outshine everyone present.
5. JOSÉ CONDESSA
Portuguese actor Jose Condessa jumped on the chest-flashing train in Saint Laurent. Jose Condessa – who take on starry roles in Pedro Almodóvar's queer short Strange Way of Life, walked the red carpet for the first time and he aced alluringly with wearing Saint Laurent, which is pushing for a quietly sexy new aesthetic in menswear. While he was wearing open chest blouse of the brand with trousers that are slung a little lower at the waist are accenting pure bliss!