Why Go For Basics When You Can Opt For A Bathing Experience That Redefines Luxury. Read On To Know More.
When it comes to designing a bathroom, why settle for the ordinary when you can indulge in the extraordinary? Transforming your bathroom into a haven of opulence and tranquillity can be rewarding. With the right blend of design elements and luxurious touches, you can create a space that exudes elegance and sophistication.
After a hectic day at work, nothing sounds better than a relaxing hot shower. Unwind and recharge as you indulge yourself in a serene oasis of luxuriously designed bathrooms.
Let's explore some exquisite features that can elevate your bathroom to new heights of luxury. Oh, you can thank us later.
1. SOAKING BATHTUBS: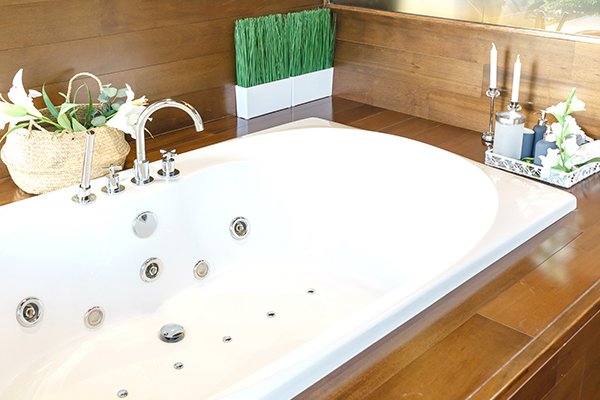 A centrepiece of indulgence, a soaking tub is the epitome of relaxation. Consider a freestanding tub made from exquisite materials like marble or copper. With its deep, inviting basin, soaking in a tub becomes a sublime experience, allowing you to escape the stress of the day and unwind in style.
2. STATEMENT LIGHTING:
Illumination plays a crucial role in setting the mood. Incorporate dazzling chandeliers or contemporary pendant lights to add a touch of grandeur. Soft, warm lighting can create a serene ambience, while strategically placed task lighting ensures functionality without compromising on style.
3. CONVENTION VANITIES: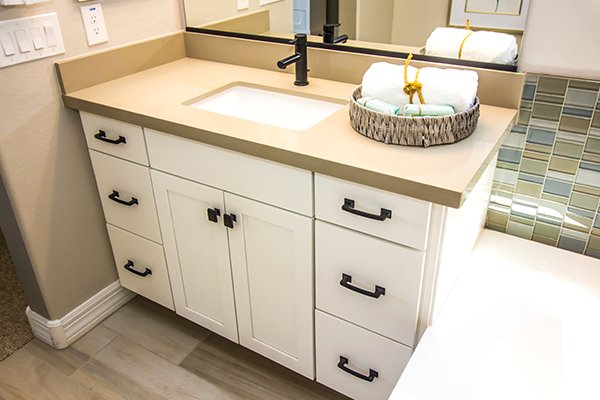 A bathroom vanity is more than just a functional piece; it can also be a work of art. Consider a custom-designed vanity crafted from luxurious materials such as natural stone or high-quality wood. Incorporate unique features like integrated lighting, mirrors with built-in TVs, or even a mini-fridge for added convenience.
4. LUXURIOUS STUFF: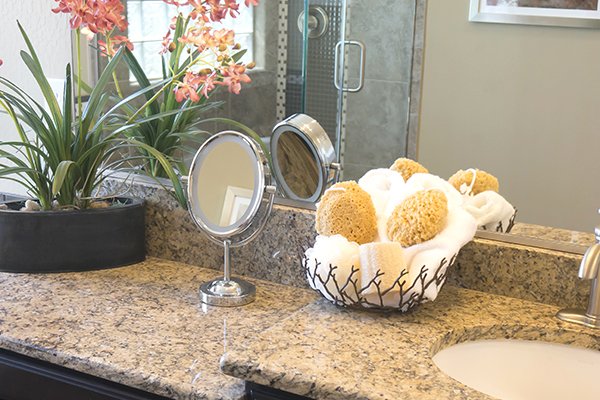 Elevate your bathroom's aesthetic with the use of sumptuous materials. From marble and granite to exotic woods and shimmering metals, these materials add a touch of sophistication and create a lavish atmosphere. Consider incorporating them into countertops, flooring, or accent walls for a truly opulent feel.
5. SPA-LIKE SHOWERS: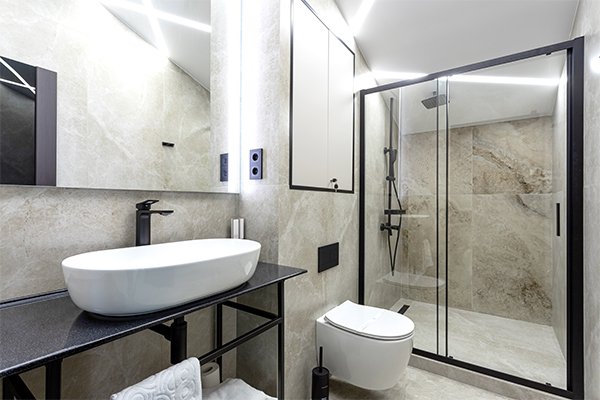 Turn your daily shower into a revitalizing experience by creating a spa-like atmosphere. Install rain showerheads, steam showers, or even digital shower systems that allow you to control water temperature and flow with precision. Add seating, built-in niches for toiletries, and soothing lighting to complete the spa experience.