It's No Secret That The Fragrance World Has A History Of Feeling Stuffy And Serious, But 2023 Perfumes Are Channelling Light- Hearted, Feel-Good Vibes Inspired. So, Dive Right In To Handheld The Recent Finds.
What's trending in the world of fragrance? Well, it's all about emotional impact right now. The trend that will stay and, in some ways, change the industry is how scent is fulfilling a huge role with emotional benefits.
Fragrance has always seemed to be the one category in the beauty industry that's impervious to change. So, read ahead and
find below your new signature scents and just spritz 'em on!
1. GIVENCHY L'INTERDIT EAU DE PARFUM ROUGE
GIVENCHY L'INTERDIT EAU DE
PARFUM ROUGE
It will be a heavier, spicier, more evening version. Which is true — there is something in this version that wasn't in the previous
ones. The bottle is adorned with a black rubber band around the cap, which has a silver patch with the Givenchy logo in the middle. It evokes a very confident femininity while being just adorable. In the top notes of Rouge, there is ginger, which is sparkly, spicy, and adds a sort of "heat" to the scent along with the blood orange, where the orange is both juicy and sweet, not citrusy and fresh. In the middle notes of this version, it has been placed by a pimento leaf, which adds a kind of greenness to the scent. There is a lovely spiciness to the scent from this combination, which we find slightly oriental. The base of the fragrance has the same notes of patchouli and vetiver, only with the addition of sandalwood, which adds a lovely creaminess, sweetness and woodiness.
2. MAISON FRANCIS KURKDJIAN AQUA MEDIA COLOGNE FORTE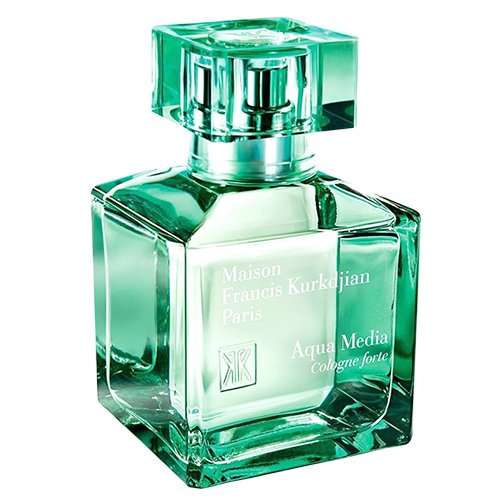 MAISON FRANCIS KURKDJIAN
AQUA MEDIA COLOGNE FORTE
The heart of the Aqua Collection is the interaction between light, water, and freshness. Each of them has their own story but they're all tied to this concept, expressed in different ways, to convey different emotions. The new Maison Francis Kurkdjian scent Aqua Media is tightly knit, heavily processed, and only possible with experience and knowledge of how synthetics perform in tandem over time. When opened, the salty, citric, bright, luminous, and clad in aluminium, shining with blood metallic zeal and sea-glinting shimmer, frothed with dish soap that tickles the nose more like seasoning than citrus fruit. Evoking water and light, green is the middle color of the rainbow and reflects balance in motion. It finds its expression in the vibrant freshness of Aqua Media Cologne forte, a fragrance composed of Calabrian bergamot, verbena, sweet fennel and a woody hedione-musk accord.