Pride Celebrates The Fashion Of Drag. Being All About Empowering The Vibe Of The Drag Queens. So, Dive In For All The Inspiration You Need To Learn About This Art!
The LGBTQ+ community is vast, plural, colorful, and even more, proud of who they are. They deserve respect and recognition.
The norms and embracing over-the-top aesthetics, drag queens consistently push the boundaries of fashion, influencing designers and paving a glamorous path forward for the next generation. However, many times, due to prejudice and discrimination, people marginalize these artists and their art. But thankfully time is changing.
Drag queens are important players and have become a matter of pride and ostentation when it comes to fashion, empowerment, self-confidence, and glamour weaving into delivering memorable ensembles. So, without any further ado, let's get started with admiring their fashion.
1. VALENTINO, Feather – trimmed sequined tulle mini dress, approx. Rs. 1,123,600
2. AQUAZZURA, Disco Darling gemstones bracelet, approx. Rs.20,580
3. SWAROVSKI, Millenia hoop earrings, approx. Rs.15,230
4. CHRISTIAN LOUBOUTIN, Just Loubi 85 neon leather – trimmed iridescent PVC mules, approx. Rs.88,150
5. VALENTINO GARAVANI, Valentino Garavani VLOGO leather shoulder bag, approx. Rs.334,440
1. CAROLINA HERRERA, Strapless mesh – trimmed embellished faille midi dress, approx. Rs. 1,069,690
2. OSCAR DE LA RENTA, Butterfly gold – tone crystal earrings, approx. Rs. 60,810
3. ROXANNE ASSOULIN, Gold – tone crystal necklace, approx. Rs. 31,270
4. KURT GEIGER, Embellished Duke Mules, approx. Rs. 31,680
5. BENEDETTA BRUZZICHES, Venus La Petite crystal-embellished satin clutch, approx. Rs. 129,280
1. OSCAR DE LA RENTA, Cape – effect pleated silk – blend lamé kaftan, approx. Rs. 699,770
2. MACH & MACH, Double Bow crystal – embellished iridescent leather platform sandals, approx. Rs. 143,370
3. KHAITE, Olivia medium suede shoulder bag, approx. Rs. 268,450
4. AMINA MUADDI, Mini Cameron Hoop Earrings, approx. Rs. 80,310
5. MARTHA CALVO, Anna silver – tone crystal necklace, approx. Rs. 41,090
1. VALENTINO, Strapless crystal – embellished wool and silk – blend mini dress, approx. Rs. 690,860
2. ROXANNE ASSOULIN, Simply Rainbow gold – tone crystal necklace, approx. Rs. 31,180
3. JUDITH LEIBER COUTURE, Just for you bow rainbow ladylike rainbow clutch, approx. Rs. 493,330
4. ALAÏA, Boucles 90 buckled leather sandals, approx. Rs. 195,730
5. DOLCE & GABBANA, KIM DOLCE&GABBANA Embellished Choker, approx. Rs. 109,030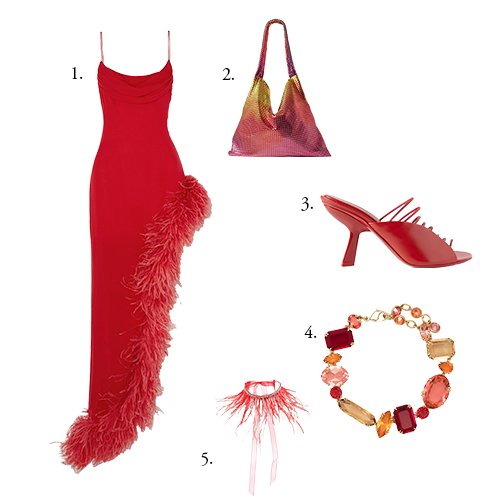 1. ALESSANDRA RICH, Asymmetric feather – trimmed silk – georgette gown, approx. Rs. 162,700
2. PACO RABANNE, Pixel dégradé chainmail tote, approx. Rs. 178,840
3. FERRAGAMO, Altaire leather and satin sandals, approx. Rs. 134,220
4. Swarovski, Gema crystal – embellished bracelet, approx. Rs. 27,150
5. Atu Body Couture, feather and crystal necklace, approx. Rs. 22,050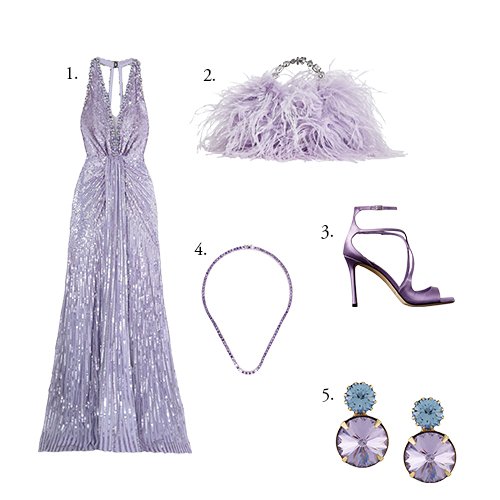 1. JENNY PACKHAM, Embellished gathered tulle gown, approx. Rs. 451,080
2. L'ALINGI, Crystal – Embellished Feather Taliya Clutch Bag, approx.Rs. 87,890
3. JIMMY CHOO, Azia 95 satin sandals, approx. Rs. 97,230
4. DARKAI, Crystal – embellished tennis necklace, approx. Rs. 46,740
5. JENNIFER BEHR, Myrla drop earrings, approx. Rs. 18,020
1. ISABEL MARANT, Maelia cutout embellished crepe mini dress, approx. Rs. 426,520
2. RENÉ CAOVILLA, Margot crystal – embellished satin sandals, approx. Rs. 194,960
3. OSCAR DE LA RENTA, Bloom silver – tone crystal bracelet, approx. Rs. 64,860
4. BENEDETTA BRUZZICHES, Vittisima crystal – embellished satin shoulder bag, approx. Rs. 121,180
5. DOLCE & GABBANA, KIM DOLCE&GABBANA Embellished Long Gloves, approx. Rs. 283,900
1. ALAÏA, Ruched croc – effect vinyl halterneck midi dress approx. Rs. 257,660
2. KHAITE, Olivia medium crystal – embellished suede tote, approx. Rs. 376,630
3. GIANVITO ROSSI, Spice Plume 95 feather-embellished patent-leather sandals, approx. Rs. 187,470
4. VALENTINO GARAVANI, The Rockstud leather bracelet, approx. Rs. 22,480
5. ALEXANDER MCQUEEN, Spider gold-tone, crystal and faux pearl ring, approx. Rs. 36,610