Vintage and Outrageous. A Look At The Wardrobe Of The Russian Personality – Rada Russkikh.
The focus today is on a blogger, an information business guru, a philanthropist, an entrepreneur and a co-owner of her namesake brand Rada Russkikh, the largest natural cosmetics holding in Russia. Her perseverance and the number of successful projects she has completed successfully can be envied, and the desire to give a second chance to forgotten masterpieces is worth learning from.
Rada is very ambitious. She has independently launched 23 startups, and her brand's cosmetic holding GEDONIST, which produces RADA RUSSKIKH, MINI ME and HYDON brands, occupies 3% of the Russian beauty market. At the same time, the entrepreneur has been producing for 4 years with her team of professionals.
Russians are controlled by a large sector of the info business and how a mentor teaches them to build a personal brand according to spiral dynamics without aggressive sales. She knows this firsthand: she has 83,000 subscribers on her personal YouTube channel and 390,000 on Instagram. Each video with her participation collects a substantial number of views. Her audience is women who oppose immature thinking and are in favour of self-made formation, development, and self-expression in a liberal, unrestricted space.
The popular blogger is also concerned about social and environmental issues of the world. Rada is engaged in cleaning the plastic waste from the coasts of Bali during the winter season along with the local environmental organization Sungai Watch. She also plants maples in St. Petersburg, puts forward eco-initiatives, takes part in round tables, and promotes the Zero Waste strategy in ecology. Nonetheless, her cosmetic production is already practising the Zero Waste policy.
Rada also acts as a philanthropist. She bought, and at her own expense, is restoring the dacha of Georg Messmacher (a monument of regional significance) on the territory of the Shuvalovsky Park in St. Petersburg. The goal of the project is to instil a culture of philanthropy in the business environment, by depicting an example of how you can transform your country while preserving and restoring the national cultural heritage. She also bought a collection of paintings (Croatian naive) of 125 canvases and donated it to the Yekaterinburg Museum of Fine Arts.
Rada is a believer in conscious and environmentally friendly consumption; she encourages people to stop buying new and throw away the old while trying to reduce household waste emissions. Items from her remarkable vintage collection became the heroes of the L'Officiel India issue dedicated to sustainable consumption. And thus, here we are to introduce you to some of her collectables.
At first glance, it seems that the main attraction in the frame is a blue clutch with ostrich feathers, embroidered with beads and beads. But no, the most precious thing here in this frame is the timeless sofa upholstered with luxurious fabric. Of course, a brand-new sofa with a curious design could've been here instead of this one, but it's much better to salvage old furniture and turn it into an exclusive piece of furniture. As for jewellery, a vintage Kenneth Jane Lane bracelet has been selected. The pendant was created from an Askew London brooch, a Gucci ring, mules by Prada, and the iconic Valentino clutch.
This bow occupies a special place in Rada's wardrobe – it was from this that her love for environmentally friendly consumption began. The rich green jacket was found in a Parisian store. It is very suitable for Marc Jacobs best-of-age boots, a Muse Yves Saint Laurent bag and a Lanvin necklace from the iconic 2000s collection with Oskelly. It is worth saying that not only the image was made up of archival items, but all the furniture in the frame is also vintage, assembled into a single elegant composition. The nude set of chairs from Italy from the sixties looks classy in this frame. The table of the same time and a fantastic chandelier from those years is also present.
The most expensive and favourite thing in this exotic image is a clutch from the famous first collection of Tom Ford for the Gucci fashion house. This is the brightest symbol of the two thousandths. The Prada bracelet is another spellbinding piece of jewellery in the frame. Rada received large framed Sonya Rykiel clips, which are especially relevant now. Pay attention to the ring – a very special one from the opulent collection of Elizabeth Taylor after the filming of the movie "Cleopatra".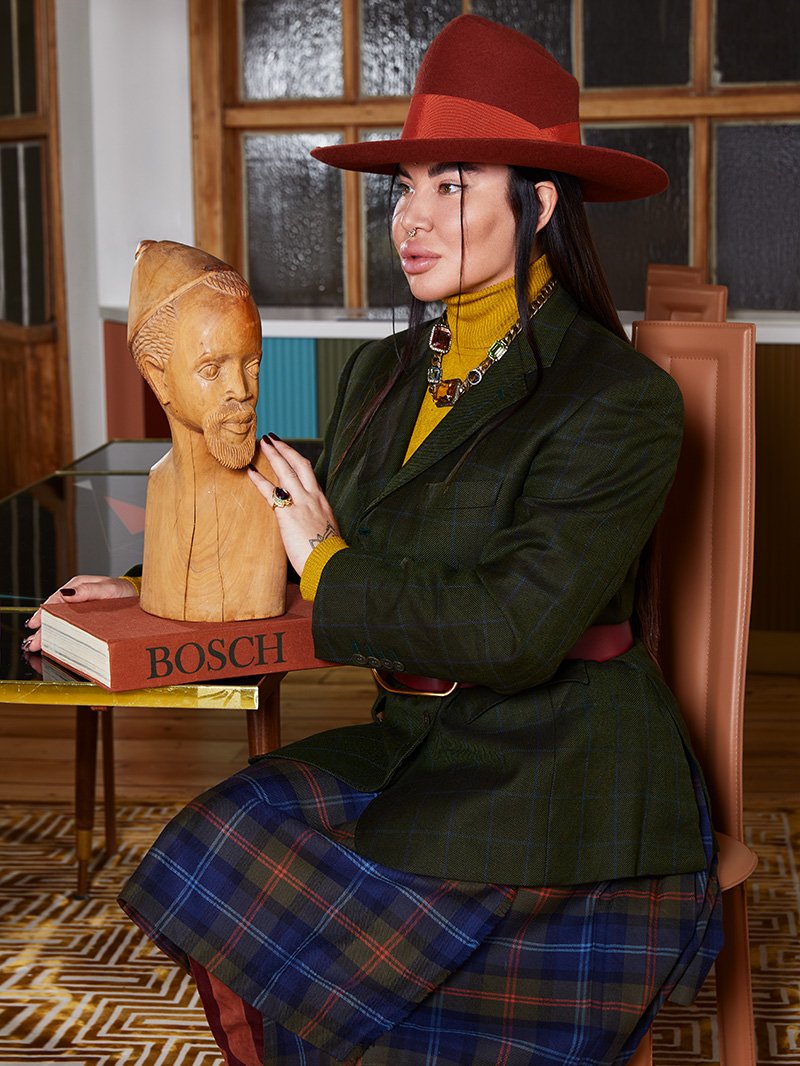 According to the Russian Rada, the most pleasant thing that you can ever buy in resale are books with a special history, a touch of time and experienced emotions. It was from there that the Bosch catalogue was taken out. And a male bust flew in from the depths of Africa.
It's hard to stop thinking about this handbag. A tiny model from John Galliano's iconic Dior 2000s collection. Resale is great because you can buy unique items that were simply impossible to buy before. The resale has something that in the past never made it to boutiques and shops; these are works of art from the world of fashion, sold out immediately after the show by shark buyers. Luckily, Rada found the handbag and later came the perfect Kenneth Jay Lane earrings that go with the bag rightly.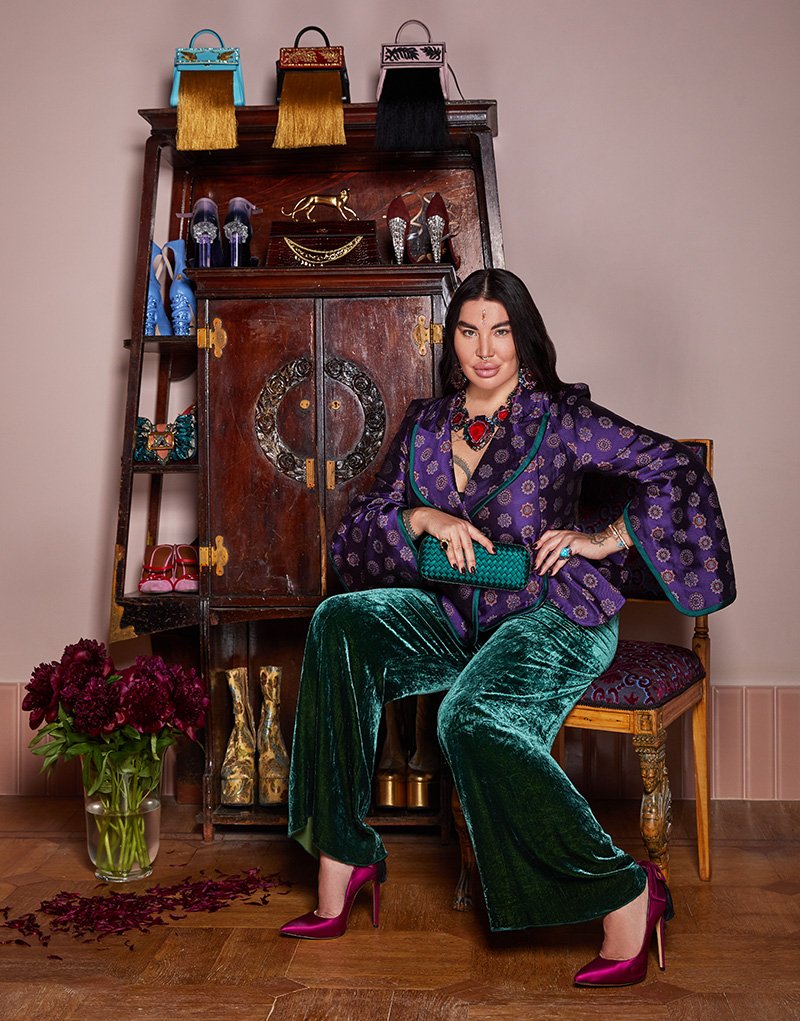 It was difficult to pass by this chinoiserie cabinet of the tenth and twenties of the last century. A cabinet with an exceptional design serves as a colourful showcase for the most valuable and amazing pieces of the vintage collection.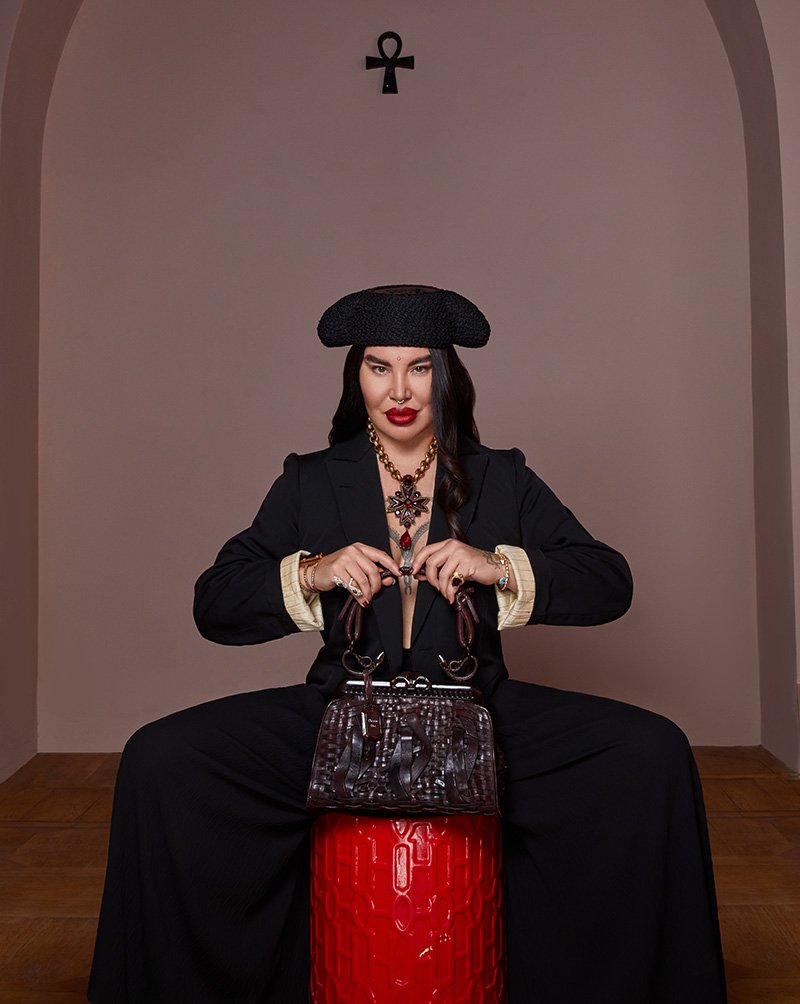 The rarest treasure in Rada's collection is the Dior Samourai bag by John Galliano, which she hunted for 8 years. According to the patron, this is the best model ever created by Dior and John Galliano. The rest of the finds seem to frame this masterpiece: an antique tailcoat of a conductor, a bullfighter's headdress and a necklace – an Oscar de la Renta catwalk cross.
Rads's outfits with Spanish, Indian, and Japanese colours can be viewed endlessly, looking or new details and impressive accents. Looking at her, you understand that luxury items, iconic accessories and iconic interior items are becoming available with a resale philosophy that is not yet so popular in Russia. Moreover, there is no other way to call them; the exhibits acquire additional value for the owner. They contain a journey, a life story, and a love for the planet and other people's work.