If You Are Someone Who's Thrilled With Givenchy's Beauty Products, This Segment May Disappoint You. As This Unmanageable Container With An Awkward Design Is Sadly, The Less-Than Satisfactory Product. Let's Find Out How!
After doing your face makeup it is important to set it with some powder to make sure it stays in place all day. Being a staple makeup product in every mother's handbag. Compact powders are the perfect type of powder to touch up when on the go. Pressed into a pan it can be used to get rid of the excess oil and sweat on your face.
Thus, here we have Givenchy's Mini Prisme Libre Loose Setting and Finishing Powder, so let's get into its deets, without any further ado. The first ingredient this loose powder consists of is talc, and we have evidenced so much that it causes health issues when inhaled.
For people who are ageing, this powder may accentuate your wrinkles and fine lines. Turning out, it might not be your go-to
loose powder, and on top of it is so messy as the powder keeps flying everywhere. On the contrary, the sieve between the
poof and the powder makes it very difficult to pick up powder on the poof and use it simultaneously.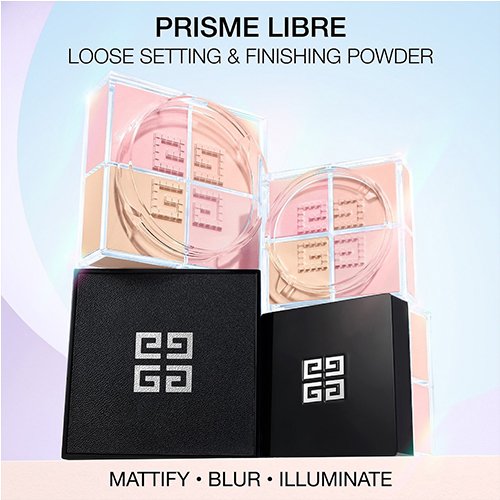 It's a setting which is not even close to settling, as it flies over. We never expected that a product touting itself as "matte" would have glitter in it, but this indeed does. It also has a very strong fragrance which went away shortly after applying it, but at first it is extremely strong.
Finely milled powder, settles on face while looking powdery, and it feels that the makeup becomes excessively patchy leaving
a white pasty look and while trying to blend, it makes the makeup look messy but it does feels soft on the skin.
Getting into the technicalities, the holes that let out the powder from the 4 letter G's and each G releases a little of each colored powder. When the powder gets on the puff provided it's not mixed but separated. This makes it difficult to get a smooth finish. With such packaging, applying it feels a little clumsy, but if you have more time with it, you could make it work.
So, if you're looking for such a loose powder, this might just be your go-to! Happy flying powder!