All The Camera Lovers, It's Over For Those Shaky Movements As We've Got The Brilliant Accessories For Your Cameras. Read On!
The importance of a gimbal lies in its ability to produce professional-looking footage that is free from the shaky, jarring movements often associated with handheld cameras. By stabilizing the camera and eliminating unwanted movements, a
gimbal can produce smooth, cinematic footage that is ideal for a range of applications, including vlogging, travel videos, and filmmaking.
1. DJI – RS3 PRO
Let's begin the tour of the gimbal domain from a brand which is the most popular among photography and technology –
DJI. The brand has covered the industry like a pro with its reliable technology and performance of products. Recently launched in the photography world, we'll be discussing the RS3 Pro by DJI. The Gimbal stabilizer combo has been specially redesigned to give a performance that can ace the market. This gimbal by DJI is a new transformation to the Ronin series. It is slimmer, sleeker and much more powerful than the mentioned series. When it comes to stabilization, weight plays a crucial role.
RS3 Pro is constructed with carbon fibre making it an appropriate material for the tech product.
The compact nature of the gimbal is just about right for handling and operating with small and mid-size cameras. The camera can slide with millimeter-grade precision changes thanks to a recently introduced fine-tuning knob, making it simpler to achieve proper balancing while switching lenses. With greater stability for camera handling, a full-colour OLED display now bigger, and the updated motor, the RS3 Pro has the calibre to become an essential part of your professional camera kit.
• Weight: approx. 1,143 g
• Battery Capacity: 2970 mAh
• Operating Temperature: 0° to 45° C
2. ZHIYUN – CRANE 3S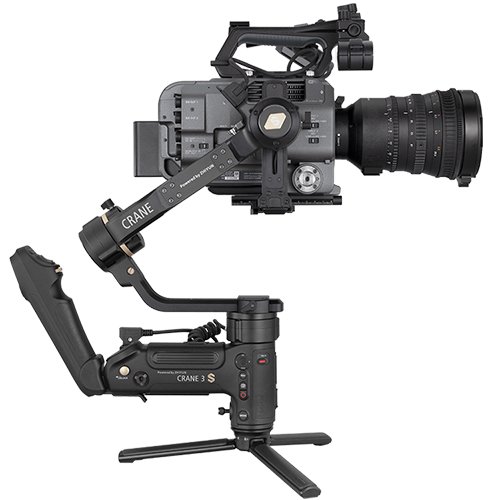 The Crane 3S by Zhiyun Tech is a beautifully redesigned gimbal with a great payload of 6.4 kg. This gimbal also features countless advancements that are suitable for every videographer. With wireless video transmissions and focus controllers, the gimbal has the potential to serve different camera sizes with the assistance of an extension module available. The special attribute of this tech-advanced tool is ViaTouch 2.0 motion control system. Around the gimbal, there are nine accessory mounting threads that can be used to attach a variety of Transmount or third-party accessories. The new axis latch lock system, which consists of a separate latch lock on each axis and offers firm locking in place without excessive sway, is another significant feature of this gimbal.
The optional EasySling handle gives a straightforward, comfortable handgrip without controls, while the included SmartSling handle offers an ergonomic handle with an integrated joystick and control buttons. In addition to an OLED status panel, all the controls you want are conveniently located at the top of the main handle. A DC connector allows you to connect the supplied Transmount PowerPlus battery pack, which is made up of six 18650 batteries if you require more shooting time than the 3S PRO's internal battery can provide. The Crane 3S can also be charged with the help of an internal battery. There is possibly nothing that has been missed by the brand's innovative gimbal tool.
• Weight: 2.47 kg
• Battery Capacity: 2600 mAh
• Operating Temperature: -10 to 45°C
3. MOZA – AIRCROSS S
Considered the ultimate gimbal for shooting videos by professionals, we cannot forget to mention this one on the list. Aircross S by MOZA is a 3-in-1 gimbal stabilizer that gives you perfect control over your equipment. An all-arounder is available, compatible with a variety of cameras of all sizes, including mirrorless cameras, action cameras, and mobile phones. Aircross S offers a truly unique shooting experience and is ready to use with all of your camera equipment! Instant switches enable a variety of gadgets to easily handle your multi-task shooting scenario needs.
With great strength, comes great compatibility. Weighing only 700g and reaching up to 1.8kg payload, the 3-In-1 is now stronger, more versatile, and full of features.
Shoot it like no one else can! The universal dual-layer 1/4" adapter makes it quick and easy to mount two cameras. Wide focus
enlarges the field of vision to capture a panoramic scene, while long focus creates superb portrait mode. Never overlook a detail! A selfie or a monitor? Both! Therefore, every shot is more vibrant than before; simply tap the desired clip.
• Weight: 750g
• Battery Capacity: 1000mAh
• Payload weight: 1.8 kg
4. FEIYUTECH – SCORP C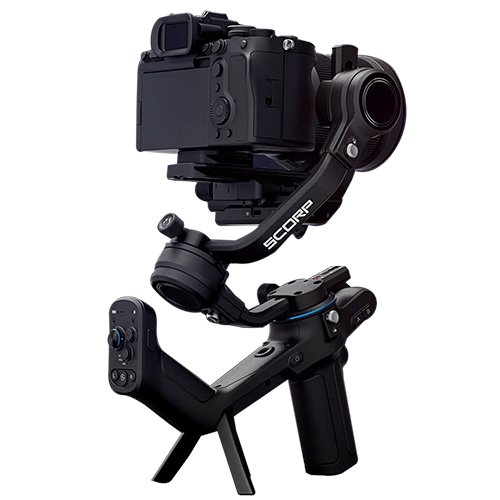 The 3-Axis handheld gimbal stabilizer is another innovation that doesn't need an introduction to the world of video professionals. One can capture anything with filming that is versatile. With numerous features that one looks for while investing in a gimbal, the Feiyutech Scrop C is another great gem for the filming industry. The integrated hanging handle gives you full control of the lens from whichever angle you are filming. Whether you are shooting upright or underslung. Additionally, it has bevelled edges and smooth, rounded ergonomics to exactly fit your hand, making it quite comfortable to handle.
The Scorp C is specially designed for mirror-less cameras, as well as being compatible with a variety of DSLR and other mirror-
less cameras. Greater carrying capacity, easier engagement, improved payload performance, and single-shot suitability. We're not finished yet. The W9 generation four-element stabilisation method, coupled with a high-performance CPU, aids in improving the stability and smoothness of the image while also enabling finer control over the control.
• Weight: 1.2 kg
• Battery Capacity: 2500mAh
• Payload weight: 2.5kg