Unleashing The Hotness, Bursting Into The Limelight, While Constantly Hinting That There Is More Beneath Her Perfectly Polished Surface. Get To Know Myriam Fares Who Pours Her Heart Out For Our Digital Cover Star For The May Issue.
Team Credits:
Talent: Myriam Fares 
Fashion Stylist: Sleiman Dayaa 
Assistant: Nour Chamseddine
Photographer: Tarek Moukaddem
Assistant: Anis El Jamal
Art direction: Gui Asmar 
Makeup Artist: Patricia Riga 
Assistants: Fadia Nazha & Meghety Dono
Hair Stylist: Walid Zeineddine
Assistant: Ibrahim Jradi
Meet Myriam Fares, the first Arab International Star, who is also our Digital Cover celebrity of the May issue. Myriam crossed all geographical borders reaching different cultures from all around the globe with hits like "Tukoh Taka", "Goumi" and "Ghmorni". Earning the title of "Queen of Stage", she is best known for her unique performances. Through her talent, she introduced to Western countries the diverse art of the East in a modern and appealing style. Above all, she is a warm mother who believes in prioritizing children and family. Myriam opens up about her experience and personal life.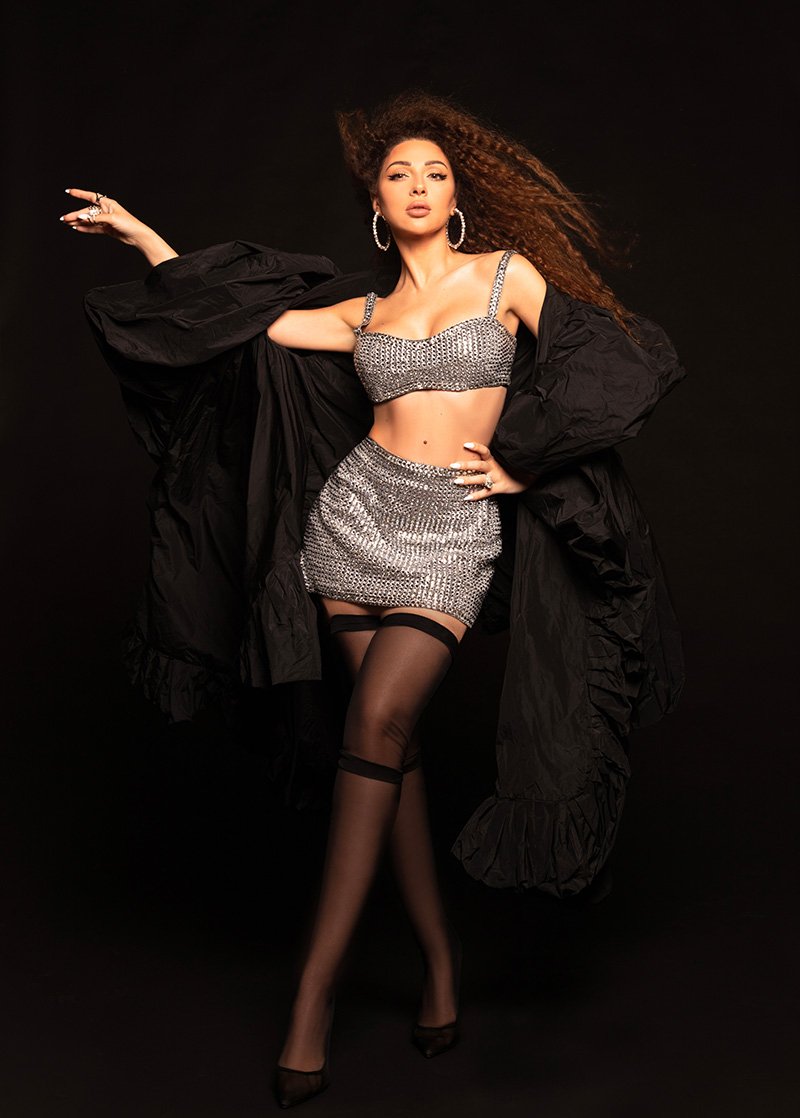 Complete look: Dolce&Gabbana 
What was it like when you first knew about the collaboration with Nicki Minaj and Maluma on the FIFA Fan Festival Anthem? Tell us more about the preparations for your song 'Tukoh Taka'.
I am extremely proud to have been chosen by FIFA and Qatar to represent the Arab country "Tuko Takah". The project was easy-going and pleasant, and I insisted on incorporating various Arabic styles, such as Oriental, Khaliji, Egyptian, and Iraqi dance. In addition, I added elements of Egyptian and Khaliji music distribution to the song to bring together various Arabic regions in the song I sang in both the Lebanese and Khaliji languages. Additionally, I insisted on using more than one Arab dialect in one song and different dances to combine the Arab culture. The most rewarding aspect of the collaboration was when Maluma enjoyed singing to the Khaliji rhythm that I had produced and arranged.
As one of the few Arab singers in the recent times whose name has crossed beyond the Arab region and taken over the globe, how do you feel about this achievement?
As Arab singers, we are passionate about our art and its ability to transcend the borders of the Arab region. Our art is incredibly diverse and rich, and we want it to be enjoyed by people from all around the world. Therefore, I am very happy about the achievement of having my name surpassing the Arab region day by day. It is gratifying to know that my music can represent the combination of Arabic cultures and can reach the largest number of people possible.
We all saw how flawlessly you documented your experiences with family while in lockdown in your documentary on Netflix: "Myriam Fares: The Journey," did your bond grow stronger after it?
The release of my Netflix documentary during the Covid-19 pandemic was intentional, as it aimed to reach out to people who were unable to connect socially due to the lockdown. The pandemic posed numerous challenges, but I made an effort to approach the situation positively and spent quality time with my family. As a result, our bond grew stronger, especially with my son, who was at a sensitive age and needed support. During this time, I discovered when I was pregnant, which made me even more sensitive. However, the lockdown provided ample time for me to explain the situation to my son, Jayden that we are expecting a new-born, and I need to take care of myself.
You have given us some blockbuster hits such as "Ghmorni", "Inta el Hayat," and "Goumi", from where did you get the inspiration for the same?
When I released the song "Goumi," I was going through severe health conditions, and I thought that I will not be able to stand on stage ever to perform as usual. However, I found myself producing a song that encouraged girls to stand up and dance. This motivated me to make a comeback and get back on stage and dance. The song went viral after I did the dance challenge on Instagram, not only in the Arab region but also around the world, and it achieved more than 9.5 billion views on Tiktok to date. The success of my other songs, such as "Ghmorni" and "Inta el Hayat", also grab my attention. Despite being uploaded 20 years ago, these songs are still popular and viral, especially in Eastern European countries, where they have been translated into Russian, Azerbaijani, Ukrainian, and Chechen languages. Interestingly, they are still played in the Arabic language on the radio and are the most popular programs and nightclubs in Eastern European countries.
Of all the projects that you have worked on, which one is your favourite and why?
Choosing a favourite song is extremely difficult especially since I am the producer of all my songs, because each one has its own unique story and was created with a specific vision. Every song is different from the others, in terms of melody, style, performance, and music distribution, because I blend cultures together and traditions and present them in a way that resonates with my era and the new era. Therefore, I cannot single out a favourite song, but I can tell you about my latest release, "Tukoh Taka." This song is unique because it combines the Lebanese and Khaliji languages with Khaliji, Latin, and Egyptian music distribution. In my choreography for the music video, I performed Lebanese, Egyptian, and Khaliji dance styles. In addition, I collaborated with Nicki Minaj, who sang in English and Latin rap, and Maluma, who sang in his mother tongue, creating a beautiful rhythm that blends different cultures and languages together.
You have been in this industry for a long time now, what's the one thing that you wished that someone should've told you when you were starting your career?
I began my artistic journey when I was young and lacked the necessary experience. At that time, I viewed art as pure and beautiful, and I hoped that someone would guide me in this field. However, I soon realized that this business is extremely difficult and not as easy as I had initially thought.
Top and Skirt: Bent Kahina
It is often said that "Difficult Roads Often Lead to Beautiful Destinations". What were the difficult roads which helped you in reaching this beautiful destination?
I have faced several challenges in this career; however, I maintain a strong focus and a clear sense of direction. I know precisely what I want to achieve, and then pursue it relentlessly, without getting distracted by negativity or external influences. I always keep my eyes fixed on the prize and move forward with unwavering determination, even in the face of challenges and obstacles. This commitment to my goals has allowed me to sustain a successful career for over 20 years, and I
continue to strive for even greater achievements.
With such a huge fanbase, it's obvious that you must have some critics. How do you deal with them?
Although critics can sometimes offer helpful insights, others only seek to hurt. When they see someone achieving great success, they become envious and express their negativity towards it. However, I have learned not to pay attention to these negative individuals and instead pity them for their negative mindset and inability to celebrate the success of others.
Dress: Jean Pierre Khoury 
Talking of fitness, your body speaks of how you value fitness in your life. How much do you think of a role fitness play in one's life & what are your fitness mantras?
Maintaining a healthy body and mind is equally important for me. Although I do not indulge in extreme sports, I have been stretching, yoga, and other types of exercises since I was young, to help me maintain my breath and silhouette on stage. My performances are live and usually last for two consecutive hours, including singing and dancing, so having good breath control is crucial. My fitness routine is ongoing and consistent. Praying for an hour every day, helps me meditate and sort out my thoughts, resulting in a sense of calmness and tranquillity.
We just love the way you are raising your kids, what are the bits of advice that you want to give to all the parents out there?
In today's fast-paced and globalized world, many of us do multiple jobs and responsibilities. However, when it comes to our children, it is crucial that we must take a moment to pause and listen to what they have to say. Sometimes, children may not be able to fully express themselves, so it is important to pay close attention and try to understand their message. We should aim to answer their questions accurately and truthfully. As a mother, I have learned that giving our time and attention to our children is the most valuable gift we can offer them.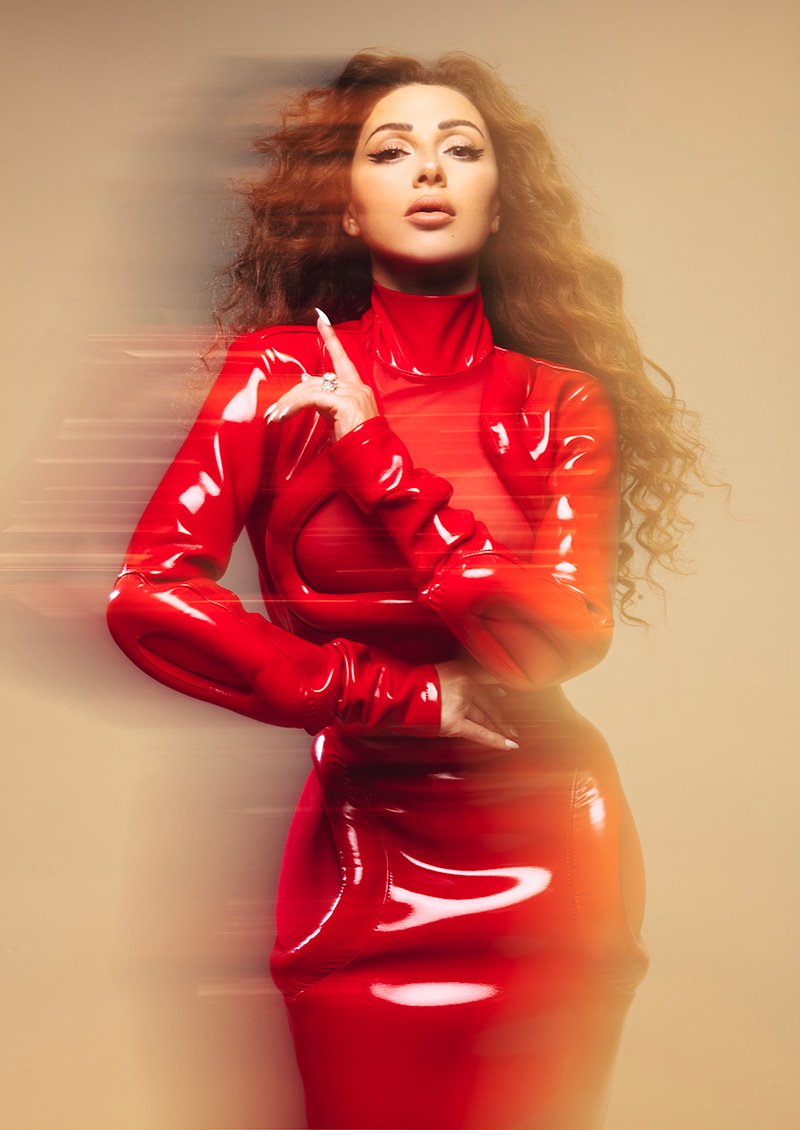 Are you working on any future projects that we don't know about? Please put a light on some of those.
I am currently working on a number of exciting projects that I am thrilled to share with my fans in the near future. However, I prefer to keep my upcoming and future projects under wraps and surprise my fans with them.
All our readers just love the way you are, bold, fierce, and a beautiful lady both inside and out. Is there anything you want to say to those who aspire to become like you?
One of the most important things I always say is to stay positive no matter how difficult a situation may seem. Another piece of advice is to never give up, even when faced with rejection or obstacles. In fact, I advise every person to never take a "No" for an answer. I truly believe that with persistence and a positive mindset, nothing is impossible.