Bridesmaids' Fashion Can Make A Statement At A Wedding By Reflecting The Overall Style And Aesthetic Of The Event. Ladies, Get Ready To Make Heads Turn With The Elegant Bridesmaid Fashion Statement Through These Pieces.
Bridesmaids play an essential role in a wedding, not only by supporting the bride but also by enhancing the overall aesthetics of the event. When it comes to creating an unforgettable wedding, no detail should be overlooked, and this includes the accessories worn by the bridesmaids. In fact, carefully chosen accessories can elevate a bridesmaid's ensemble from ordinary to extraordinary. Adding a touch of glamour and sophistication will make any wedding day unforgettable.
From sparkling earrings to glittering hairpieces, accessories are the perfect way to enhance a bridesmaid's natural beauty and of course, make a statement. They can be used to complement the bridesmaid's dress, tie the wedding colour palette together, or create a cohesive theme that ties the entire party's look together.
The right accessories can also help to accentuate a bridesmaid's unique style and personality, allowing her to shine on this special day to make it memorable for the friend getting married. Whether it's a bold statement necklace, a delicate bracelet, or a pair of elegant shoes, accessories can help to create a look that is both timeless and trending.
So, when it comes to selecting the perfect accessories for the bridesmaids, don't be afraid to think outside the box and get
creative. With the right accessories, your bridesmaids' look can make you feel the best version of yourself, making the wedding day one hell of a memory. A great way for bridesmaids to carry accessories is by opting for a chic and stylish clutch or handbag. This accessory not only serves a practical purpose, allowing bridesmaids to carry their essentials, but it can also complement their dresses and add a touch of sophistication to their overall look.
So, if you're struggling to find the perfect piece of accessory to elevate the eccentricity of your look, then you should unwind a little. Like always, this wedding season, we've curated some high-fashion, elegant accessories. This list is for all the ladies out there who either are looking for a gift for their maid of honour, or the ones who are bracing to play the role. Have a look!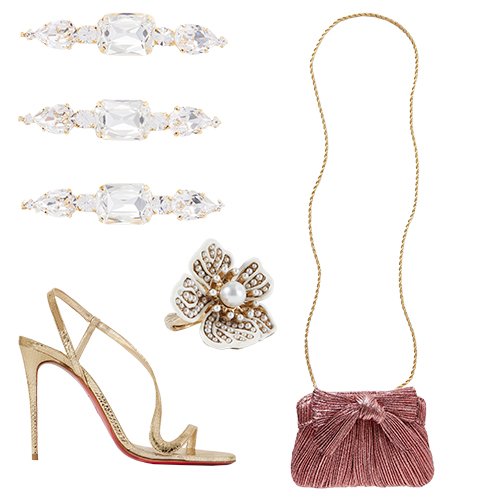 1. LELET NY, Jules set of three gold-tone Swarovski crystal hair clips, approx. Rs. 49,450
2. OSCAR DE LA RENTA, Broken Flower gold-tone, faux pearl, and enamel ring, approx. Rs. 43,030
3. LOEFFLER RANDALL, Rochelle bow-embellished plissé-lamé clutch, approx. Rs. 23,910
4. CHRISTIAN LOUBOUTIN, Rosalie 100 metallic leather sandals, approx. Rs. 73,170
For those soft tones and satin silhouettes, these accessories would complement your look by adding an extra dose of grace.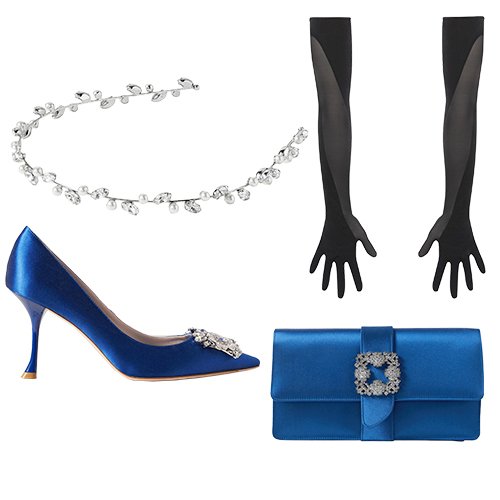 1. JENNIFER BEHR, Lina silver-tone Swarovski crystal and faux pearl headband, approx. Rs. 34,750
2. Woldford, Flock Shaping Gloves, approx. Rs. 24,120
3. MANOLO BLAHNIK, Capri crystal embellished satin clutch, approx. Rs. 2,56,790
4. ROGER VIVIER, RV Bouquet Strass embellished satin pumps, approx. Rs. 1,74,740
Who doesn't like certain Disney vibes? So, here you go with some crowned lady inspiration to stand out at your best friend's wedding.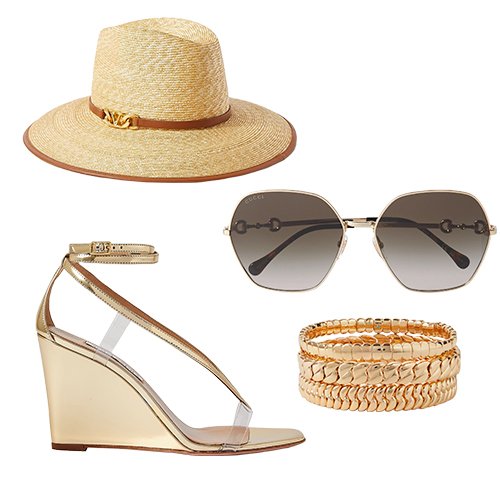 1. VALENTINO GARAVANI, VLOGO leather-trimmed straw sunhat, approx. Rs. 81,760
2. GUCCI EYEWEAR, GG Horsebit D-frame gold-tone metal sunglasses, approx. Rs. 39,240
3. ROXANNE ASSOULIN, Set of three gold-tone bracelets, approx. Rs. 21,670
4. AQUAZZURA, Illusions Plexi 85 PVC trimmed mirrored-leather wedge sandals, approx. Rs. 61,320
Day weddings featuring sun can be a little uncomfortable but worry not if you're the bridesmaid. These special add-ons will act as a saviour.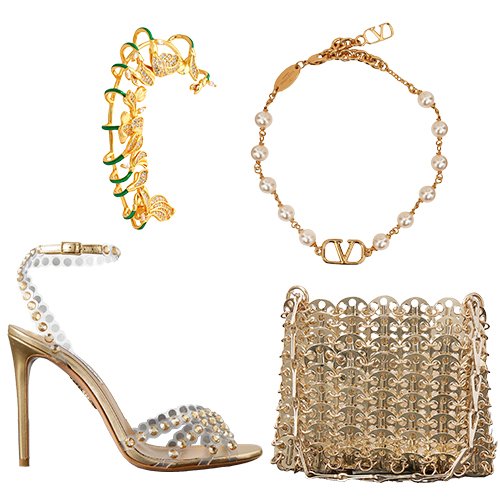 1. ZIMMERMANN, Gold-Plated Floral Single Ear Cuff, approx. Rs. 32,950
2. VALENTINO GARAVANI, VLOGO Signature Strass Bracelet, approx. Rs. 39,650
3. PACO RABANNE, Nano 1969 chainmail shoulder bag, approx. Rs. 1,10,790
4. AQUAZZURA, Tequila 105 embellished PVC and metallic leather sandals, approx. Rs. 1,60,390
Everything that glitters! Anything paired with some gold tone accessories can look even more graceful.