Time To Add Some Extra Bling To The Last Fling Before You Turn Into Mrs. From Miss. And Trust Us, You Want To Throw Sass All Around On Your Bachelorette. So, Take Notes For Your Girls' Night To Do All The Things That Are Meant To Be A Secret.
One of the very wonderful aspects of becoming a bride is undoubtedly the bachelorette. Whether it's online or in Vegas, getting to party with your best friends while wearing a dapper dress is a memory that youn may cherish a lifetime. The last flourish? You should dress in a way that makes you feel like a million bucks and will encourage your friends to take shots of you all night long on Instagram. Brides-to-be frequently choose short and flirtatious, dresses for their final outing before the wedding. High hemlines and low necklines do not, however, constitute a bachelorette party dress. And white is by no means a requirement!
It might be difficult to choose what to wear to a bachelorette party because there are so many little dresses, swimwear, surprise activities, and night outs to take into account. At this time, you should dress for your girlfriends rather than your partner.
If you're choosing your bachelorette dress, the options are countless. It might be a sneak peek of what you might wear on your big day or it can have a completely different flair than your bridal gown, allowing you enough space to experiment with alternative looks. Head over for some stylish outfit inspiration for bachelorette parties that you'll want to wear.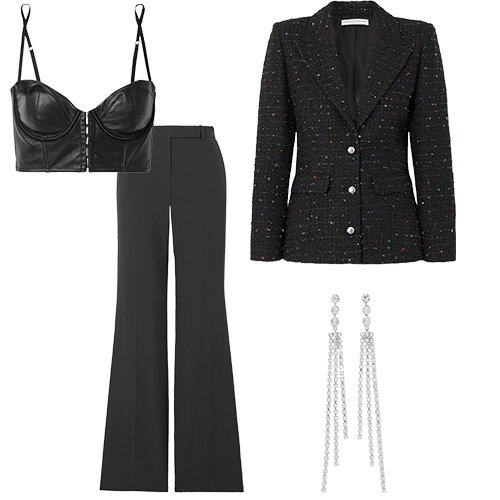 1. KIKI DE MONTPARNASSE, Cropped leather bustier top, approx. Rs. 53,460
2. ALESSANDRA RICH, Sequin- embellished metallic tweed blazer, approx. Rs. 2,24,630
3. ALEXANDER MCQUEEN, Crepe bootcut pants, approx. Rs. 85,050
4. ISABEL MARANT, Silver- tone crystal earrings, approx. Rs. 38,720
1. NORMA KAMALI, Walter off-the- shoulder ruched stretch-jersey midi dress, approx. Rs. 35,200
2. GUCCI, Gold-tone crystal necklace, approx. Rs. 30,180
3. SAINT LAURENT, Niki Baby mini quilted crinkled glossed-leather shoulder bag, approx. Rs. 2,25,710
4. CHRISTIAN LOUBOUTIN, Condora Lacestrass 85 crystal- embellished satin sandals, approx. Rs. 1,39,590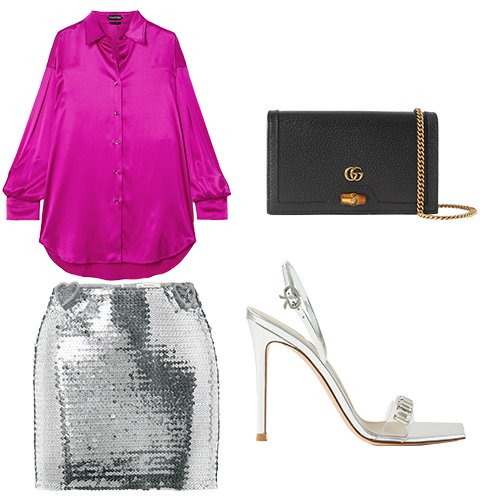 1. TOM FORD, Oversized silk and Lyocell-blend satin shirt, approx. Rs. 1,10,410
2. NENSI DOJAKA, Embellished cutout sequined tulle mini skirt, approx. Rs. 98,370
3. GUCCI, Diana mini textured-leather shoulder bag, approx. Rs. 89,140
4. GIANVITO ROSSI, 105 crystal- embellished PVC and metallic leather slingback sandals, approx. Rs. 1,08,760
1. ELIE SAAB, Crystal- embellished crepe jumpsuit, approx. Rs. 3,98,700
2. ALEXANDER MCQUEEN, Silver-tone crystal earrings, approx. Rs. 73,190
3. MANOLO BLAHNIK, Capri crystal-embellished Lurex clutch, Rs. 2,59,810
4. JIMMY CHOO, Saeda 100 crystal-embellished satin pumps, approx. Rs. 1,27,910