Dutch Paintings Boasts An Extremely Rich And Varied Artistic Heritage, Want To Know In Detail About Them? Dive In To Help Yourself!
How much are you willing to pay for a captivating piece of art? There's no denying the power of a breath-taking painting; it can evoke a variety of emotions and even act as the centrepiece of a room. But, at what cost? For some collectors, the sky's the limit in terms of what they are willing to pay in the name of good art. Year after year, auction houses and private galleries see record-breaking sales for works. Here, we take a look at some of the most expensive and renowned paintings by dutch artists ever to be sold in art history.
WOMAN I BY WILLEM DE KOONING
Willem De Kooning famously said, "Flesh is the reason oil paint was invented," and although he often worked in an abstract style he continually returned to the figure. De Kooning made numerous and preliminary studies repainted the canvas repeatedly, eventually arriving at this hulking, wild-eyed figure of a woman. An amalgam of female archetypes from a Paleolithic fertility goddess to a 1950s pinup girl, her threatening gaze and ferocious grin are heightened by De Kooning's aggressive brushwork and intensely colored palette. De Kooning took an unusually long time to create Woman I, making numerous preliminary studies and repainting the work repeatedly. The hulking, wild-eyed subject drawing upon an amalgam of female archetypes, from Paleolithic fertility goddesses to contemporary pin-up girls. Her threatening stare and ferocious grin are heightened by de Kooning's aggressive brushwork and frantic paint application. Combining voluptuousness and menace, Woman I reflects the age-old cultural ambivalence between reverence for and fear of the power of the feminine.
PENDANT PORTRAITS OF MAERTEN SOOLMANS AND OOPJEN COPPIT – BY REMBRANDT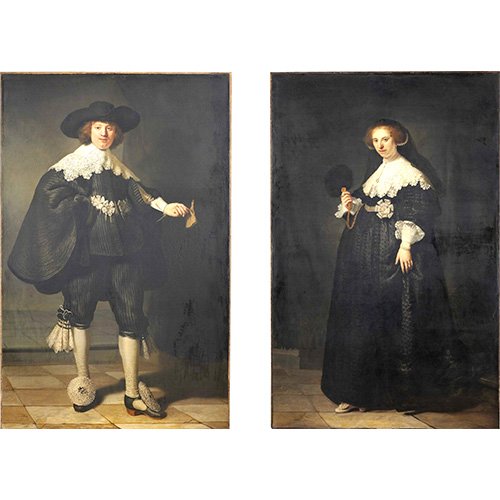 The portraits were painted by Rembrandt upon the occasion of the wedding of Marten Soolmans and Oopjen Coppit in 1634. Although the subjects were painted individually, the portraits have been kept together since their inception. Unlike many 17th-century portrait pairs, these two have always hung side by side in various collections based in Amsterdam or Paris. They are also unusual in Rembrandt's oeuvre for their size and the fact that they show the subjects at full length. Appearing in period inventories at regular intervals since their creation, together they form part of Rembrandt's core oeuvre against which other paintings with a more questionable lineage are compared. The subjects Marten Soolmans and his wife Oopjen Coppit are dressed as befits a pair of wealthy Amsterdam newlyweds. Though most in the art world agree these paintings should remain together, it became impossible for France to keep them within its borders, as the Louvre was unable to guarantee the necessary funding required to keep the ministry of culture from providing an export permit. The paintings have not been declared French national heritage. The paintings are an exception in Rembrandt's oeuvre, being the only full-length pendant
portraits known by the artist. This type of work, usually reserved for more southern European courts, and Flanders in particular, was very rare for its time in Holland. By choosing this type of portrait, the couple most likely wanted to showcase their social status.
PORTRAIT OF DR. GACHET BY VINCENT VAN GOGH
This portrait is the most expensive Van Gogh (1853-1890) once sold and was painted a few months before his death. The painting was bought in 1990 by the eccentric Ryoei Saito, a Japanese paper magnate. Saito died, and he had called for the painting to be cremated with him, to avoid problems with inheritance rights. This wish, was never fulfilled and the Van Gogh was preserved. Portrait of Dr. Gachet is one of the most revered paintings by Vincent van Gogh. It depicts Dr. Paul Gachet who took care of Van Gogh during the final months of his life. There are two authenticated versions of the portrait, both painted in June 1890 at Auvers. Both show Doctor Gachet sitting at a table and leaning his head on his right arm but they are easily differentiated in color and style. In 1890, the first version fetched when sold at auction in New York. When accounting for inflation, this is still the highest price paid for art at a public auction.
THE GIRL WITH THE PEARL EARRING BY JAN VERMEER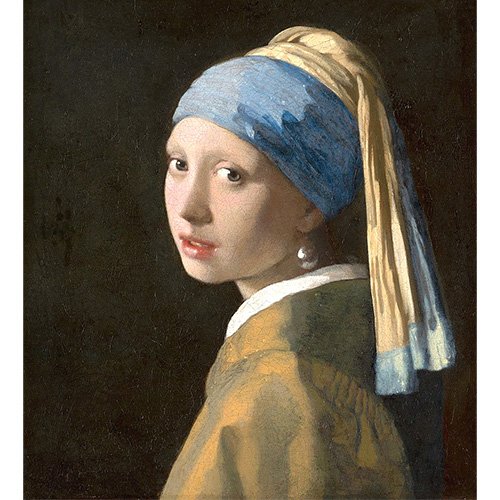 Jan Vermeer's painting The Girl with the Pearl Earring, was created around 1665, and is probably one of the most famous female portrait in art history after the Mona Lisa. In addition to their fame, the two portraits also have in common the fact there are questions over the identity of the portrayed. In the novel and film, The Girl with the Pearl Earring, which revolves around Vermeer's best-known work, it is posited that the fictional maid Griet, played by Scarlett Johansson. It is immortalized on a canvas by the painter. Other guesses range from a professional model to one of Vermeer's daughters. It is also noted that the pearl was not the focus of the painting from the beginning, but rather the woman's Turkish-style turban, which the original title The Girl with the Turban illustrates.