Looking For Essentials That Redefine Style? Look Nowhere Else Because We've Got Some Up–To–The–Minute Accessories For You.
We're already 4 months into 2023 but it still doesn't feels that long. One should never look for an occasion to wear a classy timepiece. Other than its usefulness, which is considered the major reason for wearing this wrist accessory, people who wear watches live by the quote 'old habits die hard.' Although most of us have smart gadgets with time on them, there is nothing
that can compare to checking your watch to see time throughout the day.
Men typically carry their phones in their pockets alongside their wallets, in contrast to women who carry their phones in purses. Most guys will agree it's just easier to flip the wrist than to fumble about within their pocket. Watch-wearers can set non-verbal cues, around the world by wearing watches.
The love men have for classic timepieces undoubtedly deserves appreciation. From vintage quintessential to modern–day
mechanised smart watches mak life simpler and easier, there is no way watches are going out of fashion. So, here we've curated some of the notable timepieces for all the gentlemen out there.
AG HEUER PLASMA DIAMANT D'AVANT-GARDE
Presenting luxury in a watch, the TAG Heuer Plasma Diamant d'Avant-Garde 44mm is a timepiece that redefines elegance. It is a real masterpiece as well as a celebration of craftsmanship, thanks to the lab-grown diamonds and innovative design. The 12
Baguette diamond indexes surround the captivating Polycrystalline diamond dial, which is the focal point of this watch.
This watch mechanism is an accurate representation of cutting-edge crafting techniques. The first coloured design of the watch in the TAG Heuer line was created using the Chemical Vapour Deposition (CVD) process. The watch now has a distinctive touch which gives an opulent grasp.
The new TAG Heuer Plasma draws on its trailblazing elder to push limits even further. It is a masterpiece of rare brilliance.
It features a spectacular crown at 3 o'clock. The TAG Heuer Plasma integrates the exceptional Manufacture Heuer 02 Tourbillon Nanograph movement and its unique Isograph carbon nanotube hairspring to combine cutting-edge watchmaking know-how with breath-taking aesthetics.
MONTBLANC 1858 ICED SEA AUTOMATIC DATE
You don't need to look any further if luxury is what you crave, Montblanc is the one for you. The luxury timepiece brand Montblanc is what we've brought to you this time. The Montblanc 1858 Iced Sea Automatic Date, the brand's first-ever sports diving timepiece edition, has a dial with a glacier pattern that gives the impression that you are gazing down into a glacier. Isn't that fascinating? The major glacier of the Mont-blanc Massif, the Mer de Glace, served as the model for this green glacial pattern dial. Its texture was created using gratté-boisé, a nearly extinct ancestral method.
The watch has a 41mm stainless steel case, a bi-colour ceramic unidirectional bezel, an engraved case back, and a tapered,
interchangeable green rubber band with micro-adjustments for a precise fit. What else could one ask for? The watch complies
with ISO 6425 requirements for diving timepieces and has a 300-meter water resistance rating. The new 1858 model's dial needed to reflect what the Montblanc makers had observed at the glaciers. It was undoubtedly a difficult job for the designers
to project the appearance of gazing into the depth of a glacier onto a watch dial that is only about 0.5mm in size. By using gratté boisé, an ancient method, as the dial's base, Montblanc was able to accomplish this.
REVERSO HYBRIS ARTISTICA CALIBRE 179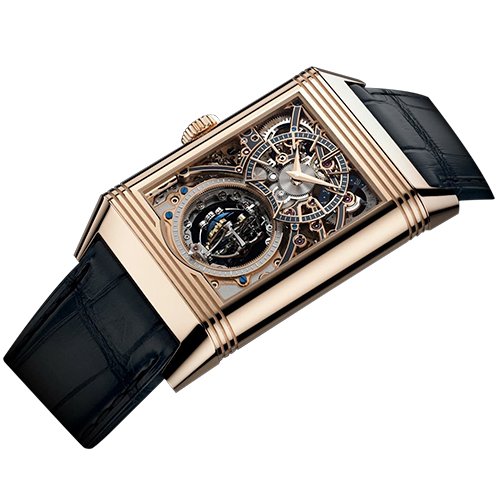 Reverso Hybris Artistica Calibre 179 is what it is. It not only has the fastest Gyro tourbillon (the inner tourbillon cage turns once every 16 seconds, and the outer movement completes a full rotation once every minute), but it can also display a
different time zone on each dial as well as a 24-hour indicator for the second time zone on the back.
The hemispherical balance spring, which swells and contracts like a beating heart, was developed by the Manufacture's
engineers and adds aesthetic finesse to the Gyro tourbillon while also being extremely effective. The Gyro tourbillon is a highly
complex construction with 123 parts that are visually captivating to watch as it pirouettes around its twin axes. The inner
tourbillon cage rotates at its fastest-ever rate of 360 degrees every 16 seconds, while the outer movement completes one full
revolution every minute.
A closer inspection shows a blued semi-spherical balance spring beating at the centre of the mechanism. The distinctive
double-anchor shape of a Gyrolab balance 'wheel', both bearing witness to Jaeger- LeCoultre's never-ending pursuit of greater mechanical precision and efficiency. In their pursuit, the engineers at the Manufacture have developed balance springs in a variety of shapes over the years. This hemispherical shape, which is ideally suited to the hollow sphere at the centre of the Gyro tourbillon, adds aesthetic refinement in addition to being highly effective.