Have You Ever Come Across A Watch That Actually Has An Amphibian On It? If Not, Dive In To Help Yourself With All You Need.
This month it's L'Officiel's 22nd Anniversary and a Maximilian Büsser and Friends (MB&F), a Swiss luxury watch and clock
manufacturer celebrates 10 years of its Horological Machine N°3 "Frog," making its comeback with three 'FrogX' anniversary editions. Read ahead to get into the details.
Radiantly exposed in a full sapphire crystal case, the protruding eyes of real-life frogs enable them to see in many directions
without having to turn their head.
HM3 Frog's bulbous hour and minute domes create a similar, enabling the time to be easily seen from many angles without
having to turn the wrist. Two globular "eyes" that rotate to give the hours and minutes. A widely grinning "mouth" revealing the occasional bright flicker of the signature MB&F battle-axe rotor.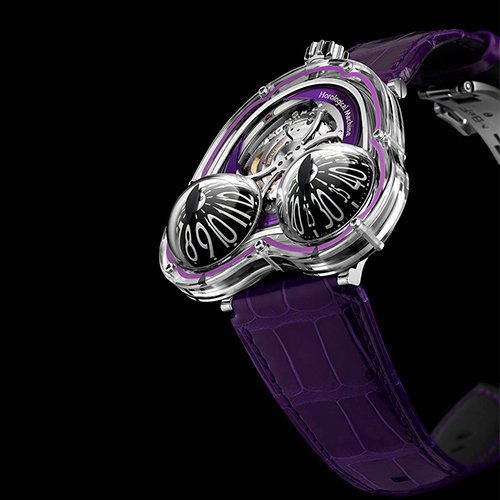 A glistening "skin" of titanium, red gold or exotic zirconium… HM3 Frog may have been small as a specimen of amphibious pond life. We really want to know, who on this planet wants to look at one wrist and admire the large creature with bulging
eyes coming out of a mechanical metal instrument in luxury materials.
If you wear such a timepiece in a board meeting, you'll probably be laughed out, a lot! As we feel it is a weird watch to wear
professionally and probably the weirdest looking piece to come from MB&F yet, and that is actually saying a lot.
You will also find a date display ring on the top of the watch as well. A small arrow on the case tells you were to read the date, which is too small that it will take a minute or two to read. Continuing with the frog motif, the watch sports two thin domes, milled out of aluminium (for lightness), which indicate the hours and minutes, rotating under markers which are designed to resemble the lateral pupils of a frog's eyes.
Most of the luxury watches are about ticking or missing boxes—like top trumps or the options list for cars. For watches, it's always about how precise they are, how refined their details are, how precious their materials are, how rare, exclusive, and cutting-edge they have. That's all fun, of course, but the frog is all, and yet none, of those things. But still, if this is what you're looking for, go ahead with a frog on your wrist.