The Simple Touch That Adds For An Ultimate Night Out, Will Be Covered By None Other Than The Latest Bags We Curated
For You. This Time, It's Just Not The Bags We Are Taking Care Of, But Also The Wallets Fitting Your Essentials Rightly!
If you're in the market for a knockout bag to add to your wardrobe—even if you're just looking—you've come to the right
place. As 2023 kicks off, we've rounded up all the biggest trends we can't stop thinking about from the season's best runways. Trust us, you're gonna see these buzzy bags and wallets popping up everywhere within the next few months. We've got you covered on all the hottest trends in the meantime, but the summer season is just around the corner, so get ready. Here, we're breaking down the best handbag and wallet styles for the season. We've got lots more trend intel to discover as you finish perfecting your wardrobe, so don't miss the latest fashion trends. But first, keep reading to check out the must-know 2023 bag trends that'll definitely be taking over this year, plus the wallets fitting perfectly. As it's our 22nd Anniversary we are celebrating the bags with an add-on wallet, drooling with the drill 2+2.
GUCCI BORSA A SPALLA GUCCI HORSEBIT 1955 & BI-FOLD WALLET WITH HORSEBIT
GUCCI BORSA A SPALLA GUCCI HORSEBIT 1955 & BI-FOLD
WALLET WITH HORSEBIT
Now, the Horsebit is featured on a plethora of prints and accessories from the house, including its famous loafers. Though the
Horsebit 1955 honours Gucci codes, the latest iteration comes in a range of silhouettes (think: a dome shaped top handle), as well as sizes, colours, and materials for a "choose your own adventure" type of styling experience. Easily distinguishable by its archival emblem, the perpetually coveted, celebrity-loved bag still features the trademark double ring and bar, an ode to horseback riding specifically, the snaffle on a horse's bridle. A favorite hobby among Gucci customers from the get-go (because, the '50s). To the uninitiated, the Horsebit 1955 might bear a strong resemblance to the initial design from six decades ago. Introduced in 1955, two years after the hardware appeared in the brand's collections. In fact, the reimagined version features the same equestrian-inspired metal detail.
COACH TABBY SHOULDER BAG 26 & WYN SMALL WALLET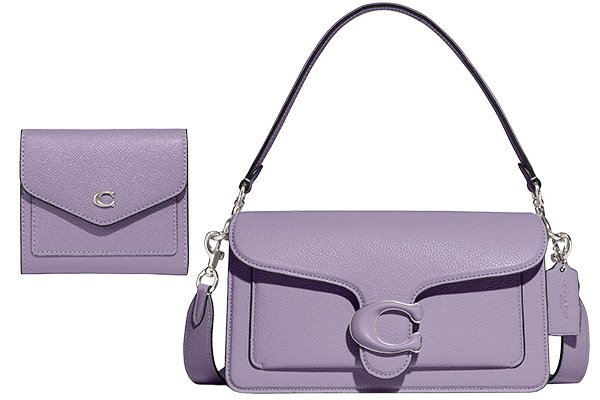 COACH TABBY SHOULDER BAG 26 & WYN SMALL WALLET
Luxury American fashion house, Coach revealed its newest 'In my Tabby' campaign to the public, starring Lil Nas X, Camila
Mendes and K?ki. The campaign builds on the brand's previous mission called 'Courage to be real', in which Lil Nas X was featured as well, and focuses on telling human stories of aspiration, courage and personal experiences. Three young public
figures share their individual journies of how they became who they are today. The "In My Tabby" campaign is a continuation
of Coach's journey with their "Courage To Be Real" concept, extending into a deeper level of belief and understanding. A campaign that celebrates the defining moments that make us who we are, featuring the brand's iconic silhouette, the Tabby bag. The campaign also powerfully redefines fashion as a platform to tell human stories, and bags as symbols for something much more meaningful than style or status. As a reimagination of an archival bag from the 70s featuring Coach's Signature hardware, the Tabby captures the brand's quintessential American design language of character and craftsmanship for a new generation.
PRADA MOON PADDED NAPPA- LEATHER BAG & SMALL SAFFIANO AND LEATHER WALLET
PRADA MOON PADDED NAPPA- LEATHER BAG & SMALL SAFFIANO AND LEATHER WALLET
Created with the iconic early 2000 in mind, Prada has released yet another bag that is set up to be the next IT bag, called Moon. But, if you think you recognize this bag, or maybe even have seen it before that's not entirely out of line. Back when released for the first time, the Prada Moon bag was called Prada Tessuto Moon and, was made out of both leather and the brands iconic nylon. It is described by Prada as a re-imagination of a bag from their archives dating back to the bagging of the 21st century but in a more modern manner. The new features on the Moon bag are a puffier silhouette and buttery leather as well as he handles being a tad shorter. The Moon bag is clearly what Y2K dreams are made of. So, how do we know this bag will stand out from all the other bag releases this year? Well, looking at Prada's collections for the last couple of years, the Italian powerhouse has released quite a few re-editions both in the bag and ready–to-wear collections.
FERRAGAMO GEOMETRIC MEDIUM SHOULDER BAG & CREDIT CARD HOLDER WITH GANCINI CLASP
FERRAGAMO GEOMETRIC MEDIUM SHOULDER BAG & CREDIT CARD HOLDER WITH GANCINI CLASP
The message at Ferragamo is clear: it's a new dawn for the Italian luxury brand as creative director Maximilian Davis continues his revolution of the brand with their latest campaign for the Ferragamo Spring Summer 2023, aptly titled "A New Dawn". A new take on the shoulder bag flaunting geometric lines and sculptural allure. Crafted from brushed calfskin, it features an understated construction with adjustable shoulder strap, metal fastening with Gancini profile and double flat pocket on the interior to hold your personal belongings. The new Ferragamo Shoulder Bag from the Spring Summer 2023 Collection features a soft geometric shape enriched with iconic details. A new icon of style fusing classic inspiration and contemporary design. Crafted from luxurious calfskin leather in a tactile mix with linen-cotton canvas. It is a timeless balance of impeccable lines and colours, with the signature twist of the Gancini buckle.