Your Fashion Slant Not Only Reflects Your Inner Personality But Also Divulges A Narrative. Accumulating Elegance And
Poise, Let's Fall In Love With Accessories The Right Way.
They say "carry it with style" for a reason. Playing dress up and donning a classy co-ord set is just not enough when it comes to style. A look is considered out-and-out only when you have the perfect accessories that complement your outfit just as Gigi Hadid's confidence complements her boss lady walk on the ramp. Be it a party, an easy-going summer day, an extra–special date night with Beau, or a ceremonial event at work. There is absolutely nothing that cannot be elevated with a touch of the finest of accessories.
You may not play dress-up to impress, but who said your glance is not in a position to impress? A little elegance added to any outfit can always fabricate a style statement that screams refinement. All you need is the perfect dose of fanciness. Without a few accessory pieces, no outfit would be complete. Every woman should own some of these beauties that will give you inspiration for how to make your clothing stand out. We need nothing to prove the benefits of the capsule wardrobe. The transition from the gloomy winter months to the brilliant spring months means that dressing calls for more than just a statement coat and oversized jumper. However, a core collection of classic pieces includes more than just ready-to-wear.
Just a little grasp of contemporary accessories can make you look like the star of the show. So, ladies, if you're puzzled with the question 'what to wear when', no sweat! Celebrating our 22nd Anniversary, this time we've curated four looks for every occasion with intact accessory suggestions.
THE COMFY CASUAL
LOOK
1. VALENTINO GARAVANI, Valentino Garavani printed silk-
trimmed straw sunhat, approx. Rs. 94,020
2. GUCCI EYEWEAR, GG square-frame gold-tone sunglasses,
approx. Rs. 44,970
3. SAINT LAURENT, Gold-tone resin clip earrings, approx.
Rs. 81,340
4. LOEWE, Puzzle colour-block leather wallet, approx.
Rs. 48,150
THE FORMAL LOOK
1. CARTIER EYEWEAR, Panthère de Cartier hexagon-
frame gold-tone sunglasses, approx. Rs. 85,280
2. HERMÈS TIMEPIECES, Heure H 21mm mini rose gold-
plated, leather, mother-of-pearl and diamond watch, approx. Rs. 7,69,140
3. LORO PIANA, Sesia leather tote, approx. Rs. 3,91,710
4. VALENTINO GARAVANI, Valentino Garavani VLOGO
leather belt, approx. Rs. 41,900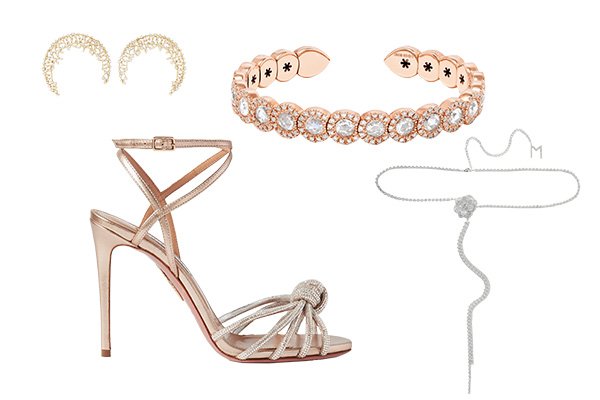 THE PARTY LOOK
1. ANANYA, Scatter Moon 18-karat rose gold diamond
earrings, approx. Rs. 8,52,300
2. DAVID MORRIS, 18-karat rose gold diamond cuff, approx. Rs. 41,61,320
3. MAGDA BUTRYM, Crystal-embellished silver-tone
belt, approx. Rs. 43,740
4. AQUAZZURA, Celeste 105 crystal-embellished leather
sandals, approx. Rs. 1,14,050
THE PEARL LOOK
1. JENNIFER BEHR, Lina silver-tone Swarovski crystal and
faux pearl headband, approx. Rs. 34,680
2. DAVID MORRIS, Fortuna 18-karat rose gold, mother-of-
pearl and diamond, approx. Rs. 1,79,530
3. ROWEN ROSE, Gold-tone faux pearl belt, approx.
Rs. 70,590
4. JIMMY CHOO, Sacaria 120 embellished satin platform
sandals, approx. Rs. 1,67,600