When Vests Are Mentioned, Our Brains Automatically Conjure Up The Stereotypical Idea Of Them-The Baggy Dad-Fit 3-Piece Suit. But Times Have Changed And So Has The Vest.
We may be living in times where everything around us is evolving and becoming futuristic, but fashion trends sure do take us back to a different era. The latest trend that turned the clock back around to the 90s vibe are none other than the chic tiny vests. Not the vests with puffy sleeves nor the ones which have a baggy fit. It is the pocket-sized vest that hugs the body and
also lends a strong power statement. Now the motto is, the tinier the better.
It almost gives a corset type feel without the constriction. The tiny vest has become a versatile addition as it gives you
an office going girl boss vibe but can easily be turned into a glam outfit for the girl's night out. As its L'Officiel's 22nd Anniversary, we are celebrating this 2+2 big, by playing with vests and denims (our forever love). Denims has the power to
elevate simplest vests with a dash of sass and glamour. Wanna know how? Help yourself!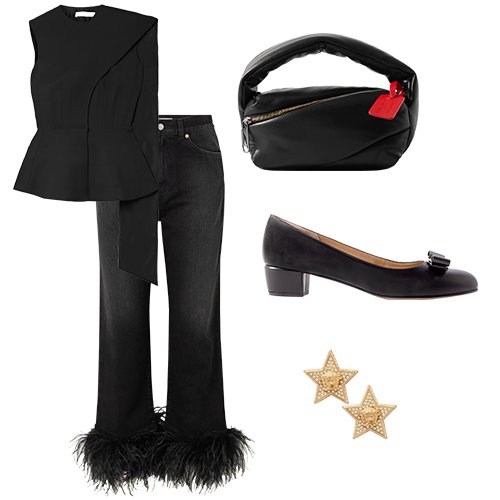 1.THE ROW, Fayna draped woven peplum vest, approx. Rs. 242,650
2.VALENTINO, Feather-trimmed straight-leg jeans, approx. Rs. 246,770
3.OFF – WHITE, Pump padded leather tote, approx. Rs. 188,440
4.FERRAGAMO, Vara bow-embellished leather pumps, approx. Rs. 104,090
5.VERSACE, Gold-tone crystal earrings, approx. Rs. 89,960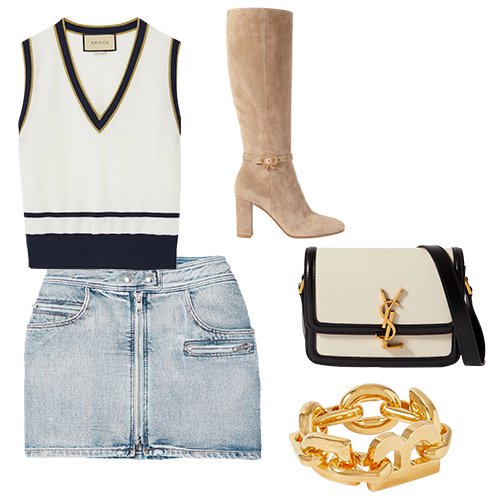 1.GUCCI, Cropped metallic striped wool vest, approx.
Rs. 80,770
2.ISABEL MARANT, Caly denim mini skirt, approx.
Rs. 68,670
3.GIANVITO ROSSI, Ribbon 85 buckled suede knee
boots, approx. Rs. 168,010
4.SAINT LAURENT, Solferino small two-tone leather
shoulder bag, approx. Rs. 372,940
5.BALENCIAGA, Gold-tone ring, approx. Rs. 46,890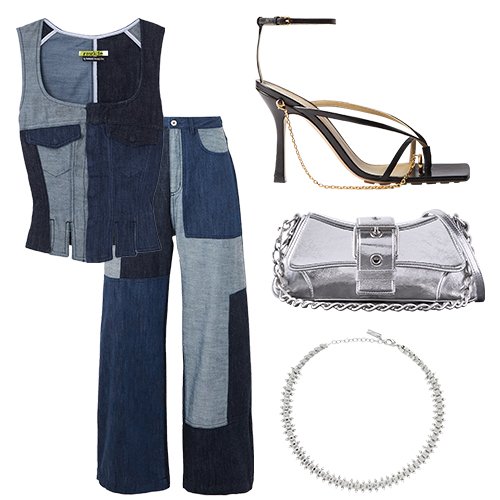 1.MARQUES' ALMEIDA, ReM'Ade patchwork denim vest,
approx. Rs. 36,320
2.MARQUES' ALMEIDA, ReM'Ade patchwork high-rise
boyfriend jeans, approx. Rs. 37,970
3.BOTTEGA VENETA, Embellished leather sandals, approx.
Rs. 133,300
4.BALENCIAGA, Lindsay small buckled metallic crinkled –
leather shoulder bag, approx. Rs. 185,070
5.SAINT LAURENT, Silver-tone necklace, approx. Rs. 94,360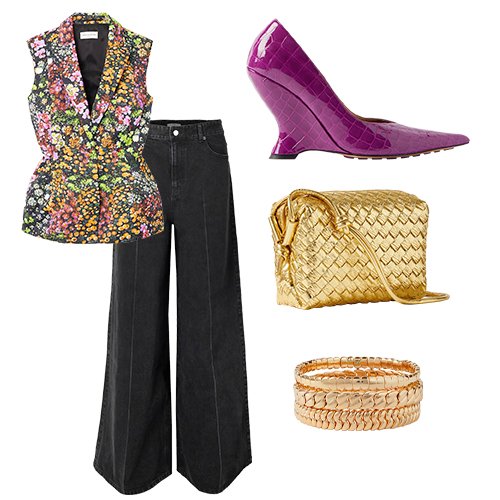 1.DRIES VAN NOTEN, Floral-print sateen peplum
vest, approx. Rs. 100,270
2.TIBI, Pleated high-rise wide-leg jeans, approx. Rs. 71,870
3.BOTTEGA VENETA, Loop intrecciato metallic
crinkled – leather shoulder bag, approx. Rs. 253,120
4.BOTTEGA VENETA, Gloss croc-effect leather
pumps, approx. Rs. 94,500
5.ROXANNE ASSOULIN, Set of three gold-tone
bracelets, approx. Rs. 29,360