Dressing Up Is Fun, But Sometimes, You Just Want (Or Need) To Keep It Casual Or Formal. That's Why We've Curated The Ultimate Guide To Casual And Formal Outfits, With The Same Timeless Outfit Fixing Your Style Rightly. Dive In To Nail Every Look.
Changing up your style can be an important ailment to keep your look in tune with where you are in your life. In today's ever-evolving society, fashion is becoming increasingly important. People are always looking for trends that tie together their style
and the looks. Piling on jewellery, and wearing your boldest colour with absolute gusto. But when you're in a low-key state of mind and craving effortlessness with the basics—or, to be frank, have roughly five minutes to get dressed casually or formally.
Don't worry we covered everything. If you want to dress casually or formally play the styling A-game and ace it all.
As it's our 22nd Anniversary, we are singing the 2+2 anthem, and styling one pair of jeans and a top in two different ways if you want to dress up- formally or casually. Whatever your vibe or aesthetic, it's wise to have laid-back looks aplenty on hand for the moment you're in need. If you're really stuck for inspiration and need some smart casual/ formal outfit ideas, look no further and read ahead!
1. WANDLER, Lotus cropped frayed high-rise
wide – leg jeans, approx. Rs. 22,570
2. BLAZÉ MILANO, First Class Charmer double-breasted silk-trimmed wool blazer, approx. Rs. 225,490
3. OFF-WHITE, One-shoulder printed ribbed stretch – cotton jersey tank, approx. Rs. 29,390
4. THE ATTICO, Venus satin pumps, approx. Rs. 91,170
5. BOTTEGA VENETA, Gold- tone earrings, approx. Rs. 69,390
1. WANDLER, Lotus cropped frayed high – rise
wide – leg jeans, approx. Rs. 22,570
2. CHLOÉ, + NET SUSTAIN oversized recycled denim trench coat, approx. Rs. 302,400
3. LOEWE, Anagram cropped embroidered ribbed cotton T-shirt, approx. Rs. 73,940
4. BOTTEGA VENETA, Loft leather pumps, approx. Rs. 118,730
5. KHAITE, Olivia medium suede shoulder bag, approx.
Rs. 241,140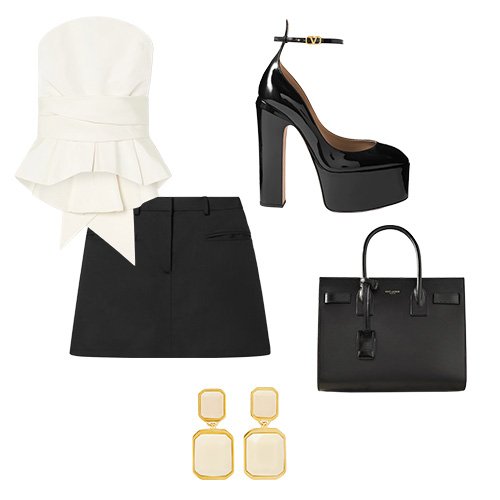 1. BRANDON MAXWELL, Bow – detailed silk – twill bustier top,
approx. Rs. 138,790
2. ALTUZARRA, Zola wool – blend twill mini skirt, approx. Rs. 68,270
3. VALENTINO GARAVANI, Valentino Garavani Tan-go 155 patent- leather platform pumps, approx. Rs. 162,650
4. SAINT LAURENT, Sac De Jour leather tote, approx. Rs. 211,840
5. SAINT LAURENT, Gold – tone resin clip earrings,
approx. Rs. 111,610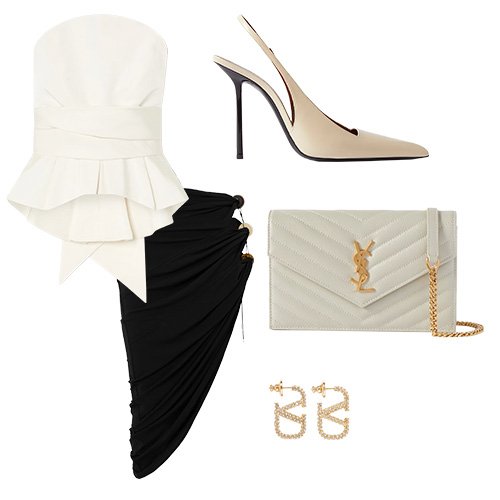 1. BRANDON MAXWELL, Bow-detailed silk – twill bustier top, approx. Rs. 138,790
2. JACQUEMUS, Asymmetric embellished cut – out stretch-jersey midi skirt, approx. Rs. 56,550
3. SAINT LAURENT, Kiss leather slingback pumps, approx. Rs. 74,980
4. SAINT LAURENT, Cassandre quilted textured-leather shoulder bag, approx. Rs. 96,290
5. VALENTINO GARAVANI, Valentino Garavani VLOGO
gold-tone crystal earrings, approx. Rs. 67,150