We're Head-Over-Heels For Fringing. Not One For The Faint Hearted, This Is A Trend As Flamboyant As It Is Stylish. Our Edit Of The Best Fringe Fashion Staples Has Covered Everything You Need, Help Yourself!
Rich textures, including feathers, fringes, tassels, ruching and even tinsel brought tactile delight to the 2023 fashion collections. It's less about fringe for fringe's sake, and more about refinement or clever accents; an unexpected fringe on the
hemline of a wool coat, perhaps, or adorning the edges. One of the biggest trends to grace the runway this season is fringing. With its trailing tassels and wild west aesthetic, the trend has become the unofficial uniform of cowboys and Coachella-goers alike.
Gone are the dull neutral tones of winter and fall. Instead, they're replaced with color, print and, if you've been at all aware of the biggest spring 2023 fashion trends, fringe. The onetime Western style staple has been revamped by your every favourite
brands. As it's our 22nd Anniversary, we are celebrating with 2+2 anthem. Falling in love with Printed Fringes, which are all
you need to slay in this season. Dive in for the all the fringe inspiration you need before you opt for the trend!
1.ALANUI, California Dreamin fringed tie-dyed open-knit wool
cardigan, approx. Rs. 225,850
2.JACQUEMUS, Pralu cropped embellished ribbed – knit top, approx. Rs.16,040
3.ALANUI, Palm Springs ribbed cotton shorts, Approx. Rs.52,350
4.ISABEL MARANT, Erol tasseled rope sandals, approx.
Rs.65,300
5.BOTTEGA VENETA, The Pouch large gathered leather clutch,
approx. Rs.432,850
1.CULT GAIA, Bianca fringed appliquéd silk – blend chiffon coverup, approx. Rs. 48,980
2.CULT GAIA, Gigi PVC mules, approx. Rs. 47,950
3.PEARL OCTOPUSS.Y, Convertible silver tone, crystal and faux
pearl cuff, approx. Rs. 42,910
4.BOTTEGA VENETA, Mini knotted leather tote, approx. Rs. 238,140
5.JENNIFER FISHER, Baby Lilly gold – plated hoop earrings, approx. Rs. 34,800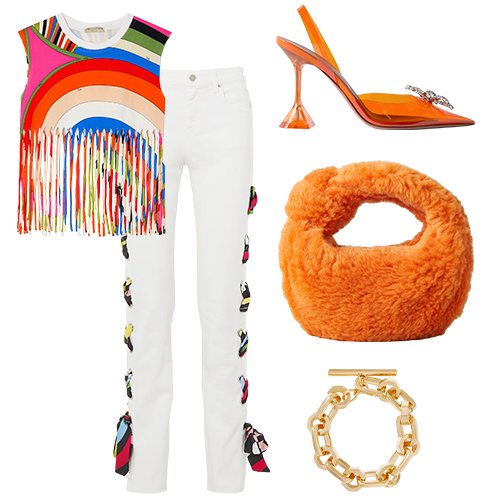 1.PUCCI, Fringed printed cotton – jersey top, approx. Rs. 31,230
2.PUCCI, Silk-trimmed stretch – cotton drill straight-leg pants, approx. Rs. 85,520
3.AMINA MUADDI, Rosie crystal – embellished bow-detailed PVC slingback pumps, approx. Rs. 133,450
4.BOTTEGA VENETA, Jodie mini knotted shearling tote, approx.
Rs. 357,960
5.MARTHA CALVO, Bond gold- plated bracelet, approx. Rs. 23,820
1.JOHANNA ORTIZ, Mother Continent fringed printed linen maxi dress, approx. Rs. 121,020
2.CHLOÉ, Woody medium leather- trimmed fringed cotton-canvas tote, approx. Rs. 209,680
3.ALIGHIERI, Il Leone Medallion gold – plated necklace, approx.
Rs. 25,490
4.SAINT LAURENT, Brushed gold- tone ring, approx. Rs. 31,450
5.MANOLO BLAHNIK, BBLA 105 lace and satin pumps, approx.
Rs. 130,620