Dive In And Have A Look At The Stunning Spring Inspiring Watch Designs That Will Blossom Your Style, Getting You Spring Ready!
Right on cue, we're evidencing the bloom of spring, flowers seep into the artistry of our favourite watch designs; and what
else can be a better way to celebrate the beauty of our planet's flora and fauna than with intricately hand-painted dials. The tradition stays entact with haute watchmakers displaying the very best of their couture craftsmanship in dials resplendent with enamelled buds and gemstone encrusted petals. This spring, color is everything, and Swiss watchmakers know it too! Colorful watches are not new to Haute Horology, but they seamlessly coincide with the seasonal trends of the fashion industry.
So, if your watch collection contains a dominance of black and neutral tones, your style might be missing out on the color craze. Vibrant watch designs can be coordinated with the tones of your outfit, or they can be mixed and matched with a
differing color pallet. It all depends on the expression you want to convey in your style! In our watch inventory specials, we have a wide variety of watches that are designed with color and generate a festive vibe for the spring season.
The limited edition timepiece is comprised of platinum, titanium, and carbon fiber – technical materials that make the piece
exceptionally extraordinary. Ladies can keep track of their springtime activities well with these watch's chronograph. So, without any further ado, let's have a look at the four colorful timepieces that best fit in with the influence of the season giving the design an earthy essence.
1. CHANEL, PREMIÈRE EXTRAIT DE CAMÉLIA WATCH
CHANEL, PREMIÈRE EXTRAIT DE CAMÉLIA WATCH
For those who prefer a darker palette, the first Première watch from the collection boasts a minimalistic black lacquer dial. With a black leather strap and a velvety touch, an 18-Karat yellow gold buckle and more notably, it's accessorised with coordinating 18-Karat gold camellia charm set with one brilliant cut diamond. It operates on high precision quartz movement, and is water-resistant of upto 30 metres. Chanel's Extrait de Camélia, offers a playful twist on one of the house's most prolific symbols, the camellia flower. In this incarnation, Chanel's favourite blossom is depicted on a sculpted golden charm that
dangles from the watch's crown. A single brilliant cut diamond sits at the centre of the bloom on the black dial version, with a pavé diamond dial and glittering charm suited for a black tie soiree.
2. CHOPARD, ALPINE EAGLE 36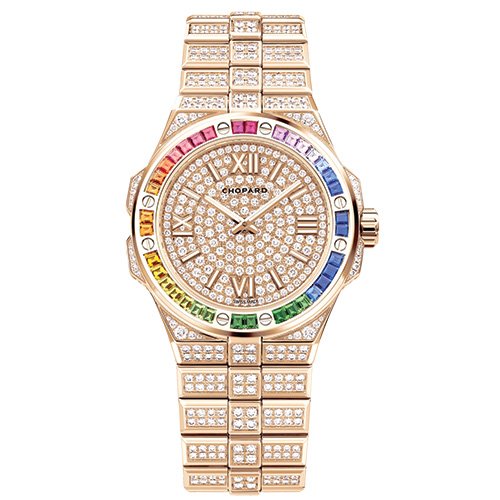 Inspired by the grace of the eagle and the majesty of the Alps, Chopard's sporty chic watches welcome the Alpine Eagle Frozen gold and diamond watch. Crafted in ethical 18-Karat rose gold, its 36 mm diameter case and integrated bracelet are entirely set with diamonds while the bezel is set with trapeze cut sapphires. Endowed with technical expertise entirely on a par with its impressive aesthetics, this jewel encrusted version of the watch is equipped with automatic winding and a 42-hour power reserve. Thanks to the richness of their precious stones magnificently highlighting the art of gem-setting graced with multicoloured sapphires in a rainbow hued gradient.
3. VACHERON CONSTANTIN, HEURES CRÉATIVES HEURE ROMANTIQUE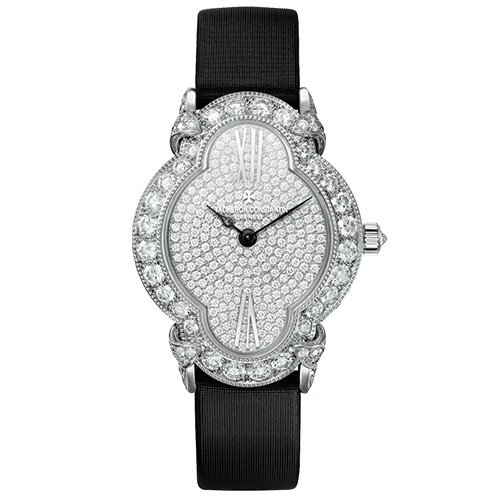 VACHERON CONSTANTIN, HEURES CRÉATIVES HEURE ROMANTIQUE
Graceful volutes, flowing curves and arabesques inspired by nature nurtured Vacheron Constantin's artistic creativity. Within the femininity reigned supreme, in all its audacity, lightness and delicacy, inspiring artisans to craft extraordinary horological wonders. An almost clover style case produced in 18-karat white gold, and set with diamonds is architecturally rendered using techniques that mimic the particular decorative style of 1920s style women's jewellery watches. The rich design details combined with the uncommon cross style shape of the case, make for something elegant. This variation on the Heure Romantique model, a precious watch imbued with a timeless elegance enhanced by a dial adorning with black mother of pearl.
4. OMEGA, MINI TRÉSOR QUARTZ 26 MM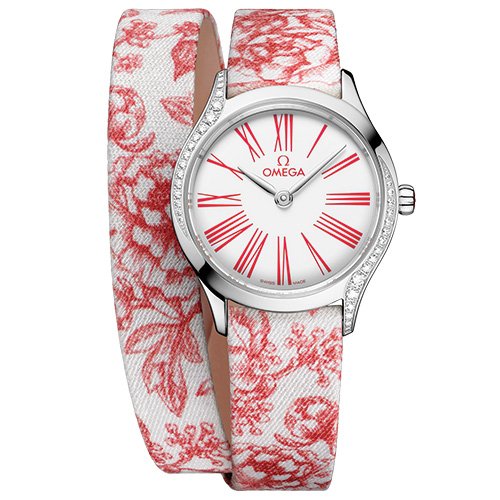 OMEGA, MINI TRÉSOR QUARTZ 26 MM
The Mini Trésor is a refined version of OMEGA's most contemporary ladies collection. With its compact size and dynamic style, it delivers a truly eye- catching display on the wrist. This model in stainless steel features a 26 mm case with diamonds that elegantly curve along each side. There is also a single diamond set in the crown, surrounded by a red liquid ceramic flower. The domed dial is crafted in off-white enamel and is presented with diamond polished rhodium plated hands and transferred
roman numerals in rose. This watch is set on a unique Toile de Jouy "double tour" fabric bracelet with a red floral design. Inside, the timepiece is driven by the Omega Calibre 4061, which sits behind a metallised sapphire crystal case backed with a mirror effect.