Listen To Your Feminine Urge Of Setting Up A Standout Studio To Leave Your Mark And Imprint Rightly At It's Best!
Living in a studio for women can be a task in itself, but making it look good shouldn't be! We spotlight women who have found success in their respective industries from sports and politics to beauty and fashion. As, we admire women who know what they want and go for it. There are a hundred different things to juggle, especially when you are managing your work life and home. But it's doable and totally worth it! Afterall, the place that you call your studio should be lovable and liveable. With a studio apartment, the challenge of how to decorate a studio apartment is to fit in different spaces to work in harmony without feeling too cluttered, and ensuring that the space stays beautiful at the same time. Whether you're rethinking traditional and classical design, pioneering layered modernism or stripping things back via soft minimalism, these designs control and contour space in order to tell the story. So, dive in and know how to decorate a studio apartment for yourself.
1. CREATE YOUR COSY CORNER
When you think of designing and decorating a studio apartment, the focus is usually on getting all the essential components in place. Well, a cosy look is equally important too. If your studio apartment comes with a cute window or has a spare corner, put a comfortable chair, throw in a pouff or a rug to rest your legs, add a minimal warm lamp and throw in some cushions to create space for some 'me time' for you to unwind.
2. ADD FUNCTIONAL AND DECORATIVE PARTITIONS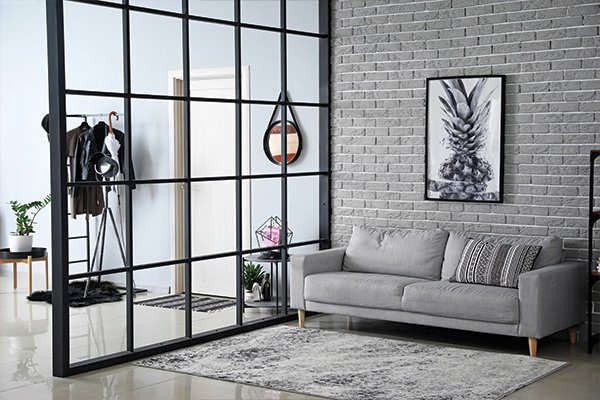 The challenge (as well as the exciting part) about small spaces is to ensure that different zones within it are clearly identifiable, yet have a flow between them. For this studio apartment, the division between the living room and bedroom is done using the large open-shelving rack. The rack acts as a wall or partition and can hold books or other pieces of decor that make it look beautiful. Similarly, the half wall dividing the dining area and living area can be used to add indoor plants, making th apartment look fresh and lovely.
3. ARRANGE FURNITURE IN A MANNER THAT CONNECTS TWO SPACES
Having limited space and wanting it all can be challenging when it comes to how to decorate a studio apartment for women. But thoughtful design can help overcome it. The kitchen cum dining space in the studio apartment gels well with the living
space. The additional counter space acts as a partition, a platform for cooking prep, an area for displaying decor as well as a dining spot for one. The placement of the dining chair between the living and kitchen spaces gives you the best taste of both worlds.
4. BRIGHTEN UP YOUR STUDIO WITH A POP OF COLOURS
Keeping your studio apartment decor minimal in greys and whites is always a safe bet, but you can keep it distinctive from getting too monotonous. It's best to keep the colours with small multifunctional spaces. Within a minimal colour scheme,
your studio decor can be fun with the addition of cool stripes and Aztec prints for the furnishing and decor. The pop of bright greens or yellows with the bar stools, the plants and the lampshade can make this studio apartment even more lovable. As a bright pop of colour adds charm to monochromatic spaces making it more alive.
5. STATEMENT, DELICATE, CLASSY: LIGHTNING GAME
Feminine interior design demands for statement lighting to create a stunning focal point, whilst reflecting the serene and beautiful energy. Classically timeless, the brass detailing will work perfectly with other brass details in the space. Combine
the neutrals to warm colours for a cohesive feel. Meticulously crafted, iconic prismatic sphere design can light the thoroughfares. It can bring a real Parisian, yet luxe feel into a feminine interior. These beauties appear delicate, sophisticated and charming to help tie the space together.