No More Winter Blues! As It's Time To Give Your Bathroom A Spring Makeover With Splashes Of Spring Inspired Designs, Colours And Textures. Read Ahead To Know It All.
As we say goodbye to the drab winter months, we're ready to celebrate the arrival of warm weather with a home refresh. Lean into the season of renewal by filling your bathrooms with bold hues, lively patterns, natural textures and breathable fabrics. Everything from classic stripes and florals to soothing pastels and shades of blue are all fair game this season. As it happens every single year, most of us are excited to see the coming of spring with its warmer weather and brighter, warm colours of nature blooming. So, when spring blooms upon us, what comes to mind first in interior design is nature or an overall freshness in the layering of natural textures. Read ahead to design a bathroom in order to add some 'spring' themed design elements into your space!
1. BUNDLED BLOOMS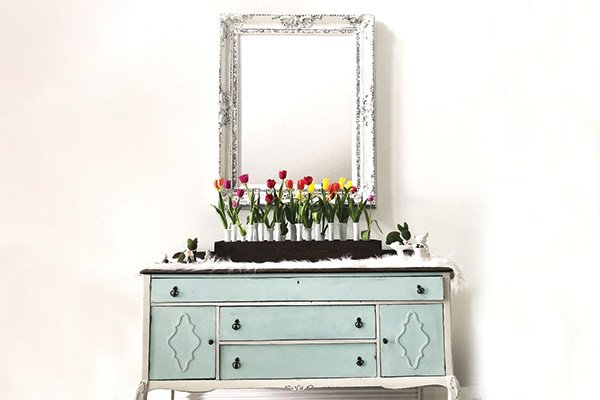 Turn your bathroom into a tulip escape, separate a bundle of colourful tulips into individual bud or vintage milk glass vases
for a striking display, and complete the look with a space-saving pendant light. Having a mirror or other accessories inspired by nature are an excellent way to bring this season into your bathroom. This is the best season where the sun starts to warm up, flowers and plants begin to grow and of course makes the days more vibrant.
2. GARDEN INSPIRED WALLPAPER
Let the season's vibe sprung in your bathroom: layer floral peel-and-stick wallpaper to turn a blank wall into an Instagram worthy accent piece. Considering it a chic upgrade to grandma's flower-covered walls along a blank wall to create a botanical statement. Also bring colours by mixing in new throw vases for a spring appropriate hue.
3. PASTELS HUES DECOR
Replace dark, winter-appropriate accessories with Spring-ready pastels. Soft pink, greens and lemon yellow may scream spring, but they're also appropriate for the warm weather months. A plant besides the window will look so beautiful! You can even add some colour paintings and combine it with the rest of the decoration to enhance the wall. This can synchronise well with spring, making it a cosy space for yourself.