Folks, We Have A Pair Of Pumps, Whose Designer Himself Said That He Designs "Sexy Footwear". If You Are Someone
Looking For Sexy Pumps With No Comfort, You May Find The Perfect One!
It is not a huge surprise that ballet pumps are well and truly back on the high-fashion radar. The shoe has been seen everywhere for the past few seasons of luxury brands, the latter of which created something of a cult item.
As one of the favourite footwear trends of the Noughties, the mere mention of the ballet pump was undoubtedly wildly popular in the 2000s. The simple shoe's place in fashion dates back much further than this to the 1950s, which is when the pump first took on a new life away from dance.
Certainly, after having its moments of heightened popularity, it is a trend that continues to re-emerge time and time again. The very flattering shaped pumps, can be styled with everything from denim to dresses at every length.
But we have a pair of pumps which are flattering enough to overwhelm you, but not your feet. Christian Louboutin So Kate
Nude Pumps are sophisticated with timeless elegance, extending to a bold cut which may act as a mini torture device for you.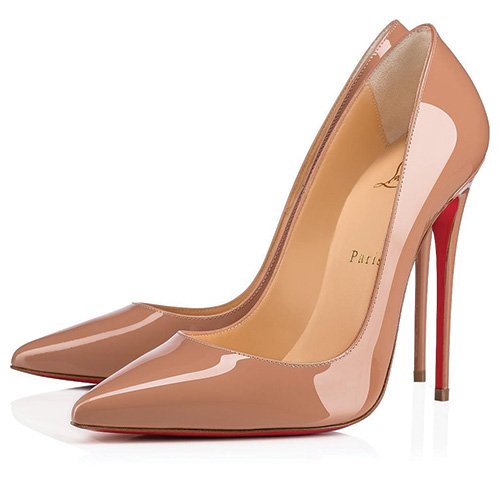 When it comes to the material used for these gorgeous but not enough gorgeous to wear pumps, it's patent calf leather. With
being tend to degrade over time, patent calf leather is extremely challenging to restore because the exterior coating is made from a combination of plastics. And, discolouration is a common phenomenon in such material,are you looking for a discoloured luxury footwear?
With no padding in sole of these painful heels, it doesn't provide any support to your feet to at least stand straight. You clearly can't walk in these heels and have high risks of twisting your ankle. But one thing that it does promises, is to give your legs a sexy appeal with a lot of discomfort!
Alas, the pumps not for walking, with no loss of limitations, has an add–on! Its toe box is extremely close–fitted, giving your toes no area to sit in. But a Christian Louboutin is a 'Christian Louboutin', for all of you who love the brand – go for it. If you like
the appearance, and the vibe of these elegant pumps, you can definitely go for it. Just don't claim we didn't warn you!