This Month We Are Offering You The Opportunity To Recreate Your Spring Fragrance The Way You Envision It! Read On To Embrace The Fragrance Throughout The Season.
It can often feel like scents act as instant mood lifters, and with so much turmoil woven into everyday life, we find ourselves relying on them more than ever to comfort us or help take us back to a specific memory or a place. And as time passes, they help us celebrate seasonal shifts, like the transition from an often-gloomy winter to the vibrant, hopeful feeling that comes with spring.
When it comes to picking a new signature scent, one might be too fruity. One might not be musky enough. One might have an
overwhelming mix of notes you've never heard before. But in the end, there is always one that will fit you just right. So, get hold of your perfect scent to love! We have narrowed down new fragrances to help you feel like spring is truly the time for renewal as it always promises to be.
1. SAINT LAURENT LIBRE LE PARFUM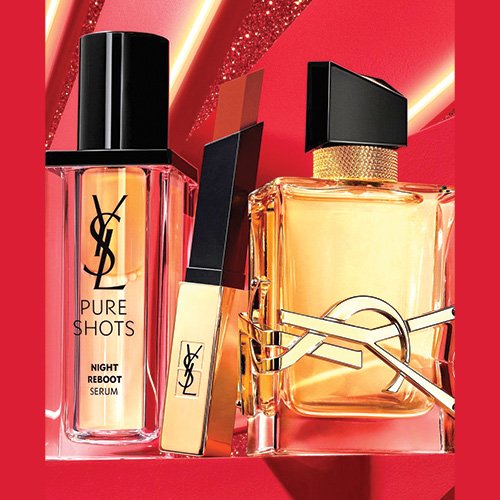 SAINT LAURENT LIBRE LE PARFUM
A warm fragrance to use liberally as the dreadful dark days of winter are over. One or two sprays, and you're good to go for the day. This scent is immersed with a hefty dose of sweetened, powdery orange blossom, followed by honey, with a chalky, starchy sort of woody amber and a hint of spice and lavender appears, adding a whole other dimension of cool, crisp 'blue' contrast to the cozy shade of amber in the opening.
It has a lactonic vanilla filled out the composition, blending the amber and frosted blue shades into auburn and gold. Rarely do a bottle's design and the liquid's colour match a fragrance better. Libre Le Parfum condensed into a very noticeable but no longer in-your-face mix of caramelized orange blossom, lavender honey, a hint of dusty hay, and an ever-increasing powdery
vanilla. As it warmes up on the skin, the vanilla became more prominent, with lavender and orange blossom occasionally drifting in and out of the picture, but in a softer voice with each iteration, until the base of slightly spicy, ambery vanilla and
woods remained.
2. AMOUAGE GUIDANCE
With Guidance, Amouage played the unusual role of a conservative. This composition is as rooted in the past as it is far from the East. It fully reflects the essence of Guidance being a real French perfume. Guidance is a graceful tribute to the iconic
women's perfumes of the past.
The fragrance starts with an overdose of pyrazines, filbertone, abrettolide and helvetolide; together they paint a still life of "ripe pear among hazelnuts". Pear brings a pleasant fruity freshness to the duo, and a long with aldehydes that make their way up from the heart of the composition, the duchesse bubbles. Nuts in Guidance turned out to be very bright and appealing to arouse interest in encountering the fragrance, and the desire to get to know it better.