Say Goodbye To All Black Silhouettes. The Fashion World Is Now Opting For Chocolate Shades Which Seem More Fashionable! Dive In To Ditch Those All-Black Look And Pull Off The Browns.
From chocolate brown to caramel, the once forgotten colour is now being appreciated in all of its shades. Your go-to celebrities and fashion connoisseurs are safe to blame for the brown, neutral tones that have been taking over fashion in our
Instagram feeds. Moreover, the current interest of Gen-Z in minimalism and natural beauty has propelled attention towards this underrated colour both on runways and in street style alike. This earthy colour is prominent in the latest collections of your favourite brands for a chic neutral and grounding effect.
Brown can range from a soft beige to rich amber to deep cocoa. No matter the shade, brown can be comforting, sophisticated, chic and fit into any décor or closet style. These days, designers are incorporating the classic colour more and more, sometimes even replacing black with brown. Black can help create contrast in a space, while using a chocolate brown can give you the same effect but in a much richer and layered way. So, here we are rounding up some outfit inspiration for this colour of the moment that has now replaced the beloved black.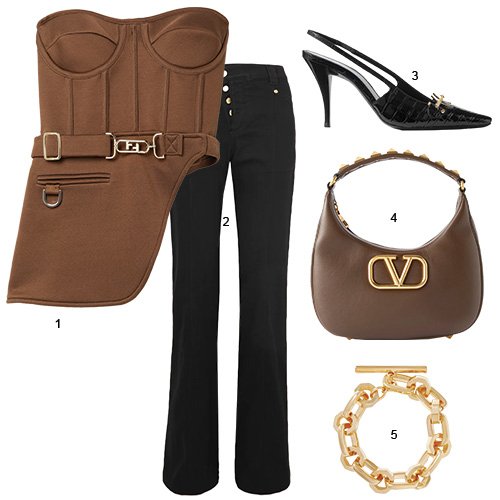 1. FENDI, Strapless belted asymmetric jersey bustier top, approx. Rs.1,91,600
2. TOM FORD, High rise straight leg jeans, approx. Rs.97,020
3. SAINT LAURENT, Blade embellished croc effect leather slingback pumps, approx. Rs.81,120
4. VALENTINO GARAVANI, Stud Sign embellished leather shoulder bag, approx. Rs.2,32,360
5. MARTHA CALVO, Bond gold plated bracelet, approx. Rs.16,710
1. BRUNELLO CUCINELLI, Satin sweatshirt, approx. Rs.1,95,270
2. BRUNELLO CUCINELLI, Duchesse satin wide leg pants, approx. Rs.1,83,440
3. GIVENCHY, Paneled ribbed leather and stretch cotton jersey tank, approx. Rs.81,120
4. LOEWE, Flow logo appliquéd shell, leather and suede sneakers, approx. Rs.56,260
5. BOTTEGA VENETA, The Chain Pouch gathered leather clutch, approx. Rs.3,34,280
1. LAQUAN SMITH, Crystal embellished stretch tulle turtleneck bodysuit, approx.Rs.1,46,350
2. LAQUAN SMITH, Twist front ruched crystal embellished stretch tulle mini skirt, approx. Rs.1,14,140
3. JACQUEMUS, Le Bisou mousqueton leather shoulder bag, approx. Rs.67,670
4. GIANVITO ROSSI, Skye 85 leather and PVC sandals, approx. Rs.68,890
5. BOTTEGA VENETA, Twist gold tone and leather hoop earrings, approx. Rs.63,590 
1. ETRO, Cropped paisley print coated cotton blend canvas jacket, approx. Rs.2,40,520
2. ETRO, Appliquéd paisley print faux leather bralette, approx.Rs.54,630
3. ETRO, Printed coated canvas mini skirt, approx. Rs.1,01,914
4. CHRISTIAN LOUBOUTIN, Kate Botta 85 suede knee boots, approx. Rs.1,38,190
5. PACO RABANNE, XL Link Oversized gold and silver tone necklace, approx.  Rs.56,260