Fun, Lively And Quirky: Have It All At Once By Colour Blocking Your Way Through Life With Your Outfits. Read Ahead For
All The Inspiration You Need.
A retro trend that fashion still adores is none other than colour blocking. Being one of spring's zestiest and juiciest trends, it is all about rage this season. Contrasting colours are a chic way to catch the eye, whether done subtly or boldly. Combining two
to three (if not more) bold and often contradictory colours together in one ensemble to create an exciting statement piece is all it calls for. But, before you start putting your most vibrant pieces at the front of your wardrobes, remember that colour blocking is a fine art, just like anything else.
The key to nailing this trend is to choose colours that aren't too contrasting. Make sure the colours you're blocking are all from the same camp: neons with neons, pastels with pastels. When it comes to colour pairings, aim to balance out a vibrant ensemble with some neutral pieces, such as a black and white. If you truly want to nail the colour-blocking trend, then go all out with pink, yellow, purple, or other vibrant colours. Thus, we have curated some elegant yet classic outfits and accessories that will get you through the weather in style.
1. BRANDON MAXWELL, Striped cotton and silk blend faille gown, approx. Rs.5,70,450
2. PACO RABANNE, 1969 Small Moon crystal embellished chainmail shoulder bag,
approx. Rs.1,42,680
3. AMINA MUADDI, Silver tone crystal tennis necklace, approx. Rs.59,110
4. CAROLINA BUCCI, Caro gold plated and cotton bracelet, approx. Rs.35,870
5. MACH & MACH, Crystal
embellished ombré satin pumps, approx. Rs.1,01,510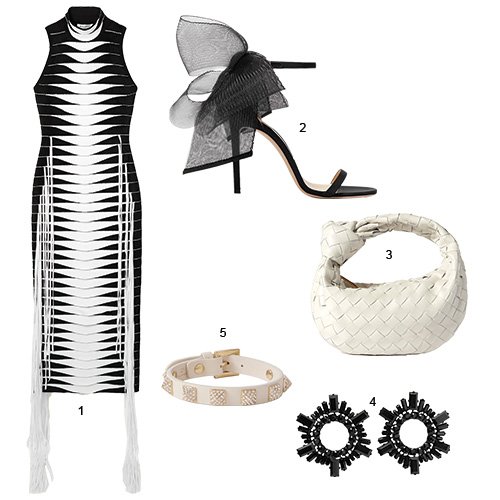 1. ALAÏA, Fringed velour and stretch knit turtleneck midi dress, approx. Rs.4,23,960
2. JIMMY CHOO, Aveline 100 bow embellished grosgrain sandals, approx. Rs.81,120
3. BOTTEGA VENETA, Jodie mini knotted intrecciato white leather tote, approx. Rs.2,16,060
4. AMINA MUADDI, Begum mini silver tone crystal earrings, approx. Rs.43,210
5. VALENTINO, Valentino Garavani Rockstud crystal embellished leather and gold tone bracelet, approx. Rs.46,470
1. DAVID KOMA, Sequined crepe halterneck mini dress, approx. Rs.3,61,180
2. BOTTEGA VENETA, PVC and leather mules, approx. Rs.77,450
3. GUCCI, Marmont 2.0 mini quilted leather shoulder bag, approx. Rs.1,17,400
4. MELISSA JOY MANNING, Wishbone 14 karat recycled gold pearl earrings, approx. Rs.48,100
5. LELET NY, Klara crystal embellished silver tone and velvet
hair clip, approx. Rs.14,510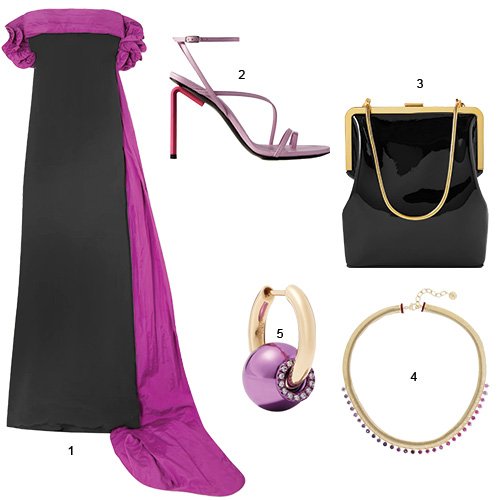 1. ELIE SAAB, Cape effect strapless crepe and taffeta gown,
approx. Rs.3,52,620
2. OFF-WHITE, Allen fuchsia leather sandals, approx. Rs.57,480
3. KHAITE, Lilith patent leather tote, approx. Rs.1,54,910
4. EMILY P. WHEELER, + NET SUSTAIN Thelma 18-karat recycled gold sapphire necklace, approx. Rs.29,84,050
5. RAINBOW K, 18-karat gold diamond single hoop earring,
approx. Rs.1,50,830