It's Cold In Milan. But Rather Than Hole Up Indoors, The City's Fashion Set Are Romping About As Milan Fashion Week AW23 Unfurls. Dive In To Know How Designers Presented Their Collections.
When you think of a fashion show, what comes to mind first? Is it the dazzling models, the catwalks, the chic, glamorous, and sometimes over-the-top designs, or the prestige of it all? Fashion shows are associated with a lot of things in the fashion
industry and for good reason.
Over the decades, as fashion has evolved in new and beautiful ways, fashion shows have morphed from what they used to be to what they are now. Fashion shows now, unlike in the beginning when they were organised in private, are full of buzz and lots of paparazzi.
The influence of fashion shows on our shopping habits seems to have hit fever pitch. While of course fashion weeks have always had some sway in deciding what we wear, the last few years – which were dominated by classic fashion trends and has seen the screen's influence on style grow and grow.
We're less than three months into the year and the whiplash of the AW23 season has so far yanked from Milan and Paris for the menswear collections, to New York, London, and Milan (again) for the accompanying womenswear shows. Stay with us as we rounded up two collections in the show from Milan's AW23 collections, keep an eye for the fashion moments bound to surface.
1. FENDI
There's no shortage of chic women in the Fendi family-current brand's artistic director Kim Jones has the luxury of choice when it comes to picking a muse. For fall 2023, he found inspiration in how fourth- generation Fendi and jewellery designer Delfina Delettrez styles their family's fashion line. Uniforms were a recurring motif, whether in the cut of a satin skirt suit or in the zips on a woven boilersuit illuminated by intergalactic beams in a behemoth space tunnel.
But again, there was an almost fetish undercurrent to some of the pieces, like the open – shoulder sleeves, lace – up, thigh – high leather boots and heels were made high and transparent. Turtlenecks just thinly woven enough to reveal a hint of bra underneath, cardigan dresses unbuttoned nearly to the hip, V-neck sweaters with straps that twisted delicately around the neck. Naturally, Delettrez herself designed the jewellery for the show, including earrings which interlock the Fendi double-F logo over the ear.
Playing with the same ideas driving the ready-to-wear, Silvia Venturini Fendi created a new handbag style, dubbed the 'Multi'. As the name might suggest, the accessory can swap blissfully between two different silhouettes, folding from a daytime – ready tote to an evening – worthy bag.
One last key protagonist in the Fendi story also made a subtle cameo. This was also echoed in the multi-length pleated kilts worn over those menswear fabric pants and suiting. Jones' colour palette mainly stuck to pale blue, greys, cream, brown and
black. He also saw this collection as a way to harmonise Fendi's ready-to-wear and haute couture lines, with adding dabs of bright colours with pink and orange dresses.
2. PRADA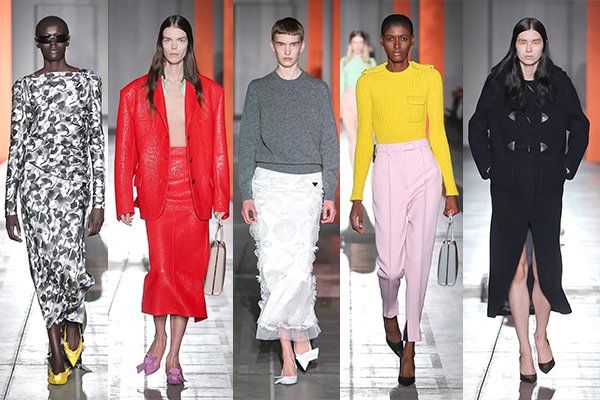 For the Prada womenswear AW23 at Milan Fashion Week, co-creative directors Miuccia Prada and Raf Simons dialled back on the theatrics and leaned heavily into cut and creativity. The new collection, "Taking Care", was a love letter to nurses, cleaners, educators and the other unsung heroes of society whose contributions are all too often unappreciated. But here they were venerated as life's ordinary heroes, deserving of their opulence as well our admiration.
What started as a darkened, brutalist space became an arena of light when the ceiling rose to reveal descending bouquets of lilies wrapped around bold orange pillars. Prada and Simons were, quite literally, looking to give the unrecognised and overlooked their flowers in a gesture of gratitude and respect.
Later, two takes on a ribbed knit and high – waisted work pant walked, one in a yellow- and-lilac combo. If any brand can get the fashion crowd back in a slim leg, it's Prada. The pleated styles cropped at the ankle felt both like a call-back to a primmer era in fashion and a fresh.
The perfectly placed pockets and voluminously cut backs on a series of cape – like jackets. Each evening dress had its own
train and specially placed folds and ruches, gathering the fabric away from the neckline or hitching it around the hips.
A new examination of uniform dressing has quickly become a theme out of Milan whether the muted neutral tones of army
getups or the oversized suiting of an office worker. Interestingly, bridal gowns fall under this category for Simons and Mrs.
Prada, which here were turned into mini and midi skirts.