Jewellery Should Be Personal And Playful But Not. Nearly As Playful As The One Shown Below! This Pop Of Colours Is Everything You Don't Want On Your Wrist. Dive In To Know It All!
What jewellery trends will you be wearing this year? Jewellery continues to be a bright star, it seems that many of us are turning to jewellery as a satisfyingly forever purchase if ever there was one – while holidays and restaurants have remained frustratingly off-limits. The need for our jewellery to spark joy is stronger than ever. However, the trend cycle does turn more slowly in jewellery than in fashion. Today's trend cycle has a turnover so rapid that there appears a little connection from the latest obsession to the last. There is no denying the shift towards our desire for electric colours and playfulness is enough to fill our fashion appetite.
A common theme that emerged is seeking joy in clothing and accessories, embracing the whimsical and the lively. Hence, we want to know if this jewellery piece from Hermès  Dessus Dessous Grand Theatre Nouveau bangle can bring you joy or not! Hermès being a French luxury design house has been established since 1837. This bangle which actually looks like a round cuff with no closure option to get in and out doesn't give the impression of luxury jewellery. Don't stop read ahead to know!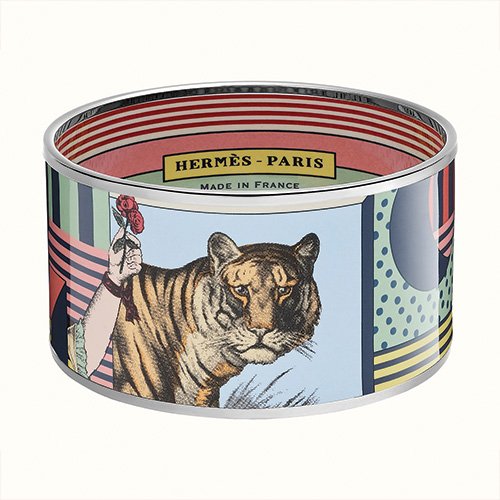 It depletes the meaning of luxury by just being a printed cuff and making the outfit look very stuffy! Being an extra wide bangle, it's not ideal for wearing multiple pairs at once. If you have a skinny wrist it may suits you but people with thick wrists, trust us when we are saying it's a big NO for you! The Dessus Dessous Grand Theatre Nouveau bangle calls for a lot of struggle to fit in your wrist. If you are ready to devote your efforts to it, go for it!
The bangle needs to be maintained with care by avoiding contact with liquids (shower, pool, etc.) as it can cause metal hardware to detach or oxidize. Being made of enamel, it's a delicate material composed from glass and must be treated gently. However, one of the biggest downsides of enamel is that it can be susceptible to tarnishing. Hence forth you can't put faith in it for daily wear!