We Are Here With All The Inspiration You'll Need For Your Next Nail Polish Appointment! Read On If You Want To Set Your Mark In The Fashion World.
Does your idea of nail care restrict itself to cutting your nails every once in a while? There's more to nail care and grooming even for men. Dirty, long fingernails are a big no! If you'd like to go for a manicure or pedicure then go, have fun and relax.
Manicures, which were once regarded a "feminine" pastime, are no longer labelled as such, all thanks to men around the world who are debunking such notions. Men wearing nail paint is suddenly fashionable and has returned with a different aesthetic, with modern celebrities who sport not Just basic painted nails but also extravagant nail art. Some have even launched their own nail paint lines. It feels like men have finally entered the beauty chat! The excitement and vibe are almost evident as one scrolls through these celebs' social media boards. Cute tiny hearts, smiles or a tangy berry, all nice things find a place on their fingertips.
1. MACHINE GUN KELLY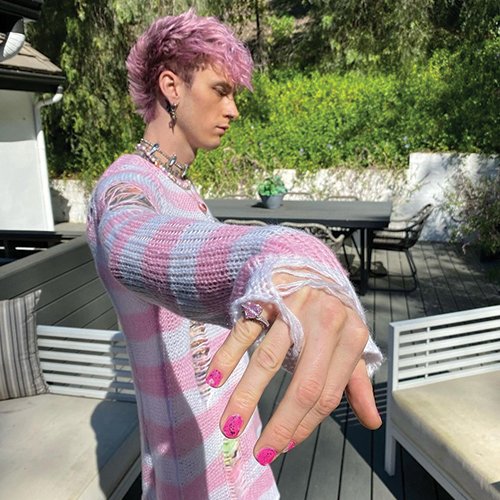 Do you want to spruce up your look? Allow MGK's extravagant nail art choices to show you how. MGK has always been in
the spotlight, whether it's for some style inspiration, relationship goals, or even his nails, there's nothing that can stop him to
take all the limelight. He has entered the beauty market with his own nail paint line, that has the tagline: "Don't huff the paint," in addition to his artistic manicure picks. He makes fantastic nail polish only for men.
2. HARRY STYLES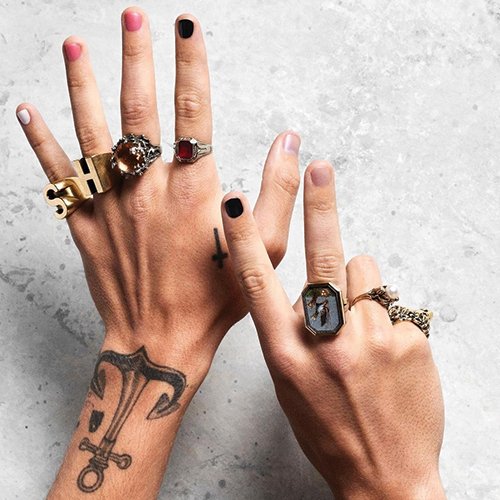 Harry Styles has given beauty buffs a new reason to adore him. The singer has defied gender stereotypes, and was quick to join the nail paint craze. Aside from his daring fashion choices, he also broke the internet with his manicure lineups flaunting bold manicures featuring eccentric designs and bright hues. Apart from lending sartorial inspiration, Harry Styles has blissfully raised the stakes in the male beauty arena. He has taken unexpected risks and if we have to put it simply, he has truly set up some nail goals by undoubtingly nailing it!
3. LIL NAS X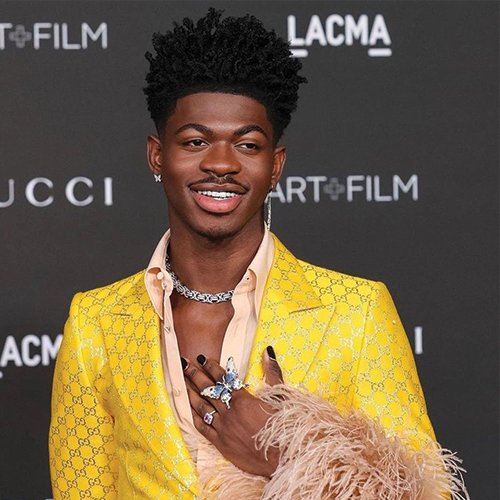 This rapper truly knows how to 'nail' any style. If basic isn't your thing, Lil Nas X is the guy for you; his nail art inspiration runs from amusing to outlandish! There is one accessory common in all his outfits, and that's some snazzy nail paint of course!
4. TROYE SIVAN
Gold nails have been drawing a lot of attention lately. It's easy to understand why – they mimic flashy gold jewellery. Who
doesn't want to look rich, after all? Gold nails add a touch of extra class to men's nail art. Fascinatingly, gold nails are not
always just solid gold but also feature more elaborate sparkly 3D elements.
5. MARC JACOBS
Marc Jacobs has been creating fantastic nail art and always offers some unique inspiration. His nail art always has precisely
depicted every single detail. He has come up with some bold colour choice, polka dots, textures with tiny 3D art, crystals and stones, which are surely setting some high fashion standards. Minimalism is not the only masculine style, thanks to Marc Jacobs, whose nail art tends to resemble fine jewellery more closely.
6. BAD BUNNY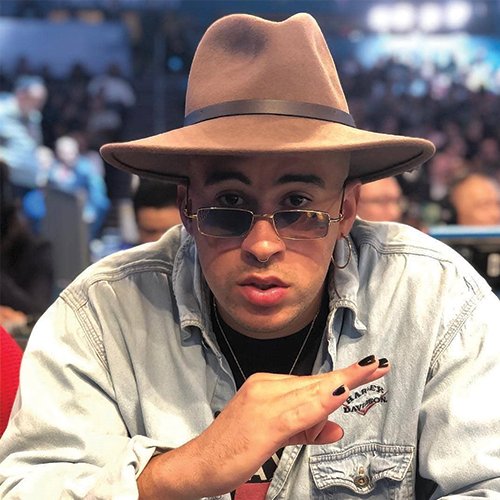 For the uninitiated, statement nails are Bad Bunny's signature. The rapper is usually seen bending society's traditional gender rules by wearing nail paints in his music videos. To erase the toxic standards of masochism, he also goes the extra mile and
even gets extensions, usually with striking details.
7. SHAWN MENDES
Often, abstract designs are done in black only or black and white, with the designs varying across the nails, while sticking to a theme. Shawn Mendes' style of painting nails is perfect for guys wanting to make more of a statement or maybe for guys who
want an easier way to "paint" their nails!
8. JONATHAN VAN NESS
Jonathan Van Ness from Queer Eye is the ambassador for a nail paint brand. Whether he is on the red carpet or on a talk show, Jonathan has not only levelled up the manicure game but has also broken stereotypes around gender fluid fashion. He encourages men all over the world to not be ashamed of their choices and to be comfortable in what they love to do. He evidently loves a mismatched nail, and says he's always seen nail polish as a form of self-expression. Whether it's to signify
something deeper like showing pride for who you are, or just nail polish.