This Section Is Strictly For Our Nose Pleasers! But This Fragrance Will Not Please You! Read On To Know All About It.
The beginning of a fragrance is marked by its top notes. They unravel at the nape of your neck or flee upon a tousle of hair, each note falling like the petals of a wildflower yawning open at daybreak. Eventually, it starts to reveal the base notes that cling onto our clothing for hours or even days on end. And in each note, there might be a memory contained, waiting to begin.
A bottle of perfume, although often regarded by the conduct of its silage and three types of notes, is ultimately a synthesis of aromatic compounds and oils. And because smell is one of the most potent indexes of memory, perfumes may be assessed as bottled memory or portable archives of feeling. The aesthetic appreciation of fragrances is often carried out in terms of the distinction between long lasting base notes and the more evanescent top or heart notes.
The new Givenchy Amarige Eau De Toilette carries its sweet smelling flowers to the very end, while the old one turns into heavier mealy amber. Highly expected given the existence of so many amber woody musk overdoses in fragrances. With a head note of Gardenia, a heart note of Mimosa, and a base note of Woods. Looking at the bottle, it seems like a beaming sunshine!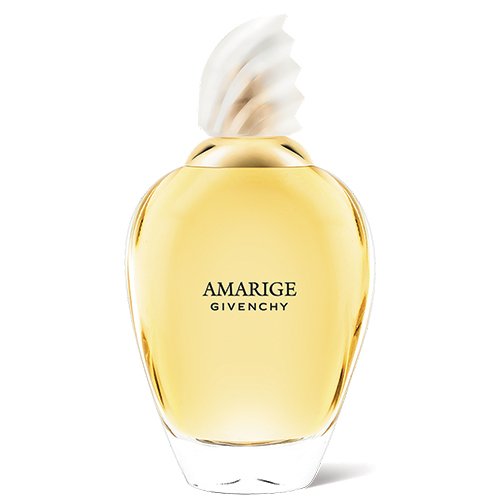 GIVENCHY AMARIGE EAU DE TOILETTE
But this sunshine dries down either very fastly or stays with your skin for days, and gets earthy, ashy, mealy notes that mimic of the cigarette smoke a bit! One whiff of this perfume can be obnoxiously loud, taking over whatever room it is in. We really wish that the scent could have had a lightened formula to make it more wearable. With this fragrance giving a nasty migraine, its glory is best appreciated from a distance.
Amarige can be best described as a soapy gardenia. As it is the only scent nose can actually detect in this perfume. Once sprayed on, it is unbelievably overpowering, even though it chills out within an hour or so later on the skin. The scent is like a thick powdery gardenia soap that one would much prefer to use in the shower than an actual spray on and smell for hours at a time.
For some skin types, it can leave one dizzy and nauseous with even a brief whiff and has an immediate negative visceral experience. It is definitely more of a mature scent giving an old ladylike fragrance! If that is something that appeals to you, this scent can be perfect for you.