Wish to stand out from the crowd when out painting the town red? Well, the answer to this predicament is choosing the perfect party outfit! And these sparkly dresses will accomplish that job perfectly!
Nobody likes to wait for special occasions to play dress-up. And if you do, then you're doing it wrong! The closet should be well-prepared always so that when the need arises, the perfect party dress is within reach. Whether it is a Christmas party, a New Year party or even just a night out on the town in your favourite disco bar, perfect dressing and styling is a must! And if you're on the hunt for some perfect party outfits to ensure you sparkle all night, you're in luck! L'Officiel is here to your rescue so you don't need to stress about the outfit. Spending the night partying needs to be fun, but add in stress about the perfect outfit, and you're in for a rough night! Dressing up for a fun night should feel effortless and fun and it is neither since you've just spent the whole day worrying about the night! But since we're talking about it now, we are here with the solution too. Party outfits should have sequins, glitter and sparkle so that you shine bright all night long. After all, feeling like the main character of your life means dressing right for it!
The perfect party outfit needs to be blingy, sparkly and show just the right amount of skin! How much that is, is up to you. But, the general rule of thumb is to figure out what is your style and what suits you the most. But another important factor many forget to consider is comfort. If you're out enjoying yourself, you don't want to be uncomfortable the whole night long – that will definitely put a hamper in your celebrations! These outfits are high on bling and they're also equally high on the glam quotient. One thing is for sure, the spotlight will be only on you as long as you step out wearing these blingy outfits. After all, a little sparkle makes life more interesting, isn't it? And if you ask us, we love to incorporate a whole lot of sparkle in our outfits! So, if you agree with the sentiment, take your pick out of the outfits we have curated for you this month. So, read ahead and find your favourite because the party must go on!
1. SHINING SWIFTLY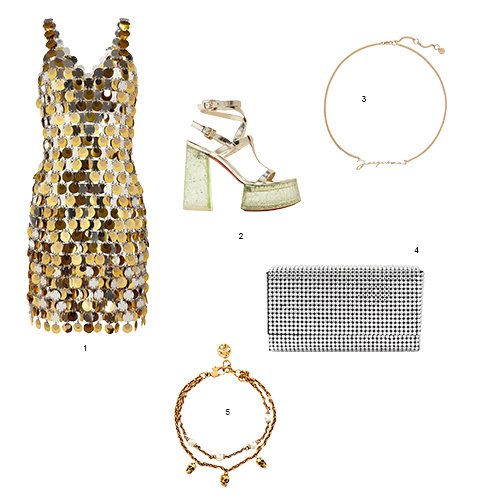 1. PACO RABANNE, Gold and silver sparkle dress, approx.
Rs. 3,20,800
2. CHRISTIAN LOUBOTIN, Yazefine Red Sole Platform Metallic Embellished Sandals, approx. Rs. 2,02,630
3. JACQUEMUS, La Chaine gold-tone necklace, approx.
Rs. 27,740
4. AMINA MUADDI, Super Amini Paloma crystal-embellished satin clutch, approx. Rs. 2,27,440
5. ALEXANDER MCQUEEN, Gold tone faux pearl bracelet, approx. Rs. 44,680
2. THE SUN SHINES EVEN AT NIGHT
1. DAVID KOMA, Sequin-embellished crepe mini dress, approx. Rs. 1,78,950
2. JIMMY CHOO, Aveline 100 bow-detailed crystal-embellished mesh and glittered leather sandals, approx.
Rs. 1,83,430
3. JUDITH LEIBER COUTURE, Miniature Carriage crystal-embellished gold-tone clutch, approx. Rs. 1,13,890
4. IRENE NEUWIRTH, Gemmy Gem 18-karat gold, aquamarine and diamond necklace, approx. Rs. 12,36,710 5. ANITA KO, Hepburn 18-karat gold, sapphire and diamond bracelet, approx. Rs. 9,05,450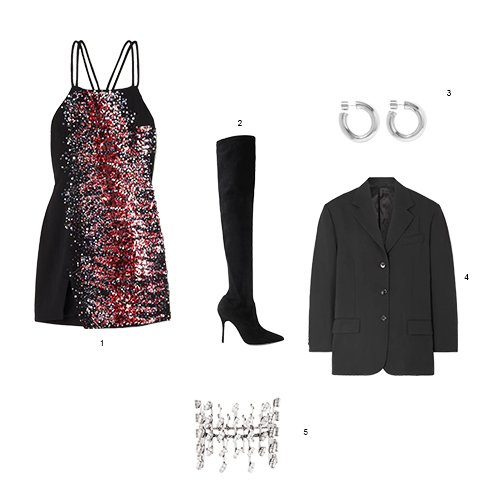 1. THE ATTICO, Tyger open-back sequined jersey mini dress, approx. Rs. 2,39,660
2. MANOLO BLAHNIK, Pascalarehi 105 suede over-the-knee boots, approx. Rs. 2,58,800
3. JENNIFER FISHER, Kevin silver-plated hoop earrings,
approx. Rs. 33,350
4. ACNE STUDIOS, Oversized woven blazer, approx. Rs. 1,03,550 5. SAINT LAURENT, Silver-tone crystal bracelet, approx.
Rs. 2,66,270

1. BRUNELLO CUCINELLI, Dazzling Net sequin-embellished cotton, linen and silk-blend sweater, approx. Rs. 2,07,940
2. TOM FORD, Sequined tulle wide-leg pants,
approx. Rs. 1,46,450
3. BOTTEGA VENETA, Leather-trimmed crystal-embellished woven pumps, approx. Rs. 2,14,490
4. CULT GAIA, Nala ruched metallic leather clutch,
approx. Rs. 46,100
5. OLE LYNGGAARD COPENHAGEN, BoHo 18-karat gold multi-stone earrings, approx. Rs. 4,71,240

5. GREY AND BLACK COMBINE WELL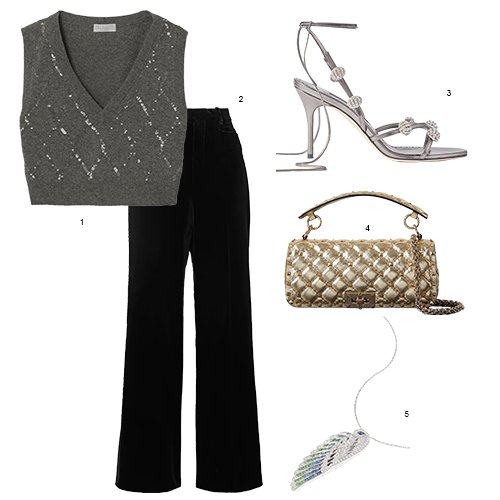 1. BRUNELLO CUCINELLI, Argyle sequin-embellished wool, cashmere and silk-blend cropped top, approx. Rs. 1,38,230
2. GUCCI, Silk-trimmed stretch-cotton velvet-straight leg pants, approx. Rs. 89,110
3. MANOLO BLAHNIK, Elsaka 90 crystal-embellished metallic leather sandals, approx. Rs. 2,47,030
4. VALENTINO, Valentino Garavani Rockstud Spike quilted leather shoulder bag, approx. Rs. 3,36,360
5. GARRARD, Wings Embrace Peacock 18-karat white gold multi-stone necklace, approx. Rs. 47,57,700